Feb 16, 2013
Ten Beautiful Edwardian Engagement Rings to Choose From
Choosing antique art deco engagement rings is a statement of love because it shows that you thought about which ring to choose, and then went through the trouble to research and find a ring. Edwardian rings can include actual antiques produced in the Edwardian period between 1901 and 1915 but is also used to describe 'art deco style' rings similar to those produced during the period.
Edwardian engagement rings are popular for their glamorous beauty and many stones. Buyers looking for art-deco engagement rings should choose a style based on her fashion style, preference, and of course, budget.
10. Marquise Ring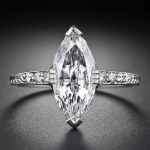 The Marquise ring was popular as an Edwardian engagement ring and has a very unique look and style. The ring features a slim band offset by a long thin stone aimed away from the ring. This creates a dramatic look that draws attention to the ring and the stone. These rings can be purchased as originals or as imitation styles and can be real diamond or cubic zirconia.
9. Square Cut Diamond Ring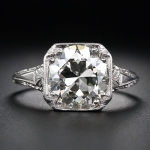 Square cut diamond rings have been popular since before the Edwardian style, but in the early 1900's they reached prominence and popularity. From simple large square cut stones to multi-tone and faceted stones set inside of each other, the square cut ring was re-invented during the period. Buyers can choose large or small stones, although the larger are more true to the Edwardian period.
8. Oval Ring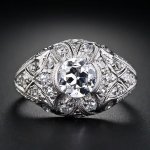 Oval rings were popular during the Edwardian period and were made using oval stones, as well as multiple stones set into an oval setting. These are usually very large and feature a large band and many intricate designs. Popular options include geometric overlay over a great deal of tiny diamonds to create patterns and designs.
7. Circular Diamond Ring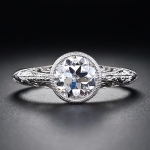 The circle diamond cut ring was not the most popular of Edwardian engagement rings, but it is a style that is popular today. These rings, like other styles, often feature large stones, or a lot of small stones to create glamorous patterns and styles.
6. Slender Band Large Stone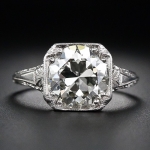 One of the more popular Edwardian styles was to use a slender band and a large stone to add more glamour to a look. The thinner the band on a large stone, the larger the stone looks. While this style is less able to support the often intricate design detail popular with most Edwardian styles, it is an excellent way to add a touch of classic glamour to any engagement ring.
5. Diamond Style Ring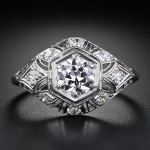 A diamond style ring is one that is shaped into a diamond pattern. Usually using a range of different small stones to form the diamond, and often with a large centerpiece, this style was one of the most popular for the era. These rings feature wide bands and a lot of stones and are very attention attracting.
4. Two Tone Ring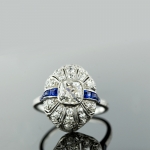 Two tone Edwardian engagement rings are also very popular. These styles can include diamonds and literally any other gem, but most commonly rubies and sapphires which rose to popularity during the era. Buyers can look for almost any Edwardian style.
3. Simple Diamond Ring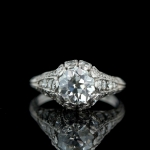 A simple diamond ring from the Edwardian era is less simple than others. Usually featuring a large stone and a band with engraving or pattern made of smaller stones, this engagement ring is the least ostentatious of other styles. Buyers who are on a budget might also be attracted to the relatively smaller band and smaller stone.
2. Shield Ring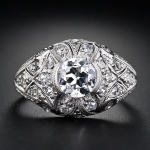 The shield ring uses a simple band that flares out around the top of the finger. Usually the flare can be as much as half of an inch wide and can include one or two gems, or be completely covered with them depending on the buyer. These rings were one of the most popular ring styles for the period and while not necessarily perfect as an engagement ring, are definitely a good example of Edwardian splendor.
1. Three Stone Edwardian Engagement Ring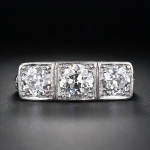 Three stone Edwardian engagement rings are perhaps one of the most appropriate rings of this style. With a smaller band than most, these rings can include two tone and single tone colors. Importantly, the ring features a medium band with three stones set into the face of the ring. These can be combined with a variety of styles and are flattering for most women, including those who do not tend to wear especially glamorous jewelry. Importantly, three stone rings are also the most modern style of Edwardian engagement rings and the easiest to wear with today's fashion.