Ten Beautiful Plus Size Wedding Dresses with Sleeves
Many wedding dresses are beautiful as off shoulder and one shoulder designs, but for some women, sleeves are better for comfort and for fashion. Many plus sized ladies feel uncomfortable about their arms not being quite tone and don't want to show off their 'problem area' in their wedding photos. Other women are more comfortable in sleeved dresses, or might simply be choosing a wedding dress with sleeves because it's cold outside! Whatever the reason, this top ten list of the best plus sized wedding dresses with sleeves can help you get started on your way to a beautiful wedding.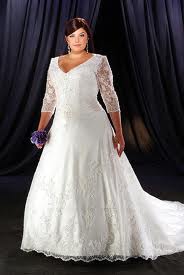 10. Short Gown with Sleeves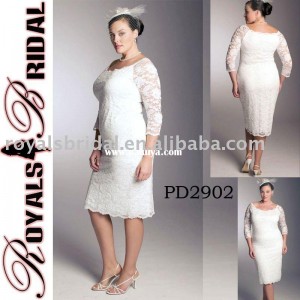 Your wedding day is no time to cover yourself up completely so consider choosing a high cut neckline with long sleeves and a shorter hem. Usually a secretary or knee length is just about perfect as anything shorter might be too short. You can also choose for calf length and go with a long sleeve retro style wedding dress if that is more your thing.
9. Mermaid Gown with Sleeves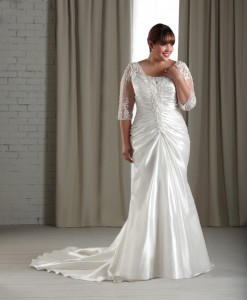 Mermaid gowns are beautiful on women of all sizes and you can pair it with a corset to give yourself the most dramatic curves for your special day. Mermaid gowns hug the figure and flare out below the thighs which can help to balance your proportions and make you look like a sultry and sophisticated siren. Best of all, mermaid gowns are beautifully counterbalanced with long sleeves so you will be even more flattered by this sexy silhouette.
8. Ruffle Dress with Sleeves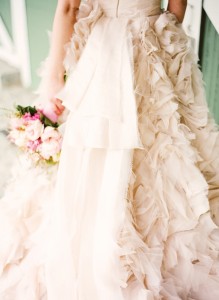 A ruffle dress can slim your physique and cut down on visible bumps in your wedding dress so it makes the perfect plus sized wedding dress with sleeves. Most women can choose from a range of different ruffles and designs depending on their own preference. It is also possible to choose between lace, mesh, and fabric sleeves.
7. Bolero Style Sleeves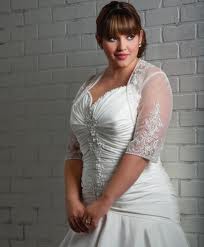 Anyone who wants the comfort of a sleeved dress can always choose a dress that looks like it has a bolero with it, or an actual bolero. The result is that the dress looks like an off shoulder or strapless design while you get the coverage you want. Using an actual bolero adds sleeves to the look and allows you to take them off if you get warm later in the evening.
6. Three Quarter Sleeves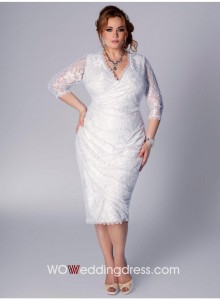 Three quarter sleeves are excellent for any occasion, summer, fall, or winter, and allow you to display a bit more skin than full length sleeves. Usually these sleeves will be quite snug so that they do not flutter around the elbows so check the sleeve measurements to ensure that the dress will fit before purchase. Three quarter sleeves are simple, elegant, and usually impressive with any style dress.
5. Mesh Sleeves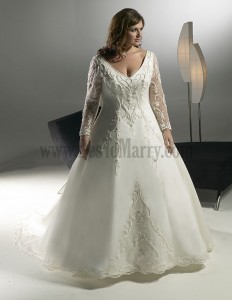 Mesh sleeves are a form of lace without detailing or with very little detailing. Usually simple sheer chiffon with some designs, mesh is a great way to add a small amount of coverage without hiding your arms. Because the mesh is see-through, you get both coverage and mystery.
4. Hi-Lo with Sleeves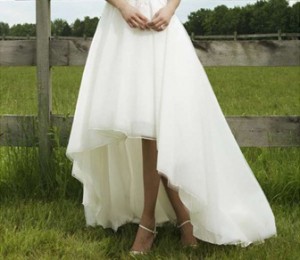 Hi-Lo dresses are very fashionable, especially in spring and summer, and can be quite enticing. Choosing a Hi-Lo wedding dress adds a bit of flirty fun to your wedding so it doesn't matter that you cover up your arms. Hi-Lo dresses are long in the back and short in the front and can range in length on front of back to a modest or dramatic difference. The style was made famous in 1993 by the rock band Guns N' Roses in their video November Rain and has since stayed in style.
3. Flutter Sleeves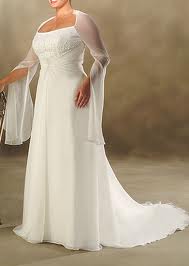 Flutter sleeves are great for older women but can appear somewhat whimsical on anyone under twenty five. The style adds a touch of fun to any dress but should be chosen with care in order to avoid a retro or 70s style look. Most women can pull this look off by pairing it with a long skirt and long veil.
2. Off-Shoulder Sleeves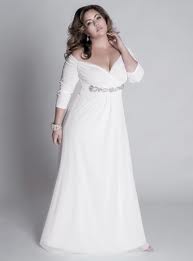 Just because you're choosing a wedding dress with sleeves doesn't mean you have to hide your shoulders. The shoulders and bust are one of the most beautiful parts of a woman, so displaying your assets with an off shoulder long sleeve dress could be just the thing to grab his attention, and keep it, all day. These dresses add contrast because the sleeves start just below the shoulders and usually at the armpit.
1. Lace Sleeves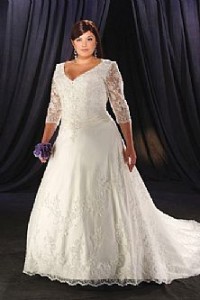 Lace sleeves are probably the best choice for plus size wedding dresses with sleeves. Lace is beautiful, feminine, offers coverage but doesn't cover too much, and is very popular. Choosing the right lace style will have you looking like a princess while offering you just the right amount of sleeve coverage. These styles come in full, three quarter, and short sleeves.