Top 10 Cutest Rehearsal Dinner Dress Ideas
While the most important day in a bride's life is their wedding day, the rehearsal dinner is an event where the bride can enjoy herself before the big day arrives. The bride's rehearsal dinner dress should be something comfortable to move around in just in case there is dancing and she should be able to wear it all night should the party go on for hours. Here are 10 great ideas for a bride to choose from when deciding what to wear to her rehearsal dinner.

10. Maxi Dresses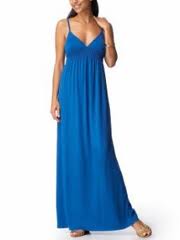 Maxi dresses are very popular right now and come in an assortment of colors and designs. The dresses are long and free flowing making them comfortable to wear for hours on end. Many maxi dresses do not have sleeves and they come in just over the bust. These types of dresses look great on all body types and can be belted to accent the waist. If you have great arms and shoulders, the maxi dress will highlight those areas. If you do not want your arms to be seen, these dresses work well with a sweater to go over them or with longer sleeves.
9. White Party Dress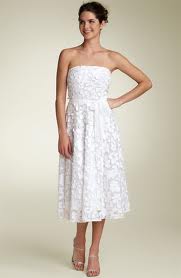 Many brides choose to wear a dress that is similar to their wedding dress. Wearing a white dress is important to many brides who want to keep that same tradition of wearing white before they get married. A tea length dress is great because it covers much of the leg, but is not as formal or long as the typical wedding dress.
8. Floral Dress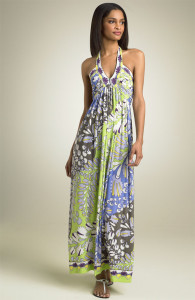 A rehearsal dinner should be fun because the dinner is one last big event with friends and family before the big day. A nice floral dress is great for an outdoor event like a barbeque or pig roast. A floral dress can be casual or a little more formal, and can be dressed up with a plunging V-neckline.
7. Yellow Ruffle Dress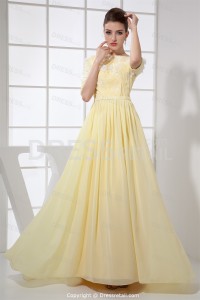 Most brides choose to get married during the spring or summer seasons due to the weather. A yellow ruffle dress is a great color to wear when it's warm, and especially in the sunshine. A yellow dress will blend in with many of the outdoor flowers and colors of spring and summer. Empire waists, A-lines, and maxi dresses are all perfect options for anyone looking for a yellow ruffle dress.
6. Pink One Shoulder Dress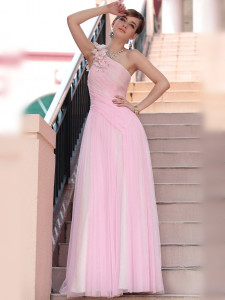 Pink is always a trendy color and for anyone looking for something a little different, the off shoulder design is perfect. Off shoulders can be formal or semi-formal, and pink is beautiful and feminine. Women can choose a range of fabrics and styles to flatter their rehearsal dinner.
5. Blue Dress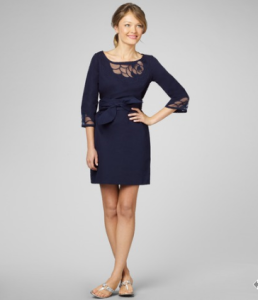 Many brides want to wear something completely different than their wedding dress to the rehearsal dinner. A blue cocktail dress is a perfect option because the color is soft, almost universally flattering, and can be as light or as dark as the bride prefers. Many cocktail dresses make perfect party dresses as well so this one can stay in your closet long after the wedding rehearsal dinner.
4. Sparkling Dancing Dress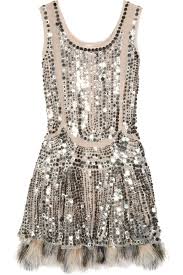 A lot of rehearsal dinners incorporate dancing throughout the night. A fun and flattering sparkling dress is perfect for spending the night dancing. A cocktail dress with chiffon or gauze overlay is the perfect way to wear this dress. Necklines can be halter, V-neck, or even high necked but should be chosen to complement the bride. Consider choosing a darker color for more dramatic effect.
3. Purple Elegant Dress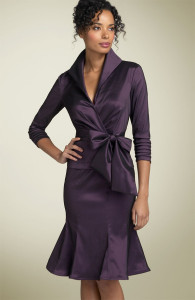 Purple is an elegant color that is perfect for both the young and flirty, and the older, more elegant brides. Styles can be chosen to be sexy and fun with off shoulder or one shoulder details, halter neck or short sleeved depending on the bride. Vintage A-line styles with collars and bows are almost certain to be a hit no matter where the rehearsal is being held.
2. Pale Blue Lace Dress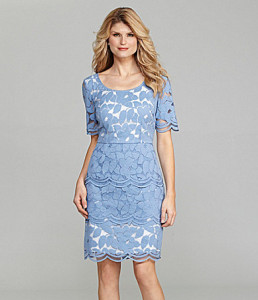 The best rehearsal dress is one that can be worn as a party dress for years to come. A blue lace dress is a closet staple that you can wear on the honeymoon, on vacation, and pretty much anywhere else you might want to go. While this dress might be a little more conservative than some other styles, it's a great option that will make a long term investment rather than a dress to wear just once.
1. Brown Floral Dress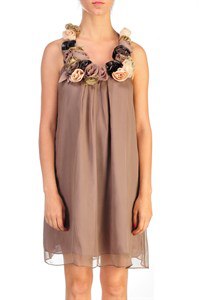 If the bride wants to make sure she matches the theme and colors of the rehearsal dinner, this brown floral dress is great for the unknown. It has multiple shades of browns and creams that will help blend in to many other colors. While most brides pick their own colors, the dress is also great for matching the colors without revealing anything about the dress planned for the big day.