Tea Length Wedding Dresses for your 50s Style Wedding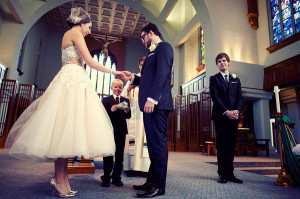 Whether you love the Pinup Era (30s, 40s, 50s, and early 60s) or just don't want to carry around a long dress all day, a tea length wedding dress may be for you. Tea length is classically just below the knee, making it modest yet easy to walk in. Today, the style is most well known for being popular with retro and vintage styles, and is quickly making a comeback as one of the most practical hemlines available. Here are a couple of tea length wedding dresses you can choose for your 50s inspired wedding (or any wedding that calls for a shorter dress).
10. Ball Gown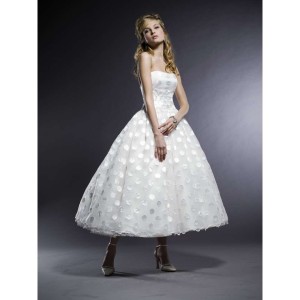 If you want a flared dress but don't feel like having it drag the floor, then the tea length ball gown could be for you. Ball gowns flare out dramatically at the high waist to create a not-so-subtle figure defining look. These dresses are typically covered with chiffon and lace, and are best paired with a great pair of heels or a cute pair of ballet flats. In fact, the look most often achieved with the tea length ball gown is that of the ballet dancer!
9. Empire Waist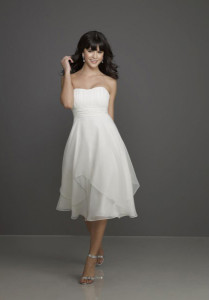 Anyone looking for a modest and simple wedding dress can choose a tea length empire waist gown. It is important to remember that this style is hardly ever flattering on very slender women as it tends to make the waist look bigger. However those who have a little more to love will find that the style smooths any bumps and is very complementary. This is a perfect style for expecting moms who don't want to accent the baby bump too much.
8. Retro
Retro is in and if you're planning a full out 50s style wedding, why not go for a retro dress. Usually high-neck styles and flared skirts are in, but you can find a lot of different retro dresses. A couple of brands that make retro inspired wedding suitable dresses including Pinup Girl Clothing, Bernie Dexter, and several more.
7. Wiggle Dress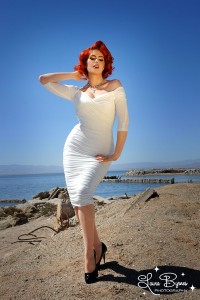 The wiggle dress is the go-to for the sexy glamor girl and it makes a great wedding dress! The style hugs all of your curves and usually ends at or just below the knee to give you a jaw dropping silhouette that your husband won't soon forget. Neckline styles vary and many include off shoulder designs. Most importantly this dress is complementary to all sizes although it is possible to wear a corset or Spanx to add a little more curve to the dress.
6. Swing Skirts
A dress with a swing skirt is a perfect and fun way to wear a tea length wedding dress. Swing skirts are typically more flared than an A-line skirt but less so than the ball gown. Like ball gowns, swing dresses are made for dancing, but they are also made to fly. If you're dancing fast, expect the skirt to fly up. If you're not shy, just make sure you wear undies that cover everything.
5. Shift
The shift dress is the perfect elegant dress for many brides. The style is semi-fitted but not form hugging, and is usually the go-to dress for the older bride who wants to look simple but elegant. However, it's not limited to a specific age as many women young and old choose this style of dress. The shift was most popular in the 20s but is still just as flattering today.
4. Corset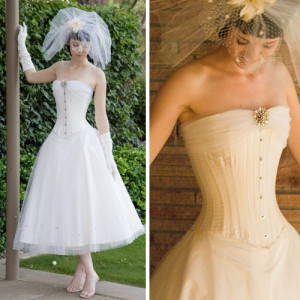 A corset is the perfect way to make a tea length wedding dress just a bit more formal. Corsets can be built into the dress, worn over the dress, or worn as an underbust accessory to the dress depending on the brides preferences. Importantly, corset dresses can come with almost any type of skirt, so this is an easy variable to look for.
3. Hi-Lo Hemline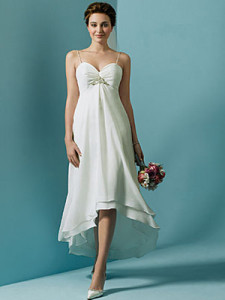 Modern brides who don't really want a 50s style wedding can consider a hi-lo hemline as an alternative to a full tea length. usually the front of the hem is tea length while the back of the hem touches the ground. The style can be elegant and striking, and there are a variety of different types of hi-lo hems to suit different personalities.
2. Strapless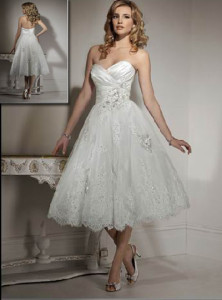 Strapless gowns should be one of the first choices for any bride looking for a tea length wedding dress. Strapless looks not only show off the shoulders, but are perfectly balanced with a tea length hemline. Most women can pull strapless styles off with any sort of skirt. Women with a larger bust might want to look into wearing a corset under the dress for support.
1. A-Line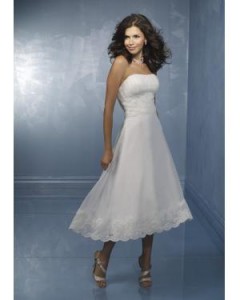 A-line dresses are the single most classic cut for the tea length dress and are universally flattering. They are available in everything from off shoulder to long sleeve designs, and are perfect for most brides no matter weight, color, or age. As a result, the A-line is our number one pick for a wedding dress!