Top Ten Black Bridesmaid Dresses Not Suited for the Wedding Party
Little black dresses can be the solution for dressing for many occasions. Even black bridesmaid dresses have the ability to complement the bride's style without upstaging her. Some black dresses do not fit into a wedding look though. Choosing a dress that is better suited for a club or a business function would be a wedding style disaster. Read on to find a list of the top ten disastrous black bridesmaid dresses we have found, and hopefully it can help you avoid a wedding disaster of your own.
10. David's Bridal Cap Sleeve Short Lace Dress Style S356932
The David's Bridal dress is very nice, but not nice enough to be a part of the wedding party. The dress is really plain. The lace over the top does not even make the little black dress any more elegant. This dress would be better off used to go out shopping in or to go to a casual dinner.
9. Peggy Sue Bridesmaid Dress Anthropologie
Yikes! The Peggy Sue dress from Anthropologie is not what most people think about when they hear bridesmaid dress. It is not very ornate, fancy, or formal. A little black dress such as this is more appropriate for a small party or to just wear whenever. It resembles the sun dresses that major retail stores sell in the summer.
8. Bari Jay Style 334
Bari Jay style 334 screams business meeting. The hemline lands comfortably above the knee and has a playful wrapped look. The sleeves are the ¾ length, which creates a more casual than fancy look. The material is made of taffeta, seen in many wedding and bridesmaid gowns. As nice and classy as this dress is, it is just way too casual to wear to a traditional wedding.
7. The Handmade A-Line Dress
The handmade A-Line dress is a very nice dress. It is short sleeve, A-line, and floor length. The dress is made of chiffon that is ruched at the sleeves, bust, and waist. This dress is very pretty, but not exactly formal enough to be a part of a wedding party. Guests at the wedding may wear a similar dress, but this is not suited for a bridesmaid to wear.
6. Watters Style 9486
The black Watters style 9486 dress is a V-neck maternity bridesmaid dress. This dress is very pretty, but still does not appear to be formal enough for a bridesmaid to wear. The dress is made of Dupioni silk with an empire sash at the waist. The main issue with this dress is that it is too plain. There are no real embellishments on the dress nor is there anything that fancies it up for a formal event.
5. Alfred Sung Style M407
The Alfred Sung style M407 is another maternity dress for a bridesmaid. This dress is even plainer than number 6 on our list of the little black dresses not suited for a bridesmaid. M407 is an empire waist dress that is short sleeve and knee length. Though the material is not listed, it appears the dress is made of black chiffon. Outside of the description, there is not much more to say of this dress. It is extremely plain without any design elements that make it pop.
4. Alfred Sung Style D551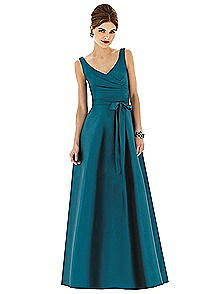 The Alfred Sung style D551 is another dress that makes our list. This style has an empire waist with short sleeves and a full floor length skirt. This dress has a kind of odd and awkward look. The cap sleeves and wide neckline give it a strange hour-glass appearance that does not seem to flatter the model very well. This dress just does not seem like something the bride would choose to include as a major part of the wedding party.
3. Lela Rose Style LR161
Lela Rose style LR161 is an oddly cut, but pretty dress. It is made of crinkle chiffon in black. The LR161 dress seems to be more appropriate for a cocktail party versus a wedding. The neckline is V-neck with draped sleeves that have a cutout over the shoulder. The dress looks almost more appropriate to be worn by a ballerina than a bridesmaid.
2. Maggy London Stretch Satin Sheath Dress
Another very plain bridesmaid dress is the Maggy London stretch satin sheath dress, style number 237915. This dress is a black sleeveless knee length dress with a wide V-neck neckline. The dress is made up of stretch satin, making it appear somewhat elegant. As with most of the other dresses, the largest problem with this dress is that it is just too plain. A bridesmaid dress should be very formal and almost as ornate as the bridal gown.
1. The Retro Vintage Dress
The retro vintage dress is a dress that is presumably old from an unknown designer. It appears to be made up of chiffon, but it is impossible to tell. The dress is long sleeved, but is covered with a see-through material over the top of the black of the dress. The dress is actually really pretty, but it just does not look like something that would ever be worn to a wedding. This black dress seems fit for only wearing out and about in the city, as it is not very formal. This, therefore, makes it the worst black bridesmaid dress for any wedding party member.