Ten Plus Size Lace Wedding Dresses That You Will Love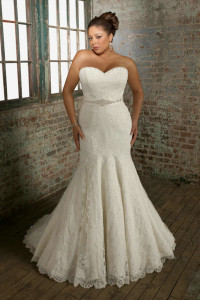 If you're looking for plus size lace wedding dresses then you have a lot to consider. The most important things to consider include your own figure, shape, and personal style. Lace is a great choice for women of all sizes, but for plus size women it offers a forgiving look that doesn't emphasize every bump and curve. Lace sleeves are also a great compromise for brides who usually cover their arms, but want to show off a little more for their wedding. Here are ten great plus size lace wedding dresses for you to consider.
10. A-line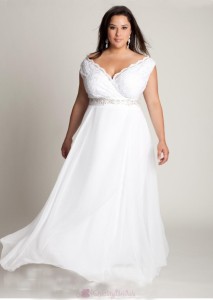 The A-line is the most classic dress style out there and is usually considered to be one of the most flattering for any shape. Because the A-line flares out at the hips, it is relatively forgiving, and can create a classic princess silhouette that is a little less dramatic than the ball gown. Aline gowns can be found in all lengths and with a wide variety of necklines.
9. Empire Waist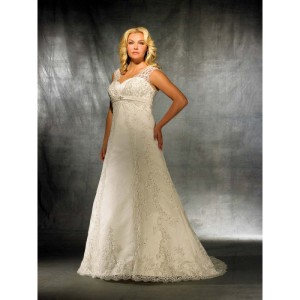 For the bride who wants a simple and elegant dress, the Empire waist or Drop Waist wedding dress is a great choice. This dress features a fitted bust and then a drop waist and skirt which is great for hiding bumps. Empire waist dresses are great for any sort of wedding, but look absolutely fabulous on the beach! Consider something with a chiffon or lace overskirt for the best effect.
8. Ball Gown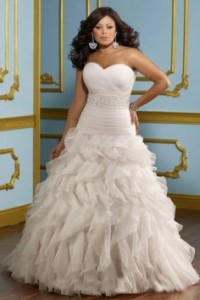 Ball gowns are always well known for being lacy, and many of them feature full lace skirts. Other lace styles include lace sleeves and lace overlay, but all of them tend to look great. Plus size women should be careful of choosing this dress if they have an apple figure as it can be slightly less flattering than another style. However, adding a corset will quickly remedy the problem.
7. Tea Length
Tea length dresses are one of the most complementary styles for plus size women simply because they help balance the figure. Consider a flared or a wiggle dress for an equally complementary style, and consider lace sleeves, lace overlays on skirts, or even lace back dresses. Tea length a-line and flare skirts can also be paired with long petticoats for a peek of lace at the bottom.
6. Wiggle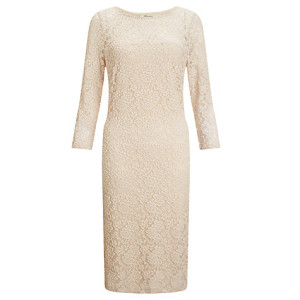 Most plus size women automatically avoid the wiggle but they shouldn't. The style is incredibly flattering on most women and can be on plus size women as well. Most plus size ladies prefer to wear shapewear underneath their wiggle. Lace overlay dresses or dresses with lace sleeves can be a stunning look for any plus size woman.
5. Column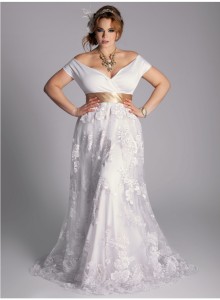 The column dress is similar to the wiggle dress but is less of a statement. Rather than being form fitting, the column dress flows down from the bust without any flare. As a result it's simple, elegant, and stately. However, it is important not to choose a column dress that is too long as it can look quite blocky. Instead, consider a tea or knee length column dress and then add a sash at the waist to accent it.
4. Flowing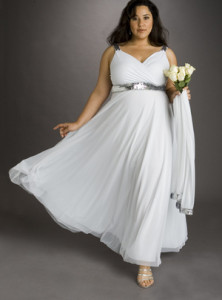 There are plenty of modern style dresses, and lace covered flowing styles are one of the most complementary for plus size women. Flowing fabric looks elegant, and is perfect for spring weddings. Brides can balance large amounts of fabric with off shoulder or one shoulder designs, and can consider adding a longer train to make this dress a little more formal.
3. Long Sleeve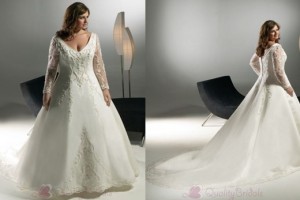 A long sleeve wedding dress with lace sleeves is beautiful, contrasting, and shows off the brides arms to their best effect. For women who are self conscious about their arms, the lace wedding dress does make the arms look a little bit smaller. It is, however, very important to try this type of dress on first as most lace sleeves should be as tight as possible against the arms for the best effect.
2. Corset
A corset wedding dress creates a beautiful and striking figure for any size bride. On a plus figure, the corset smooths and supports, and offers the bride a perfect fit should she lose or gain weight before the wedding. Most corset wedding dresses are strapless but can have a variety of different skirts including a-line, princess, ball, and even shift or pencil.
1. Mermaid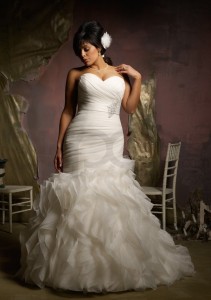 The mermaid wedding dress is one of the most flattering styles for all sizes simply because it is simple and chic. The dress flares out below the hips, which accents the wearer's natural curves. Paired with a corset or shapewear, the dress can create the same stunning curves as the wiggle, while offering a traditional hemline.