Top 10 Trends for Mother of the Bride Dresses
Choosing a dress to wear when your daughter is walking down the aisle can be a nerve-wracking experience. For a long time, mothers were limited in their choices for this important event. Thankfully, new trends are beginning to emerge for mother of the bride dresses. Gone are the days when mothers were confined to floor-length dresses in only a few neutral colors. These days there are a variety of new styles and fashions to choose from. Here is a list of some of the emerging fashion trends.
10. Bold and Beautiful Colors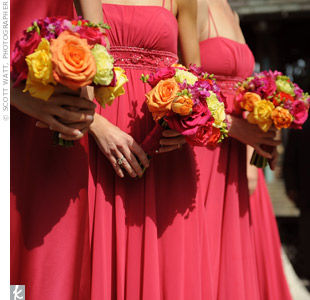 In the past, most mother of the bride dresses could only be found in neutral colors such as grey, beige, or varying shades of brown. These days, colors are in. Anything from pastels to more interesting royal purples, blues, and even varying shades of reds can be found. Just be sure to check with your bride so that you choose a color that complements rather than clashes with her own color choices. White and off white are also still better left to the bride.
9. Bolero Jackets
For the mother who isn't fond of traditional waist-length jackets with their dresses, this new trend will come as a relief. These shorter jackets are a fresh take on the traditional style. They also offer varying sleeve lengths, making them a much more comfortable choice for late spring or summer weddings.
8. Varying Necklines
Today's varying necklines make it much easier for mothers of any body type and shape to find a dress that fits their own style. From off the shoulder, one shoulder, v-neck or the more traditional square neckline, mother of the bride dresses now feature them all. This is a fashion trend that mothers of any age can appreciate.
7. Varying Lengths
Traditionally, mothers of the bride were limited to wearing floor or calf-length dresses. With many weddings beginning to be more casual, shorter dresses are becoming more common. Whether you prefer knee length, or a more traditional style, it is much easier now to find a dress that suits your tastes. Be sure to consult with the bride on her vision for the day before choosing a dress length, so that you can match the style that she has in mind.
6. Tiered Skirts
The layered, flowing look of tiered skirts was once reserved for the younger wedding attendees. Today, dresses with this style are being made to fit any age group and more bridal matrons are taking advantage of this trend. Provided they're not too frilly, this style can be particularly well suited and flattering for women over 40, but be sure to try it on before you buy it to ensure the layers are cut in a way that suits your body shape.
5. Suits
Not every mother is comfortable in a skirt. Pantsuits are an elegant compromise, allowing you to accommodate a more formal style, while remaining comfortable in what you're wearing. These suits offer a variety of choices, though most feature looser, more flowing pants that can often resemble a floor-length skirt. Suits can be an excellent choice for outdoor winter or spring weddings.
4. Environmentally Friendly Fabrics
These days green is so much more than just a color. Environmentally friendly fabrics are becoming increasingly popular in a variety of fashions, including mother of the bride dresses. Fabrics such as organic cotton and silk have the added bonus of being light and breathable; a definitely plus for summer weddings held in July or August. If your bride and groom are having an environmentally-friendly themed wedding, consider carrying that theme into your own attire as well.
3. Fabulous Prints
From amazing light and floral prints, to high contrast choices like the one above, prints are becoming increasingly common in wedding fashion. Prints can provide an interesting and eye-catching element to any dress, particularly when featuring bold, contrasting colors. Floral prints are particularly suited for spring weddings.
2. Beading
Details such as beading and sequins are an excellent way to brighten up a more subtle dress. Beading is becoming increasingly popular in wedding fashions. When choosing a beaded or sequined dress, however, be sure to choose something that isn't going to outshine or overshadow the bride's dress choice.
1. Metallics
Bold can be given an extra punch with the use of metallic fabrics. Even more traditional greys can be made particularly eye-catching in mother of the bride dresses. From translucent and subtle to irridescent an eye-catching, wedding fashion has truly embraced the use of metallics. As always, however, remember that the focus of the crowd should be on the bride. Make sure your choice won't outshine her dress on this special day.