Ten Favorite Summer Mother of the Groom Dresses to Suit all Tastes
Summertime is a wonderful season for a wedding. The weather is warm, and with luck the sun is shining. Summer is an ideal time to plan an outdoor wedding, on the beach, in a park, or even in the garden. But for the mother of the groom, trying to decide the best outfit to wear for a summer wedding, can be confusing. You want to look your best, but you don't want to be overdressed and outshine the bride. Below you will find out top ten favorite summer looks for the mother of the groom.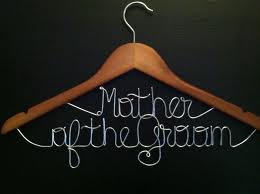 10. Traditional Two Piece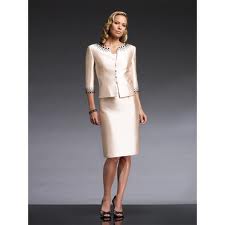 The traditional two piece outfit is always a fantastic choice. Where possible, choose a strapless, or spaghetti strap dress that will look amazing on its own. Pair it with an elbow length or full length sleeved jacket so that you have something to cover up with if the temperature turns a little cool. This traditional outfit is perfect for a summer wedding, and practical enough that you can wear it again.
9. Trendy A Line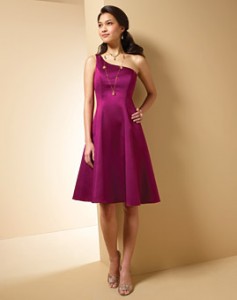 This gorgeous dress is the perfect choice for the trendy, hip mother of the groom. A beautiful satin finish A line dress that falls around the knee line. The one shoulder design makes it dressy enough for a wedding but the shorter length and simple lines make it perfect to wear again as a party dress or simply out to a nice dinner.
8. Cocktail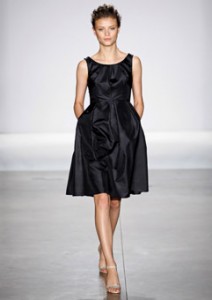 The cocktail dress is a perfect choice that will make any mother of the groom feel charming, sexy, and comfortable. This dress style usually falls right above, or at the knee line, and a great summertime choice would be a strapless or spaghetti strap dress. Choosing a cocktail dress with a loose bodice and full, flowing skirt will help hide any imperfections and allow the mother of the groom to concentrate on having fun with the guests.
7. Mermaid Style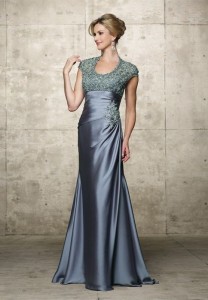 The mother of the groom will feel like the queen for a day in a beautiful formal length mermaid style gown. Long, formal gowns do not have to be shapeless, and a mermaid style gown pairs the formal look with a beautifully fitted gown. Choose a gown with a detailed bodice and scooped neckline to even out the symmetry of the dress a little bit, and choose the brightest, boldest, summer color that you are comfortable with.
6. Whimsical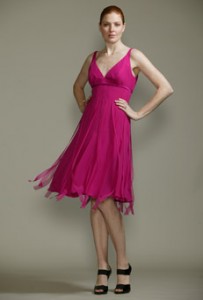 The mother of the groom doesn't have to look frumpy. Instead go for a younger, whimsical look that will make your son proud. Pick a bright colored, spaghetti strap dress with a low neckline and flyaway skirt. The dress will move beautifully both on and off the dance floor. The straps will help to keep the dress in place, and the flyaway skirt will resist clinging, allowing mom to be comfortable all evening long.
5. Modern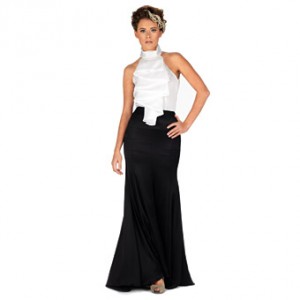 This style of dress is ideal for any mother of the groom who wants a modern, trendy look. A gorgeous dress that has both contrasting colors and styles wrapped into one outfit. A high neckline fits perfectly with the flowing blouse, and mermaid style skirt. This particular outfit is inspired by a man's tuxedo, but is definitely sexy enough for any woman.
4. Sophisticated
A sophisticated little black dress will look fantastic on anyone and is a great choice for a summer mother of the groom outfit. Choose a dress with a decorative neckline to break up the look a little bit. Accent it with a sash and huge silk flower for a sassy, trendy look that will last all evening.
3. Strapless Formal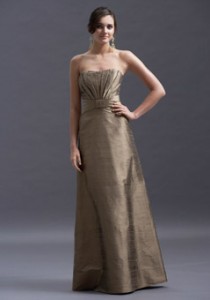 Pair a sleek, sexy, strapless formal dress with a shrug jacket for a classy, picture perfect look that will go from the warm summer's day to the cooler evenings. Find a structured style dress with some additional detailing and design on the bodice for a look that will transition easily from wedding ceremony to reception.
2. Casual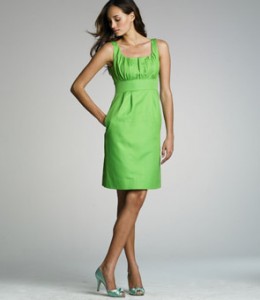 Depending on where the wedding is being held. A casual dress may be the perfect choice. Choose a brightly colored dress with a fitted bodice and A-line skirt for a comfortable, but gorgeous look. This type of dress provides coverage and support for a laid back mother of the groom. Choosing a material like cotton will allow the dress to breath, making it a great choice for an outdoor wedding.
1. Flashy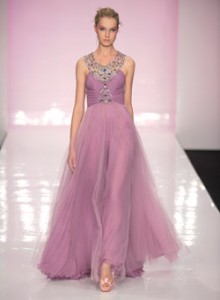 There is absolutely no reason why the mother of the groom can't pick a beautiful, flashy dress that will turn heads. As long as she doesn't outshine the bride of course. For a gorgeous, flashy look, choose a long, flowing, pastel colored gown made from taffeta or tulle that has exquisite detailing made from crystals or sequins. The pastel color will help to soften the boldness of the detailing.