10 Beautiful Bari Jay Bridesmaid Dresses for All Weddings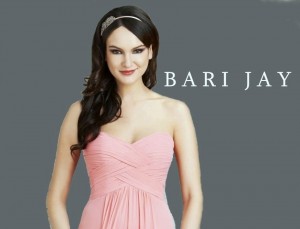 One of the exciting parts of planning your wedding is choosing the dresses that your attendants will wear. You want them to look beautiful as they stand next to you. They want to look lovely for your special day. Bari Jay bridesmaid dresses are simple yet stylish. The gowns are affordable and fashionable and are made to compliment all silhouettes. The family owned company has been in business for over 39 years and is run by two sisters. They have a wide selection of gowns in a variety of designs, colors, and fabrics. Dresses are available in sizes from two to 28.
10. Flowered Strap Dress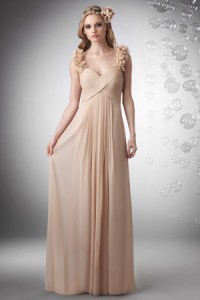 This floor length gown is made of crinkle chiffon and has a soft, feminine look. The sweetheart neckline has a V-neck design with flowered straps. The gown has center front shirring under the crisscross-shirred bodice. The gown looks beautiful on all silhouettes including expectant attendants. Available colors include nude, aqua, pink, and cobalt as well as many others.
9. Long Straight Skirt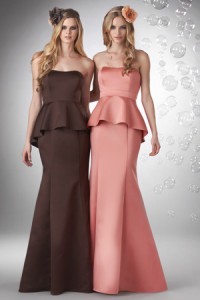 This elegant floor length dress is made of Jolie satin. The gown features a strapless neckline and long straight skirt. The skirt skims the body from the waist to the knees where it flares out as it falls to the floor. A sash is at the snug fitting waist with a ruffle from the sash over the top of the skirt. Available colors include tangerine, mauve, cranberry, and chocolate as well as many others.
8. Halter Style Gown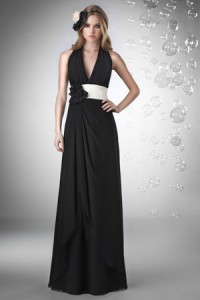 This halter style gown has a deep V-neck. The dress has a bareback design with straps closing behind the neck. It is made of Bella chiffon ensuring it swirls softly to the floor. The chiffon sash ensures a snug fit at the waist and can be a contrasting color. The sash is adorned with a flower on the side. Dress colors include black, lilac, pink, and sage with sash colors of white, pink, sage, and shadow as well as many other hues.
7. Removable Strap Gown
This enchanting gown can be worn with or without straps thanks to the removable straps. It is made of crinkle chiffon and has a sweetheart neckline. The gown features a shirred bust and center front draping from the snug fitting waist. The draping adds a layered look to the charming design of the dress. Available colors include aqua, Kelly, cobalt, and lilac.
6. Short V-Neck Dress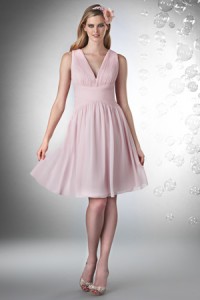 This flirty dress in the Bari Jay collection falls just above the knee and is ideal for casual or afternoon weddings. It is made of soft Bella chiffon that swirls around the legs as the attendants walk. The dress has a V-neck with fitted waist. It is available in colors that include petal pink, chanel, forest, silvercase, and navy.
5. Crisscross Strap Dress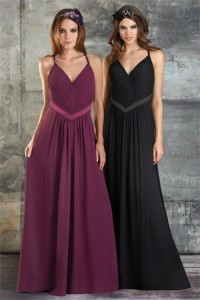 The simple lines of this V-neck gown with the open Charmeuse crisscross straps offer a stylish look for any bridesmaid. Made of soft Bella chiffon and matching Charmeuse, the gown flows to the floor from the waist. It has a shirred bodice and bust with a V-waist band. Available colors include raspberry, black, lilac, orchid, dusty, rose, and mustard.
4. Dress with Short Ruffles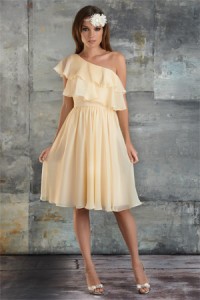 The softly flowing skirt of this feminine dress falls just below the knee. The dress features a one-shoulder design with layers of ruffles on the bodice adding to the feminine look. Made of iridescent chiffon, the dress has a sash at the waist and soft pleats in the skirt. The available colors include vanilla, sky, ginger, and espresso.
3. Pleated Bust Gown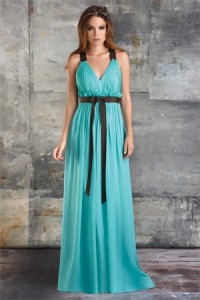 This Bari Jay gown is made of iridescent chiffon and features a deep V-neck and pleated bust. The floor length skirt has soft pleating making it an ideal dress for any attendant. It has gross grain straps with matching ribbon around the waist that comes in ivory, brown, or black. Dress colors include sea, charcoal, kiwi, plum, and sorbet.
2. Short One Shoulder Dress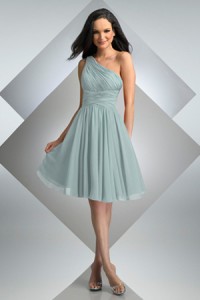 This knee length dress is ideal for afternoon and casual ceremonies. The dress features a one-shoulder design with a natural waist. It has a gathered bodice and crossed waistband that ensures a snug fit. Made of Bella chiffon, the skirt flares nicely and has a soft look. It is available in several colors that include misty blue, hunter, eggplant, cocoa, coral, and periwinkle.
1. Long One Shoulder Dress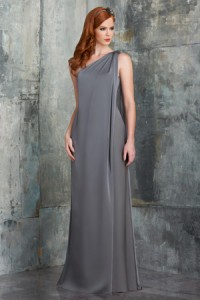 The elegant style of this floor length one shoulder gown features slight shirring at the shoulder that adds a pleated look. The gown has a side opening giving the dress a layered look. It is made of iridescent chiffon and is an ideal dress for any attendant. Available colors include charcoal, bronze, melon, aubergine, and black.