Ten Informal Wedding Rehearsal Dresses
The wedding rehearsal dinner is the practice for the big day. It is meant as an informal and fun affair where the wedding party and friends can gather to go through the ceremony to work out any kinks in the festivities. Your dress should reflect that mood. The rehearsal includes a dinner at the end which can be anything from a cookout to a catered event or a Mexican fiesta. You should choose a dress which is less formal and more lighthearted. There are many options available. The hard part is choosing the right one.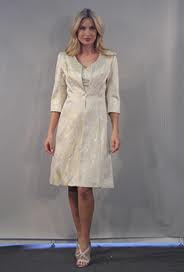 10. Strapless Knee Length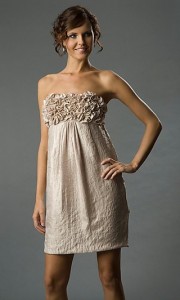 Go a little retro and a little dressy with this whimsical short strapless dress that falls to the knee. It has a strapless empire bodice and is very flattering to most figures. This A-line dress is available in many colors including white, red, pink, navy, sea foam, and sage. A matching sash is included for a touch of pizzazz.
9. Short One Sheer Sleeve Dress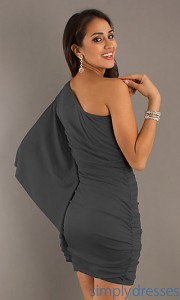 Shorter dresses scream fun when worn to a celebration. This type of dress is no different. If you are holding your wedding in the warmer months, then think about wearing something like this dress. It is elegant and sexy. The simple lines are met with a dazzling jeweled neckline. The sheerness of the sleeve adds an interesting touch. The one shoulder adds an element of fun to this dress.
8. Cocktail Dress with Ruffle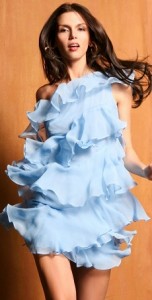 If you are holding a more formal rehearsal dinner, then consider wearing a beautiful cocktail dress. This dress is one shoulder with a ruffle over the shoulder. The material can be chiffon, organza, silk, or any other fine fabric. This dress falls right above the knee with a peek-a-boo on the left side. It is elegant and timeless.
7. High/Low Spaghetti Strap Dress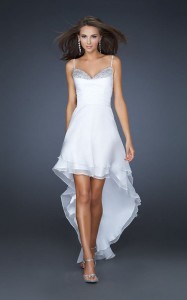 A high/low spaghetti strap dress is both fun and elegant. It brings an element of surprise to the look due to the front falling above the knee and the back of the dress falling to above the ankle. The spaghetti straps and deep v-neck in the front add a touch of sexiness to the dress. Pair it with peep toe heels and a classy diamond bracelet or necklace and you will be breathtaking.
6. Knee-length Hemline Dress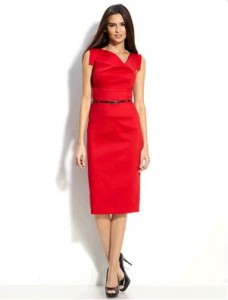 A dress with a knee-length hemline and straight lines is very simple yet classy. Choose a color like fire engine red and pair the dress with strappy black heels and a black clutch and you are on your way. Choose a dress with an interesting neckline like this one, where the neckline is abstract.
5. Lace Halter with Flared Skirt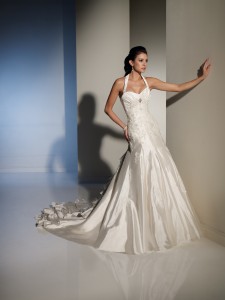 If you are getting married in the summer, choose a rehearsal dress that reflects the carefree mood of that season. An embroidered lace halter dress is perfect. The V-neck and long skirt with flared hem will make you feel and look sexy. Add a pair of drop earrings and very sexy sling-back heels, and you have a very elegant rehearsal dinner look.
4. Taffeta Sleeveless Dress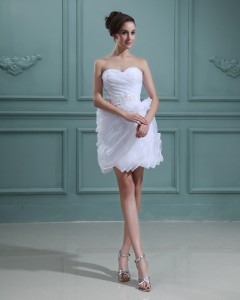 A taffeta sleeveless dress is lots of fun to wear. The skirt is bouncy and great for dancing. Look for bright colors and a tulle petticoat underneath. Pair the dress with some pretty peep toe shoes and no stockings. There is no need for flashy accessories with this dress. The color and flare gives it enough pop. You are ready to dance the night away.
3. Dressy Sheath Dress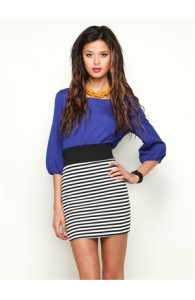 A dressy sheath dress is not too formal or too casual. It can be worn to the rehearsal and to the dinner. Look for a dress in an abstract pattern with a straight silhouette. Add some strappy heels to complete the outfit.
2. Trendy Mini Dress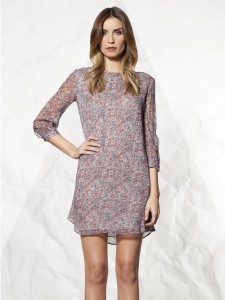 A trendy mini dress can be a lot fun to wear to your rehearsal dinner. Consider your theme and then choose a fun mini dress to wear to the party. This dress in particular features sheer arms and a bird of paradise theme. It would be perfect to wear to a rehearsal dinner held by the pool or at the beach.
1. Halter Dress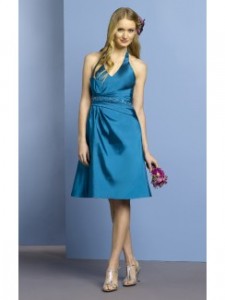 A halter dress is a great alternative to wear to a semi-formal or formal rehearsal dinner. Look for a style with some jewels or gold around the neckline or waist. Braid your hair and wrap in a bun for a throwback look to television's "I Dream of Jeannie" look.