Ten Fabulous Plus Size Wedding Dresses at Trudy s Bridal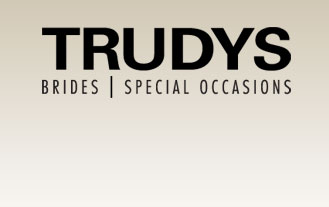 If you're looking for a fabulous wedding dress then you have no doubt heard about Trudy's Bridal. The store stocks a huge range of wedding dresses and accessories, including a very lovely selection of plus size gowns. Women looking for something fabulous in a larger size can rely on Trudys Bridal for any of these beautiful styles. Most are also available in slimmer sizes for women who need something a little smaller.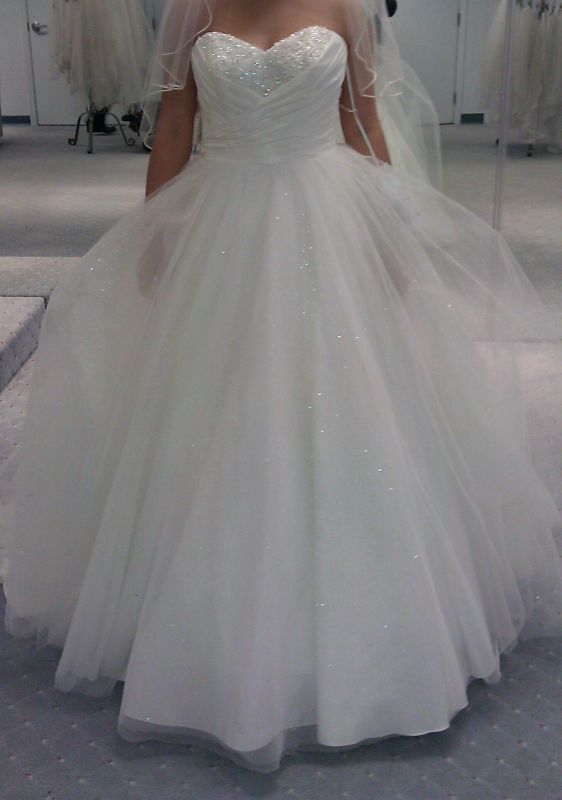 10. Alfred Angelo Wedding Dress 205
Any woman wants to feel beautiful and unique on her wedding day, and this dress pulls that off to a T. The Alfred Angelo wedding dress 205 is a gorgeous off shoulder ball gown with a built in corset top, sweetheart neckline, and contrast lacing on the bust. The skirt features a double layer of frosted chiffon and a long train sure to make any bride feel like a princess. Trudy's Bridal does ask you to email or call them for information about the dress. The dress also features an empire waist, which is very forgiving for women who have a bit of a tummy.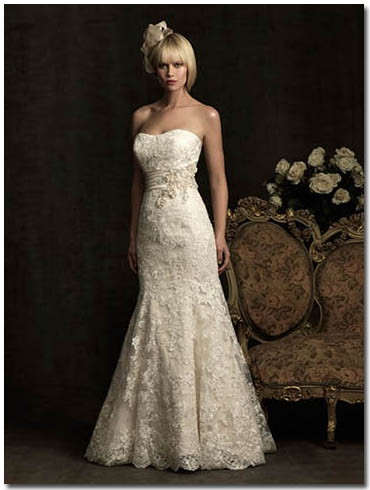 9. Allure Bridal Plus Wedding Dress 8917
Being a plus size doesn't mean you have to wear flowing dresses, you can also go for some of the sexier styles. The Allure 8917 is one of those styles that is sure to make any bride feel like a queen. The dress features a mermaid skirt that flares out at the thigh, a figure hugging top, and a sexy off shoulder bodice. The Allure also features a full lace overlay, a sweetheart neckline, and lace flowers at the waist with a gentle rather than dramatically flared skirt. Most women would benefit from shapewear to give the dress a little more form, but this gown is sure to be flattering without it as well.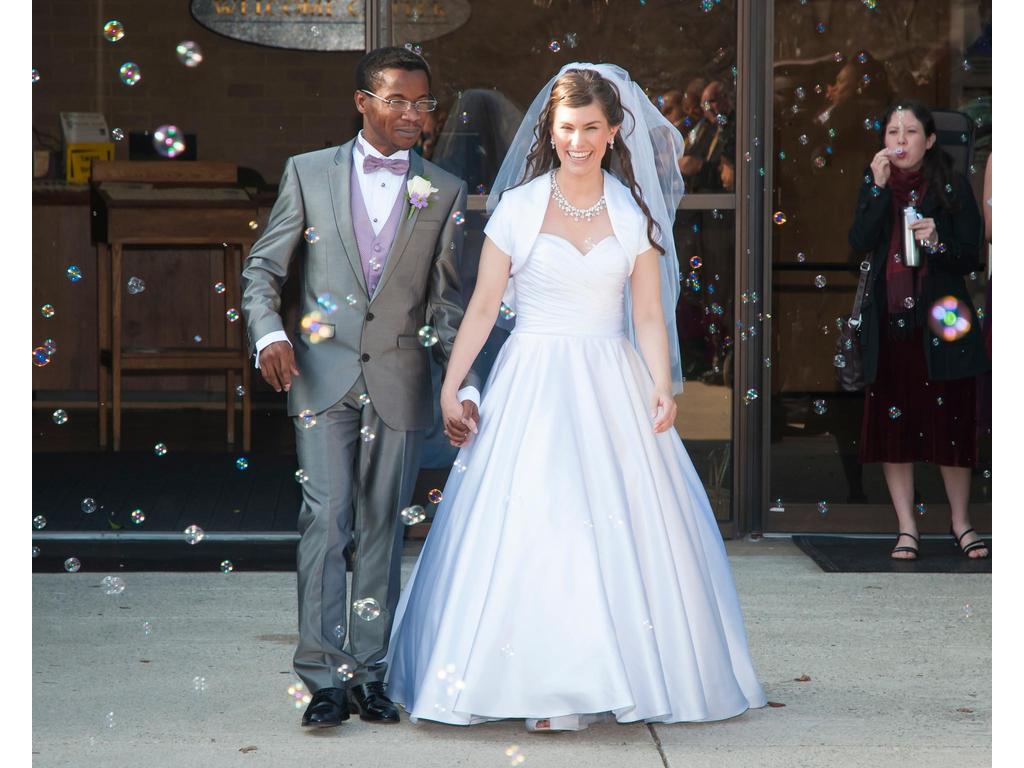 8. Allure Bridal Plus Wedding Dress 8919
Women searching for a classic wedding dress can look at another Allure style at Trudy's Bridal. The 8919 is a classic A-line that flatters and defines the shape for women of all shapes and sizes. The dress comes in a classic white satin with a sweetheart neckline, ruched skirt, and bodice. While the dress is off shoulder, it can be easily paired with a simple satin bolero for the cold, or for those who are shy about their arms.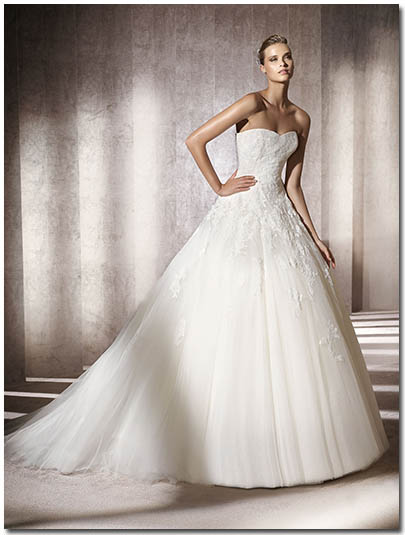 7. European Plus Styles Pronovias Alcanar
Every princess needs a beautiful gown, and the Pronovias Alcanar is it. The dress looks like something out of a fairytale with it's sweeping chiffon lace train and sweetheart bodice. The Pronovias Alcanar features a unique but beautiful lace bodice that flows out into a full chiffon skirt to create a flower-like effect on the top. The skirt is very wide and would be best paired with a hoop petticoat which can also be bought at Trudy's.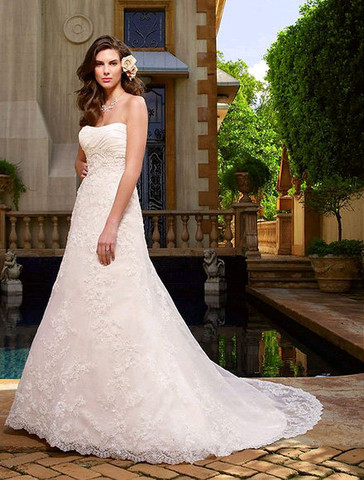 6. Casablanca Plus Wedding Dress 207
The Casablanca is another mermaid style wedding dress that flares out below the hips. However, it also features a more gentle flare so that it looks almost like a tame version of the A-line, which is perfect for women who are top heavy and want to exaggerate their waist, and for women with wider hips who want to accent their curves. The dress features a lace overlay and exaggerated long train on the back.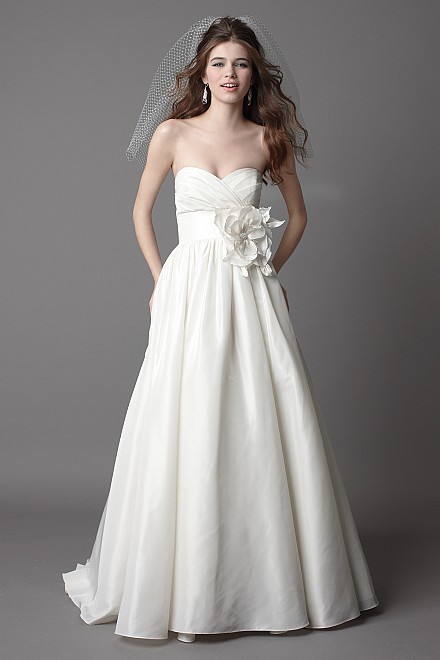 5. European Plus Styles Watters 15828
A simple but elegant dress, the Watters is best suited for women who have a casual or semi-formal wedding. The dress itself is off shoulder with an exaggerated sweetheart bust, a short waist decorated with a very large flower, and a heavily ruched flowing satin skirt. We would suggest it for a country or outdoor wedding where it's simplicity is sure to stun. Consider pairing this with a large floppy brimmed hat, and loose hair.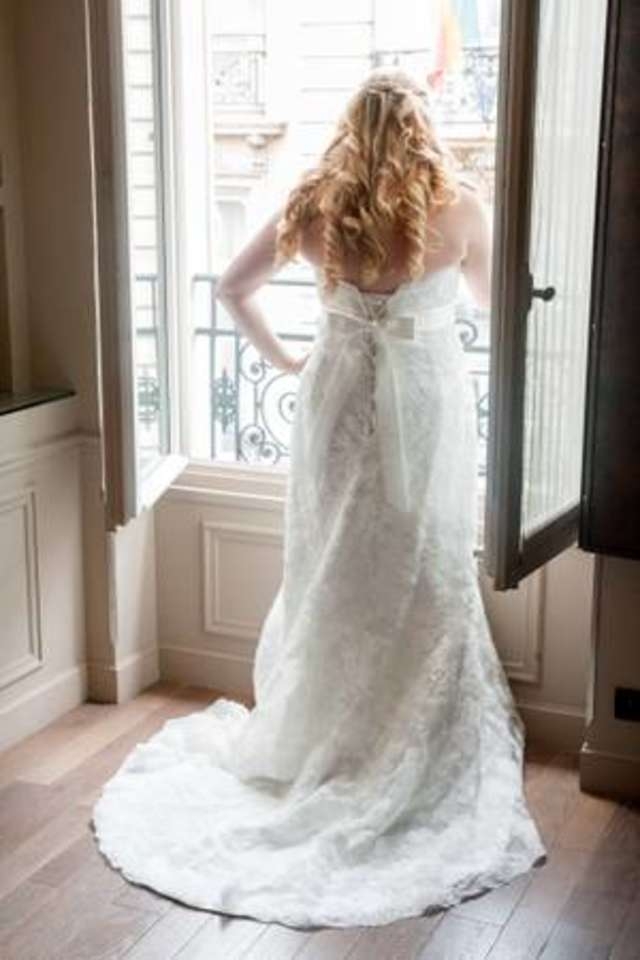 4. Maggie Sottero Plus Wedding Dress Karena Royale
Curvy women in search of an elegant and flattering dress can consider the Maggie Sottero Karena Royale. Like it's name, the Karena Royale is elegant, sophisticated, and exotic, with a flowing lace train, tucked in waist, and corset back. The short train adds just enough emphasis to the back without drawing too much attention, while the strapless bust, tied waist, and mermaid skirt flatter any body shape in just the right places. Consider pairing this one with a corset bra and don't be afraid to wear spanx or other shapewear if you think you need a little smoothing out.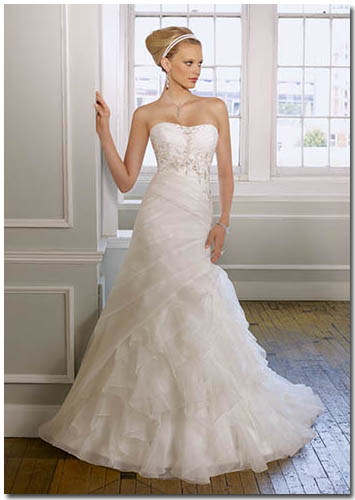 3. Mori Lee Julietta Plus Wedding Dress 1614
Women looking for a classic and feminine dress that offers elegance and fun at the same time will fall in love with the Mori Lee Julietta 1614. The dress features an off shoulder corset bust, mermaid skirt with wrapped lace, and a ruffle bottom in the shape of a V. The dress flatters and hugs the figure, emphasizing the waist while de-emphasizing size. The bodice features embroidered flowers, and an almost sweetheart neckline.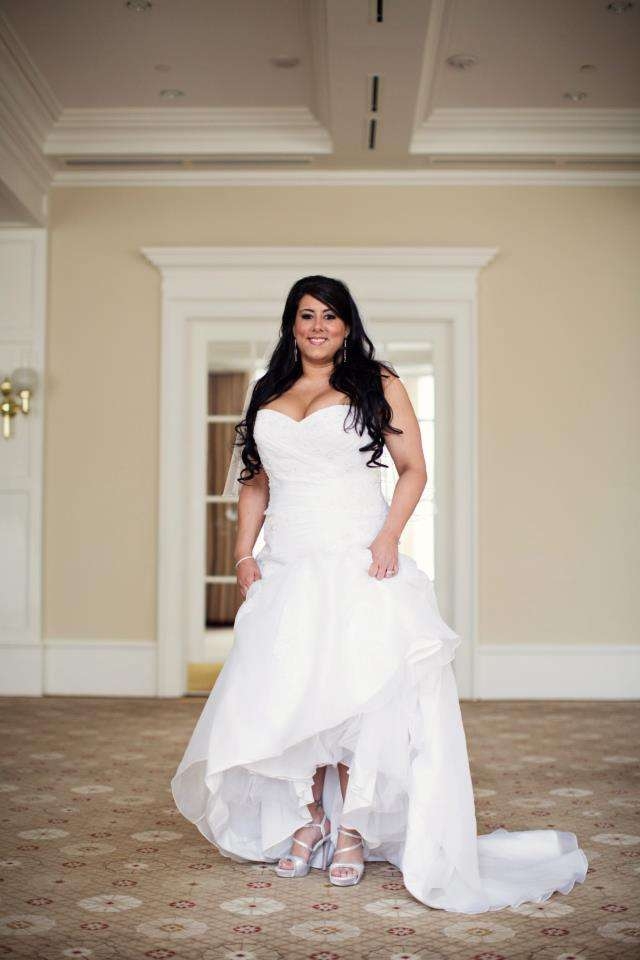 2. Mori Lee Julietta Plus Wedding Dress 3123
The Mori Lee Julietta 3123 was designed to show off women with a larger bust. Its sweetheart neckline clings to and reveals cleavage, while the waist tucks in and then flares out at the hips to create a dramatic but balanced look. Hourglass figures and top heavy women are especially flattered by this style of dress, and women with a larger tummy who want to wear a corset can also consider it as a stunning style.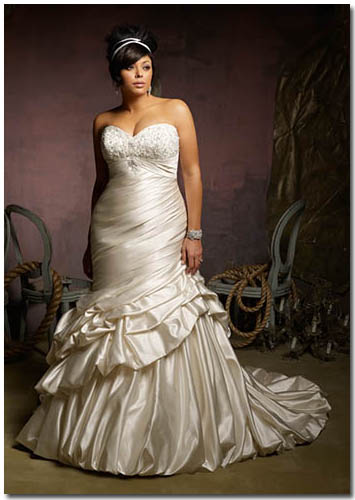 5
1. Mori Lee Julietta Plus Wedding Dress 3125
Last but not least, the Mori Lee Julietta 3125 is another fabulous wedding dress for a confident plus size woman. Consider this one as more than a little sassy with a flamenco style skirt, wrapped satin waist, and corset style sweetheart neckline. The dress is flattering to all body shapes and will reveal cleavage for those with more on top. The ruching on the waist helps to hide imperfections and bulges, while the flared skirt balances the figure to make the wearer look slimmer.