Top Ten Plus Size Prom Dresses To Flatter Your Body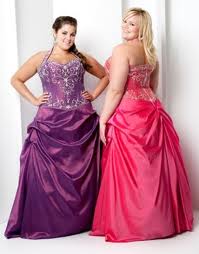 Having a plus size figure can sometimes mean difficulty in finding flattering clothes, but it doesn't mean it's impossible to find flattering plus size prom dresses. In fact, most fancy dresses, such as the prom dress that we use today, were developed during the European renaissance; a time when curvy women were considered to be sexier and more attractive than thinner girls. As a result, many prom dress styles are actually originally made to flatter heavier women. If you're worried about any problem areas or want to appear a little slimmer, you can try pairing your plus size prom dress with a shaper or shaping leggings which will gently pull you in, without going too over the top.
10. Slit Ball Gown Prom Dress
The slit ball gown features a floor length skirt with a slit that should end just above the knee for modesty purposes. This prom dress is great for showing a little bit of sexiness, while still appearing lovely and elegant. Slit gowns can come in a variety of styles, including all of the ones below.
9. Chiffon Maxi Dress
One of the most popular plus size prom dresses is the Chiffon maxi dress. This dress is long and flowing, goes to the floor, and can have layers of fabric over an under layer, which is excellent for hiding problem areas. Choosing a darker color such as red, black, sapphire, or purple will make you look slimmer, while choosing a color block version will shorten your frame or deemphasize a larger area, such as your bust.
8. Strapless Color Blocking Dress
Want to look elegant and beautiful but not draw too much attention to your bust or your tummy? Whether you have a large bust, or your tummy is about the same size as your hips and bust, you can use the color block dress to add accents, create definition, and with a strapless style, draw attention to your face, your eyes, and your hair. Main rule, don't go too tight, or it won't be flattering.
7. A-Line Prom Dress
The A-line prom dress is excellent if you have a large tummy, but can also be flattering on women who are about the same all over. It should not be worn by women who have a defined waist but large hips and bust, because it will straighten your figure and remove curves. A-lines feature fitted busts that go straight into a flowing skirt.
6. Swing Dress
A more recent period in time when curvy figures were celebrated was the 1950's, and the classic swing dress is an excellent and flattering style for women of all shapes and sizes. Featuring a fitted bodice, defined waist and flaring hips, the swing dress is in style no matter what size you are.
5. Ruched Bodice
Whether you're looking for a bit of extra support, or just want to define your bust, a ruched bodice will do just that. Ruches or gathers in the bust will pull the fabric together, which can create an elegant and beautiful look in your prom dress. If you choose and option with boning, it will add more support for a larger chest.
4. Empire Waist Dress
The Empire waist prom dress is a fitted drop waist dress that is excellent for women with a large bust and a small waist, or large hips and small upper. Empire dresses are versatile and look good on a variety of figures. Best of all, they are simple, elegant, and come in hundreds of styles, so it's easy to find one that suits you. A good example of an empire waist dress is the classic white dress she wore in 'The 7 Year Itch'.
3. Brocade Mini Dress
Brocade is heavy and stiff fabric that is quite lovely. Dating back to use in medieval times, brocade is a fabric that is often used to make plus sized mini dresses because it can be worn snug without showing problem areas. A brocade mini dress, especially a strapless one, gives you the opportunity to show off your legs, and wear something tight without emphasizing any problem areas. Dark colors are slimming, and sapphire, red, emerald, and black are all excellent choices for prom, but try not to go too short.
2. Corset Ball Gown
The corset style ball gown is beautiful and luxurious, and will make any girl feel like a princess at her prom. Featuring a full flared skirt and a tight fitted waist and bodice, the corset ball gown can be laced up to minimize the waist, support a full bust, and flatter almost every body shape.
1. Flutter & Ruffle Dresses
One of the most flattering styles of plus size prom dresses is the ruffle or flutter style. These dresses feature a waterfall style of fabric ruffles that usually start just below the bust. The effect is that the tummy is smoothed out, without straightening or hiding the figure.