Top Ten Ball Gown Wedding Dresses for your Special Day
A ball gown wedding dress will make any bride feel like a princess. A typical ball gown is a long dress that is fitted around the bodice with an extremely full skirt that flares out at the hips. It is one of the most formal dress types and is normally reserved for very special occasions such as weddings. A ball gown dress flatters most figures and looks fantastic on women of average to tall height. It is also a very forgiving dress style and hides things like tummies, full hips, and larger legs. Below, you will find our top ten picks for ball gown wedding dresses that will make any bride feel special and beautiful.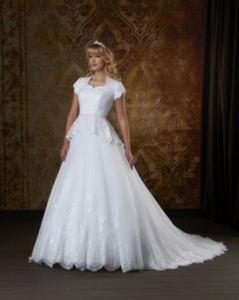 10. V Neck, Spaghetti Organza Dress with Embroidery Beading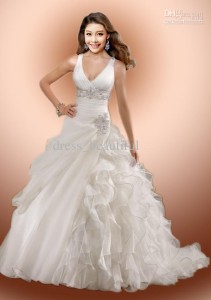 This glamorous ball gown wedding dress is perfect for a spring or autumn wedding. The floor-length dress is made from organza fabric and is embellished with pleated embroidery beading and ruffles. The sleeveless dress features a portrait neckline and a chapel train floor length hem. This gorgeous dress is sure to make any bride feel like the belle of the ball.
9. Ombre Ball Gown with Pick Up Skirt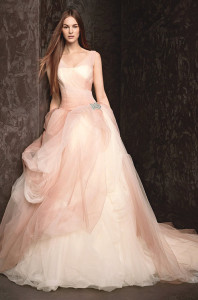 This beautiful, ombre-printed wedding dress features a tulle skirt and sheer straps creating a flowing, romantic look. The floor-length ball gown has a veiled bodice with an antique corsage made from jewels at the him. The pick up tossed skirt adds a dramatic effect, and the ivory color allows the bride to look amazing in a more non-traditional color.
8. Sweetheart Ball Gown with Beaded Embroidery
An amazing strapless ball gown that features a sweetheart neckline with a drop waisted skirt. The bodice is embellished with beaded embroidery and silk. The skirt has layers of different lengths with a chapel train, giving it a full, flowing look. This dress is perfect for a summer wedding, and is a design that any bride will love.
7. Tulle and Lace Ball Gown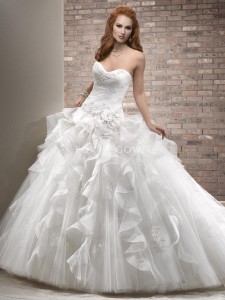 This ball gown is a classic style with a modern feel. The gown is made from lace and tulle, and features a bodice covered with lace, a gorgeous neckline and tulip style sleeves. The waistline features a peplum overlay that leads to the full-length skirt. The dress is detailed with beaded trim and lace scallops at the waist. The floor-length hemline of this dress flows beautifully and is a little fuller at the back. Both the bride and groom will love this beautiful dress, and it can be carefully stored and used as a family heirloom for years to come.
6. Sweetheart Beaded Chapel Train Ruffle Ball Gown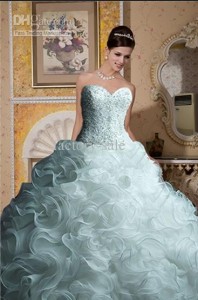 This beautiful, sleeveless, floor length ball gown wedding dress is available in many colors. It is an ideal choice for the bride who wants something a little more non-traditional. The organza dress has a portrait neckline, and a court train hemline. The bodice is embellished with gorgeous beading, and the full skirt is covered in ruffles, which helps this dress to move and flow. This dress is perfect for almost any bride, and is a style that can be worn again to a formal ball or gathering.
5. Tulle Ball Gown with Lace Appliques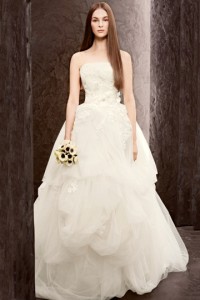 This graceful, strapless ball gown features a diagonally draped bodice with matching sash and a twotiered skirt. Taffeta bouquets that have been hand cut embellish both the bodice and the skirt. Lace appliques complete the look making this dress an amazing choice for any bride.
4. Sweetheart Lace Ball Gown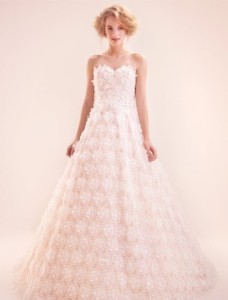 This stunning, feminine. lace ball gown is a strapless gown that features a sweetheart style neckline. The dress has a natural waist and a chapel style train. Made entirely from lace, this amazing gown is both beautiful and delicate, and will make any bride feel like the center of attention on her special day.
3. Casablanca Wedding Gown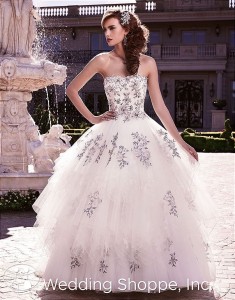 This unique and gorgeous ball gown design will make any bride feel radiant. Featuring a strapless neckline, and a full ball gown style skirt made from tiered layers the dress is classic and beautiful. The skirt of this gown is accented with both beaded and non beaded lace appliques. The bodice is fitted and is made from Chantilly lace underneath the beaded lace appliques.
2. Maggie Sottero Ball Gown Wedding Dress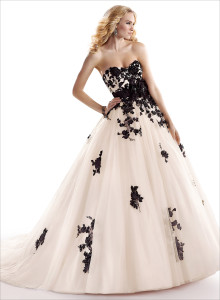 This non-traditional wedding gown is a dramatic design with a little color. The strapless dress features colored, sequined lace motifs over a gorgeous tulle dress. The dress has a strapless, sweetheart neckline and corset style bodice with a beautiful, full skirt. The dress is available in all white and all ivory, and is also sold in champagne and black, and ivory and black for brides who want a little extra color.
1. Swarovski Crystal Applique Bead Wedding Gown
This luxury bridal gown will make any bride feel like a princess. The sleeveless, portrait neckline wedding gown is embellished with Swarovski applique crystals and beads making the dress glitter and shine as the bride moves. The dress has a tightly fitted bodice, full, flowing skirt, and cathedral train.