Five Mother of the Bride Dresses that Make You Look Slimmer
As the mother of the bride you want to look as svelte as possible, but that might not always be possible. As women age, we lose estrogen which helps keep our waists small, and we burn fat more slowly, which makes it harder to lose weight. As a result, most of us are perfectly healthy with a bit of a tummy, but society still demands that we look sleek and slim. If you want to look slimmer for your daughters wedding, try any of these ten mother of the bride dresses to smooth your shape.
10. Color Block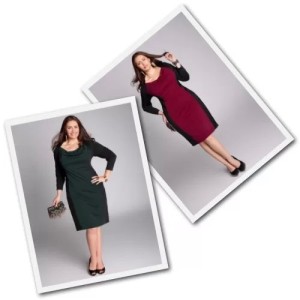 Color block dresses were made to create a slimmer looking tummy. These dresses often feature different color panels on either side of the waist to create the illusion of a tucked in waist. Unfortunately it is not always possible to wear a color block dress as your daughter may have sold colors, or specific colors in mind. In this case, you can usually pair a different color wide belt to slightly simulate the effect. However you should be careful as this trick does make you look shorter.
9. High Waist Pencil and Short Jacket Combo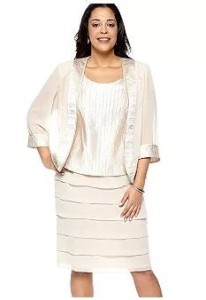 While not precisely a mother of the bride dress, a high waist pencil skirt and a short jacket can do a lot for your waistline. You can also choose this look with A-lines, but the trick is to accent your waist at it's highest point, where it is the smallest. High waisted skirts pull this look off to perfection. Usually your skirt should be at least knee length, so look for either professional business style or retro.
8. Sheath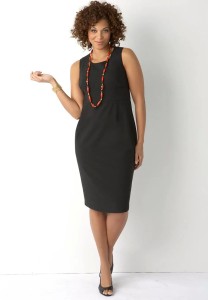 A sheath dress is quite possibly one of the most flattering dresses for an older woman. It's straight no-nonsense lines show that you have aged gracefully, while it's fit doesn't emphasize the lumps and bumps that often come with being a mother. However, pear shapes (women who are larger in the hips and waist) and apple shapes (women who are largest in the tummy) should avoid this dress as it will only emphasize your bottom.
7. Compression Wiggle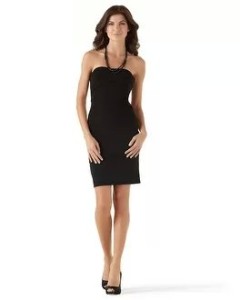 Compression dresses are quickly becoming all the rage and high end fashion designers to everyday streetwear designers are all starting to add them into their range. One of the most popular is the Instantly Slimming Line from White House Black Market. These dresses feature a spanx like inner shell to keep your body looking smooth and svelte. If you're only a little overweight then you can expect it to smooth you out, if you're a plus size, you can probably expect it to take at least an inch or more off of your waist.
6. Sun Dress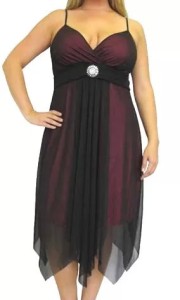 The sun dress is a pure classic and usually it also makes you look slimmer. Look for flowing styles that flare at your high waist so that you emphasize where your waist starts to go in without emphasizing any bumps. These dresses are great for hiding both belly fat and booty fat, so no matter what you're looking to de-emphasize, a good flared skirt can probably do it for you.
5. Wrap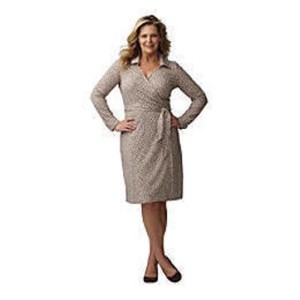 Wrap dresses help you look slimmer for two reasons. The first is that they feature a lot of detail which draws the eye up. While this does emphasize your bust, it also de-emphasizes your belly. The second reason is that wrap dresses almost always have a flared skirt, and combined with the wrap effect on the front, can do a great deal to actually hide your tummy. However, the wrap dress will not give you an hourglass effect unless you pair it with a corset.
4. Grecian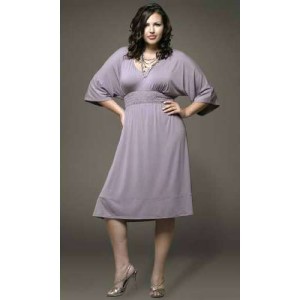 Grecian style dresses are for self confident women who don't mind covering up everything. Flowing fabric is flattering to all sizes, and it has the double benefit of hiding belly fat at the same time. Look for smooth flowing fabrics that fall gracefully around you, and remember to choose a darker color, you don't want to upstage the bride.
3. Empire Waist
Empire waist dresses can be unflattering if your belly is too big, but if you've got less than three or four inches of tummy, they can work wonders for making your shape look slimmer and smoother. Most importantly, they are also very comfortable, so you won't have to worry about being squeezed to death in Spanx all day. Empire waist or drop waist dresses literally start the skirt just under the bust so that you don't have to worry about your waist line. Consider a long or knee length style in taupe or light blue for the best effect.
2. Peplum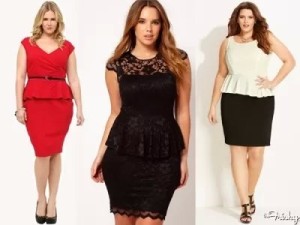 Moms with a lot of belly can pull this look off fabulously. Consider a peplum top that sits just above your belly, and make sure that your belly doesn't touch the peplum. This style features an overskirt that flares out at the high waist and ends at the hip to create a cute, feminine silhouette that does double duty for hiding a bit of belly fat.
1. Tiered
The tiered or ruffle dress can work literal magic for making your belly go away. No matter how much belly (or rear) you have, tiers lay flat over any bumps you might have to give you a smooth shape. Considerations include that you should stay away from lace ruffles as they might come off as too girlish.