Top Ten Fall Bridesmaid Dresses For The Modern Wedding Style
Wherever the wedding is going to be held, can determine a lot for the type of dress the bridesmaid will wear. Fall bridesmaid dresses are suppose to be fun, flirty and go with the theme of the wedding. If your wedding is in the warmer climates, than a summer style will work. If your wedding will be in the cooler climate, than a dress with more fabric may be a better suggestion. No matter what, make sure the dress goes well with the body shape of the bridesmaid. This list will show you the best styles for Fall that will fit your bridesmaids, your theme and work with your dress.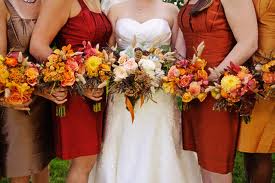 10. Cocktail Dress
An off the shoulder cocktail dress is a great look for many weddings. However, if used for a Fall wedding, it is best used in a wedding that happens before the weather has had a chance to cool since this bridesmaid dress is a bit on the short side. This style goes well for both the wedding and the reception and is especially comfortable for the night. Place a pair of dangly earrings and a simple bracelet and you will have a great Fall look.
9. Patterned Dress
Pattern are coming back in style for many Fall bridesmaid dresses. It use to be the bridesmaids would wear the solid color of the wedding color theme. Pairing up a patterned dress with a cute pair of heels will set a different look. Plus, this will make the brides dress stand out a bit more.
8. White Bridesmaid Dresses for Fall Weddings
With more brides opting out of wearing white bridal dresses and choosing something more colorful, their bridesmaids are the ones starting to wear white. Color is especially nice for a Fall wedding. This is very non-traditional, but a popular trend nonetheless. The latest celebrity to pull this one off was Kim Kardashian, in which she had all of her bridesmaids wearing beautiful white gowns.
7. Ruffled Dresses
Ruffles have came back in fashion, and in the bridesmaid dress fashion as well. Jim Hjelm has a beautiful gown out now that is trending. This bridesmaid dress is simple, but still has pop of flare and fun with the ruffles making it perfect for later in the season.
6. Sweet Rosette
This simple and elegant bridesmaid dress is both comfortable and beautiful. For the cooler Fall days, the bridesmaid can place a buttoned sweater over it and some closed toe wedges. This dress is also a great dress for different body styles and shapes.
5. Full Length
It is the best to choose full length dresses to insure the bridesmaid stays warm in the autumn weather. These dresses are great for taller, slimmer women. The dresses tend to flow more when you walk and give you a sense of grace as you enter the room. Also, when a bridesmaid wears a long dress, her shoes are not that big of concern. Some bridesmaids can even get away with wearing flats with these dresses.
4. Lace Sleeved Dresses
Since the Fall months weather can be iffy as far as weather goes, sleeves are a good idea. However, sometimes wearing long sleeves can make one too hot or too cold. Having lace sleeves is a great alternative. Lace is beautiful, light and beautiful. Lace is a great fabric that makes a woman look elegant no matter what.
3. Warm Colors For The Autumn Bridesmaid
Weddings in the Fall tend to have Fall colors for their colors. Having your bridesmaids wear dark reds or a burnt orange color will definitely reflect the season. These two colors pop in the Fall months and look beautiful on any woman. They are also great when Fall pictures are taken outside next to trees. The colors will go well with the changing leaves and the freshly fallen leaves on the ground.
2. Mix It Up
Have your bridesmaids wear different Fall colors. If you have three bridesmaids, have one wear one color, another wear a different color and the last one wear the two colors together. Keep it fun and unique. Add some cute heels to the combo and you will have a beautiful trio.
1. Keep It Colorful
The more color the better when it comes to a Fall wedding, so why not have your bridesmaids each wear a different color. Have some wear bright colors and other wear softer toned colors. Sometimes girls won't like a certain color, while others will love it. Even though the colors are up the bride and groom, this can be a fun alternative for the bridesmaids to be a part of the decisions too. This will make even a gloomy Fall day bright, colorful and happy.