Top 10 Beautiful Wedding Themes For Summer 2014
A great way to start planning your wedding is to look for wedding theme choices this summer season. This year is full of reinventions and innovations. So, it would be just right to make your wedding theme updated for the summer 2014.
Here are some summer wedding themes for this year:
1. Vintage Theme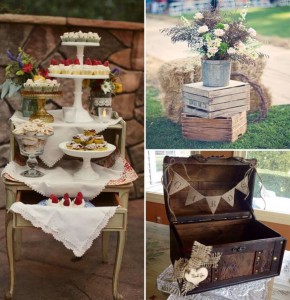 Nothing beats the classic ambiance during your wedding day. Make use of old memorabilia to achieve the vintage-feel on your special day. Vintage theme is the best way to remind your guests how it feels like living way back years ago. You can collect old, leather suitcases; carefully crafted wooden frames; or anything that has been handed down from your parents or grandparents.
2. Bohemian Theme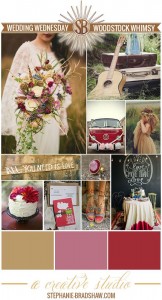 Another chic wedding theme is to go Bohemian.  You can use all your creative skills for a Bohemian-themed wedding. Some of the elements in this kind of wedding theme are the following: whimsical details, layered and chunky accessories, wild flowers and feathers and simple get up for the bride and groom. A bohemian wedding theme reflects a relaxed ambiance and simplicity of the couple.
3. Rustic Theme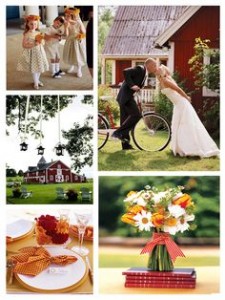 Another good suggestion for wedding theme this summer is the rustic theme. It creates an outdoor, festive and country-feel ambiance wedding. If you are planning to have a rustic themed wedding, make sure you take note of the following details: country or barn backdrop, unique pieces such as mason jars, pine cones and mismatched vases. There should be honey jam, granola bars, and hot chocolate mix – not to forget, barks of trees and evergreen table cloth.
4. Ethereal Garden Theme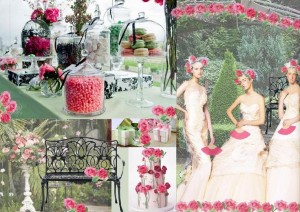 Another interesting summer wedding theme is the ethereal garden wedding. If you prefer this kind of theme, you have to pick an outdoor venue that will give everyone a feeling that they are close to nature. Make sure to include freshly-picked flowers, choose white or other pastel color combinations, incorporate bird cages, and anything that resembles nature.
5. Hint of Sparkle

If you want to be somewhat glamorous, but still modest, go for the hint of a sparkle-kind of wedding theme. When you opt for this kind of wedding theme, remember not to overdo the details. It should be a mixture of sparkling elements with a hint of simplicity and modesty. Usually, pink is mixed with glittery materials. Include the following details in planning this kind of wedding theme: crystal stones as table centerpieces, chandeliers, shimmering table cloths, and glittery bottle of wine.
6. Color Pop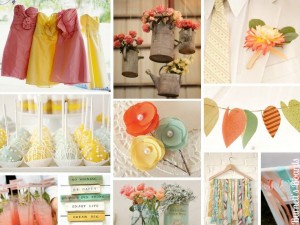 Fill your summer wedding with all the bright and joyful colors. Aside from the two-toned traditional wedding motif, you can choose many combinations of pastel colors to brighten up your wedding day. Your bridesmaids can wear gowns of different colors. Decorations do not need to be limited to one or two colors. You can include, pink, yellow, blue, green, orange, lilac and other color palette that is suitable for the combination. Make your summer wedding theme as colorful as you want it to be.
7. Navy Theme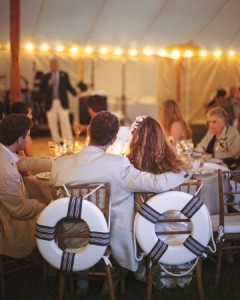 For a navy-themed wedding, you might want to consider renting a yacht or a boat. You can make use of the color navy blue, incorporate elements of sea creatures like starfish or shells, and include anchors and other materials related to the sea. To make it more special, use colors blue, white, yellow and red.
8. High Drama Theme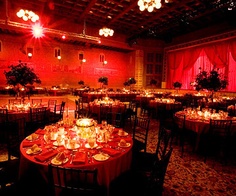 If you want to have a more theatrical wedding theme, go for decors with high drama. Be as imaginative as you want to be. You can make your wedding day, literally a fairy tale wedding. You can choose a reception that is similar to a castle or a grand ballroom; include chandeliers everywhere, bright lights, whimsical centerpieces, and elegant ballroom attire.
9. Quirky Theme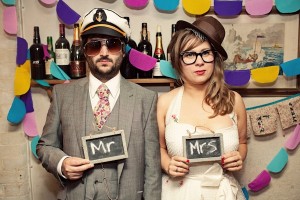 If the bride and groom prefer their wedding to be all fun and laughter, try out the quirky wedding theme. Quirky means you have to think out of the box. Make sure you include unique elements such as strange wedding signs, striking printed stockings and cute cake toppers.
10. All-White Wedding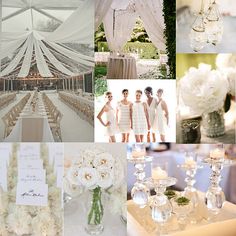 If you feel like running out of options, nothing beats going back to the basic which is an all-white wedding theme. Everything will come out easy and simple, but remember to keep your wedding theme elegant. You can pick out white unique flowers, pearls and crystals to complement the white theme.
Your Choice 
Choosing your wedding theme can be downright difficult because of the many choices. Always remember to go with the summer wedding theme that will still reflect your personality as a couple. Look at magazines and suggestions from friends for a summer wedding that will bring you the best memory on your very special day. Which wedding themes for summer do you like best?