The Ten Most Awesome Camo Formal Wedding Dresses For a Country Wedding of Your Dreams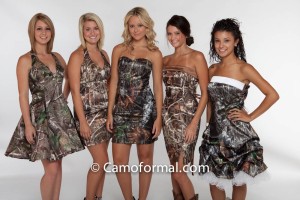 If you're southern bride-to-be, or just have that "little bit country" in you, then a camo wedding dress may be just your style. Your first thought may be though that camo at a wedding will be simply awful, something you'd see on some youtube video that included multiple broken down cars, dead deer carcasses tied to truck grills, a trailer, and a yard full of beer cans, but just because it's camo doesn't mean it has to be ugly. This is something that some great dress makers, like Camo Formal, have certainly proven. From full camo to full all white traditional with a touch of camo, this wedding gown shop has thought of it everything when it comes to making camouflage elegant, and even sexy, in a tasteful way.
Something else we noticed while checking out their site is that they have are a wide range of sizes from 2-30, and prices that we had to do a double take at. We're so impressed in fact, that we're going to contact them after we publish this article and see if they may just have some extra special specials that they may share with our readers, so stay tuned for that! For now, let's get on to what we picked as their ten most awesome wedding gowns.
10. Full Camo Mossy Oak with Pink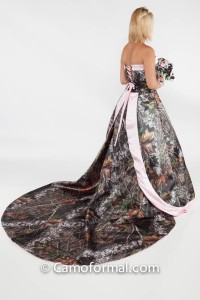 If you want to show your shoulders off, and you want a little pink in your wedding, then this Camo Formal dress is for you. The Full Camo Mossy Oak is a beautiful strapless wedding dress with pink satin matte trim outlining the top and along the bottom of the train. With a pink flower and ribbons at the waist, that's about all the pink that's needed, but it's not all you can have. If you want more you can have it in the detachable train which is all pink satin. So where's the camo? The camo design of trees, grass, and other things found in nature is incorporated throughout the rest of the dress.
9. Full Camo Mossy Oak in White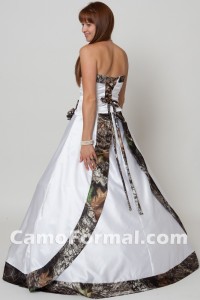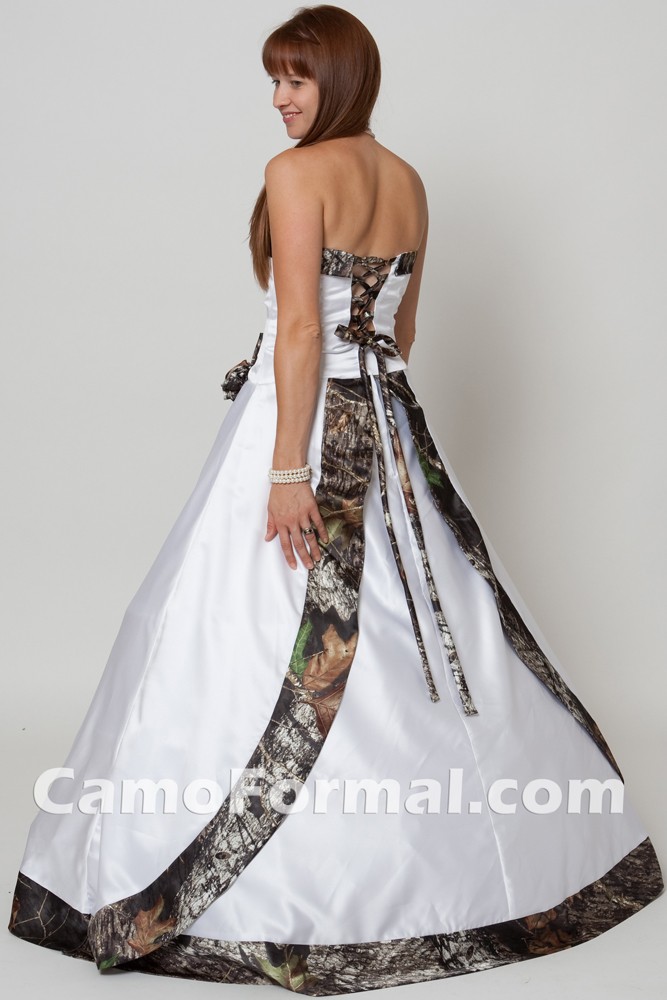 Although it's identical in style to our number 10, this Full Camo Mossy Oak wedding dress looks much different in this optional version of white with camo trim. For a more old fashioned bride that wants a white wedding dress and yet also wants to keep the country in her wedding, this dress is simply perfect. The dress is outlined with the camo pattern along the train, bust and bottom of the dress. The camo print is used in such a way that you may not even know it's a camouflage wedding dress, yet it will still match perfectly when standing beside a groom in his best camo duds.
8. Pink Snowfall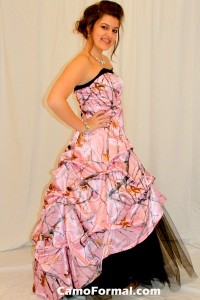 This wedding dress isn't quite as country as the others in that it doesn't come with the traditional camo colors of browns, oranges, and greens, instead it's more of a designer graffiti design, with the black "graffiti" splashed atop luxurious pink satin. Other touches of black are found in the lace up back, the tied waist, and the petticoat of black tulle. This dress is strapless, and is great for a bride that wants color in her wedding.
7. Mossy Oak and Orange Tulle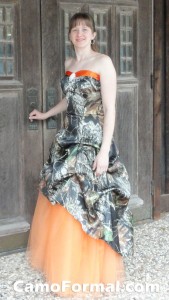 Camo Formal made this Mossy Oak and Orange Tulle wedding dress a true camo fantasy. Especially perfect for a fall wedding with the orange on the bottom and camo on the top, this dress will knock their boots off when you walk down the aisle. Strapless, like most of their dresses, your shoulders and chest will look lovely, especially with the accented jeweled broach at the top center of the bust line. This dress also looks like a perfect fit for anyone that is having a wedding with an old fashioned or "old time" look.
6. Mossy Oak and White Tulle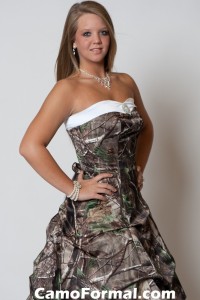 Many of the Camo Formal dresses are simply deviations of one another, this is one of them. It is similar to the Mossy Oak and Orange Tulle in design, but with the shiny and very stark white accents it makes it appear quite different. A perfect dress for a bride that wants  wants a little camo, but doesn't want it to steal the show.
5.  Realtree AP Snow Lace Option
This camo wedding gown is simply beautiful, even to those that may not be in love with camo. A matching vest is available for the groom, so it makes this dress very attractive to any bride that wants to keep her camo theme going. With a base of white satin fabric and white tulle, the camo portion is incorporated on top of the white and is in lovely shades of light browns and pale yellows.
4. Mermaid with Roses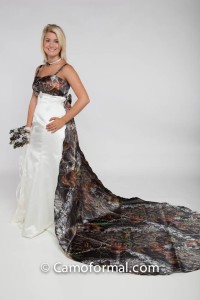 Who says that camo gowns can't have the style of so called "normal" wedding dresses? Certainly not Camo Formal! They have this lovely Mermaid style dress with roses that will satisfy any bride looking for that particular style and fit of a Mermaid wedding dress. One of the few dresses that they make with straps, this dress in a dark camo pattern comes with a very long, and detachable, train.
3. Mossy Oak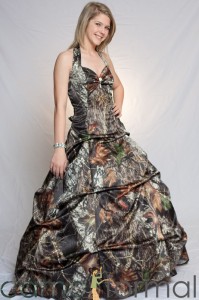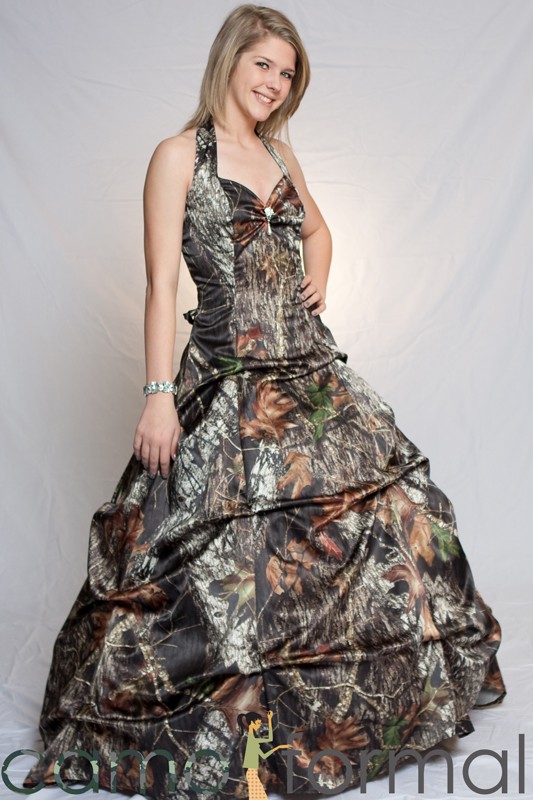 Yes, there are several gowns in this collection with Mossy Oak in the title, but this one appears to be the original or first of its line. This Mossy Oak is a completely camo patterned wedding dress, so if you are one that doesn't want to do the slight camo influence, this halter style gown may be for you.
2. Tessa Short A-Line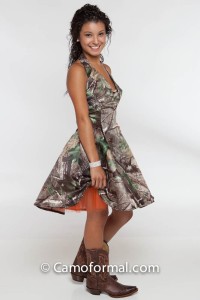 If you're looking for a dress that you can wear while doing a boot stomping line dance, then this A-Line Halter that cuts off right before the knees is for you! Show off your legs and your best formal cowboy boots with this short and sassy wedding dress. It's camo all the way from the top to the bottom, but don't you worry, it's far from boring! You'll find a bit of excitement as you take a spin across the dance floor and a splash of orange gets seen in the underskirt.
1. Pickups and Roses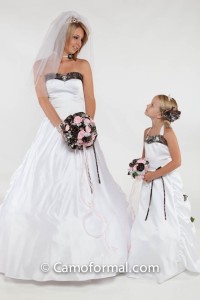 This last style to share may have a very untraditional name, Pickups and Roses, but as for the style it is the most traditional they carry. In all satin white, with a pop of camo across a strapless halter top, this dress gives a country wedding a little old fashioned tradition. Worried there's not enough camo though? As the bride walks down the aisle the guests will see more of it, as the train is comprised of full patterned dark camo. The roses along the back of dress accent the brides back perfectly. Want another reason to love our number one pick? A matching flower girl or bridesmaid dresses are available as well!
You can find all of these dresses on the Camo Formal website, where they also have so much more than just wedding gowns. This isn't the only camo wedding dress maker though, there are more you can find on the internet. So, if you're looking to mix your camo and country style and have found another great camo dress maker, we'd love it if you share them with us so that we can share it back with our other readers!
*Some of the dress names may be slightly different as they were hard to tell what each was called at times, however, you can easily find the dress we show in the image by going to their website and looking through their images. Thank you!