Ten Beautiful Lace Wedding Dresses
Lace, it never goes out of style. One of the oldest techniques and loved by women endlessly. Lace making is actually an ancient craft, typically from silk, linen, and gold threads. Today lace is made of cotton threads. Yet the quality has not gone unnoticed since the 15th century! Lace was originally made to embellish collars and cuffs. See how far the craft has come in our top ten beautiful lace wedding dresses.

10. The Sweetheart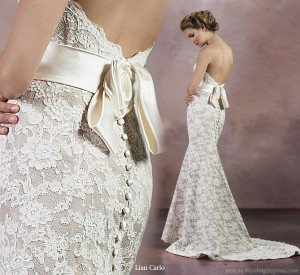 This ivory and satin lace dress is such a beautiful gown for any bride. The wedding dress is strapless with a very deep cut in the back back and fabric covered buttons lining the back of the dress. Scalloped edges and a silk ivory waisted bow tie completes this lovely dress.
9. The Mermaid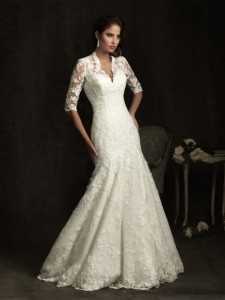 You can never go wrong with the mermaid design! With it's elegant shape that hugs the torso, a feminine sweetheart bodice, and a flared skirt, ther mermaid gown is truly something to see. This dress is accented with scalloped edging around the neckline and features lace sleeves that come just to the elbow. A suggested earing would be a diamond drop, or something dramatic!
8. A Little Daring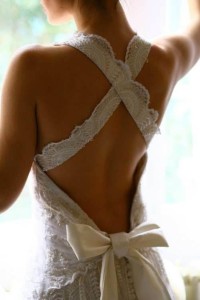 This dress show's how you can be stunning, daring, feminine and beautiful all at once! With it's lace criss cross scalloped straps, low cut back, and satin bow wraparound style this dress is a true stunner. What is so special about this dress? Not only is the dress decorated with lace, but pearls and beads s as well, which give it added sparkle.
7. The Short Lace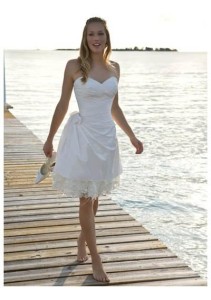 Planning a beach wedding? This dress would be perfect for the occasion! The cut is simple and stunning, yet it packs a punch with its silk sweetheart bodice and a pretty bow that pulls up the gathered material at the side with a hint of lace at the hem, adding even more to the feminine look of the strapless dress. A pair of white closed shoes would complete your look, although she is doing just fine without them!
6. The Ball Gown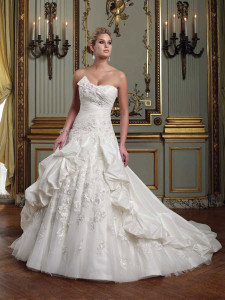 The ball gown is elegance at it's finest! A strapless taffeta lace bodice, sweeping from one side to the other, leading to ruffles of silk and tulle, followed by more of the same. Could you just imagine walking down the aisle towards your prince in the beautiful dress? A diamond tennis bracelet and tear drop earrings could complete your look.
5. The Halter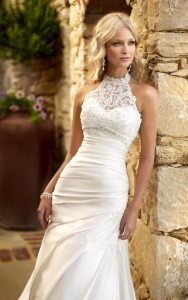 This dress has quite a few of the best wedding dress traits all wrapped into one! The halter is always a feminine look, and this is no exception. Beads and lace make up this halter, enveloping and accentuating the sweetheart look and the silk seems to wrap around her in all the right places.
4. The Pink Halter Mermaid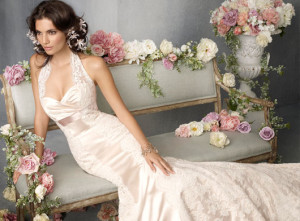 Why not a pink wedding dress? This dress is definitely form fitting, hugging a woman's curves and accentuating her femininity. The lace halter swoops around the neck and travels down the sides of the dress leading into the full lower half of the skirt. The pink satin empire waist gives it an added sense of beauty. As with this model, pink flowers tucked into the hair are a fabulous touch, wouldn't you say?
3. The Medieval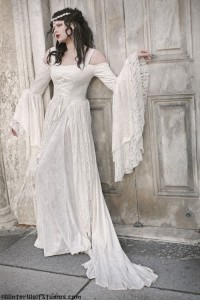 A fairy tale wedding perhaps? This gorgeous white lace wedding dress resembles the medieval era. The dress is amazing with it's off the shoulder, ever exaggerated sleeves and a corset style bodice, held together with silk ties. The dress is form fitted with an attached train for added drama. A pair of flat lace up sandals would look terrific, or you could even go barefoot in this stunner.
2. Lace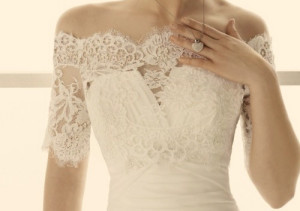 This is so very simple and feminine which is part of its appeal. The off the shoulders look could not be any more provocative but remains sweet and lovely. A simple floor length gown made of cotton or silk, accented by lace could never be wrong. A nice set of pearls would go fabulously with this dress.
1. Pink!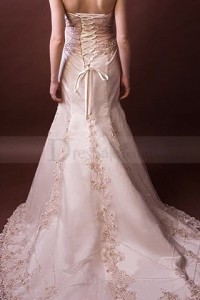 This dress is amazing. Satin, lace, pearls and beads, how could a person go wrong with this dress? A low cut back that comes just below the shoulder blades adds a touch of sex appeal, and the laced up corset with silk ties is simply stunning. The long train following the bride in this mermaid style pink wedding dress is sure to leave a lasting impression.