Ten Fall Mother of the Groom Dresses for All Types of Wedding
Trying to decide exactly what to wear to your son's wedding can be quite difficult. Of course, you don't want to out dress the bride, or bridesmaids. But you still want to look fantastic without looking too overdressed. Below, you will find our top ten picks for amazing mother of the groom dresses for the fall season.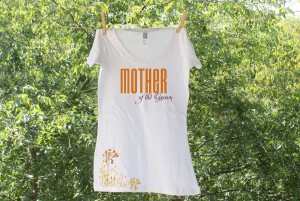 10. Smart Daytime Wedding Outfit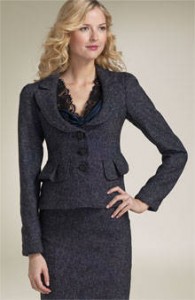 If the wedding is a formal, daytime wedding. A smart, knee length dress or suit is a perfect choice. While the dress should be classy and formal, it should not be black or beaded. Instead choose brighter colors and lighter fabrics.
9. Long, Formal Dress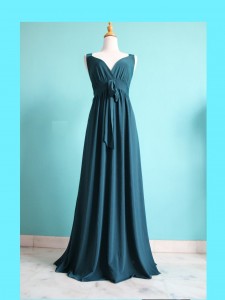 If the fall wedding is a formal, black tie affair, a formal gown or evening suit is the perfect choice. The dress should be floor length, although a below the knee length would also be acceptable. Black is a good color choice, but a rich color such as deep green or blue will often feel more comfortable and fun.
8. Beaded Cocktail Dress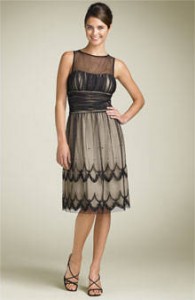 This gorgeous style of dress will work perfectly for almost any type of wedding. Most cocktail dresses fall in between casual and formal, with a length that falls at about the knee. Choosing a cocktail dress that has beading or embroidery makes the dress a little more dressy than normal and the perfect choice for a fall wedding.
7. Chic & Simple
If the wedding invitations state that it is a casual wedding, it doesn't mean guests should show up wearing their regular day to day clothes. Instead choose an elegant, chic, but simple dress. The dress should be comfortable, but still look amazing. Knee length is perfect for this type of dress, and a dressy neckline will help to give the dress a classier feel.
6. Festive & Fun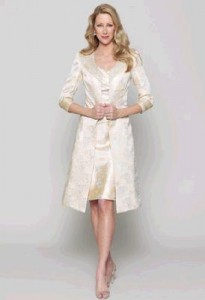 For a festive wedding, the mother of the groom should choose a dress that is fun and puts her in the festive mood. A party or cocktail dress is perfect for this. A beautiful satin, above the knee length dress is an ideal choice, and a long matching jacket will help to keep her warm on the cooler, fall evening.
5. Casual Chic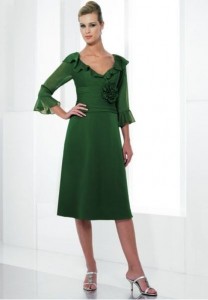 Many modern couples elect to have a casual, daytime wedding. But that doesn't mean you can't enjoy a shopping trip and purchase a new dress. Choose a dress that is comfortable and chic, and versatile enough that you can wear it again on special occasions. To make it a little dressier, accessorize with a great pair of shoes or boots, and some sparkly jewelry.
4. Simple A Line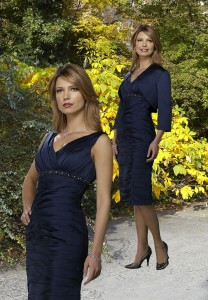 This style is perfect for a late afternoon or early evening wedding. A simple A line dress, in almost any color will look appropriate for both the wedding ceremony and the party afterwards. Wear it with some small, classy jewelry for the ceremony, and then dress it up with something more sparkly for the evening. This type of dress gives you a fantastic day or night look that you can wear over and over again.
3. Dress with Matching Jacket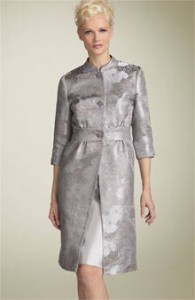 During fall there is often a chill in the air, especially during the evening hours. Because of this, remember to plan ahead and purchase an outfit that will help to keep you warm. The best way to do this is to choose a dress with a matching jacket. The jacket will keep you warm when necessary, but can be easily removed to show off the beautiful dress underneath when the temperature warms up.
2. Fun, Light & Breezy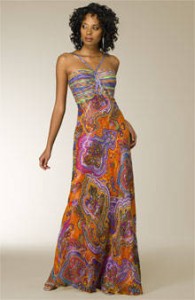 Many couples today are choosing to have destination weddings. Which means, even though it may be fall, the wedding could be held in a warm, tropical location. If this is the case, choose a dress that is fun, light, and colorful. A long, flowing dress made out of a thinner material such as rayon is the perfect choice. Not only will it look wonderful, it will also take up less room in your suitcase.
1. Hankie Hem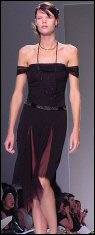 The hankie hem dress has an uneven hemline that falls gracefully at all points. It is normally used in below the knee dresses to ankle length dresses. This style is fantastic for almost any type of wedding, and will look amazing on any figure. Choose a rich fall color such as deep blue, green, red, or beige for a look that you will be able to wear again and again.