10 Best Bridal Prices for Gowns under $500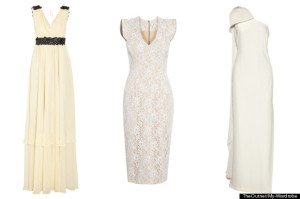 Every bride knows that one of the most expensive items for their wedding is the dress but ot all brides know that this doesn't have to be true. It is possible to find beautiful dresses that are not overly expensive. Some of the less expensive dresses are more casual and are ideal for outdoor weddings but others are just as formal as the expensive ones. Looking for sales and on auction sites can help you find a great deal on a gown for your wedding. Many handmade or custom dresses are less expensive than you might think as well. For a bride on a budget or any bride who wants a less expensive dress, here is a list of 10 of the best bridal prices for gowns.
10. Woodland Custom Made Dress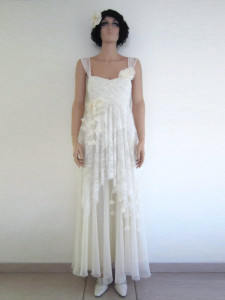 The Woodland dress is a Sweetheart floral lace long dress that is made to order in custom sizes. It is made of polyester and lace and has a romantic look and can be ordered in a light cream or ivory color. The sleeveless dress has a lace bodice with crisscross pleats. The waist has elastic for a snug fit and the skirt flows with layers of chiffon and floral lace. Handmade flowers adorn the dress. The custom made dress is priced at $290.
9. Chiffon Dress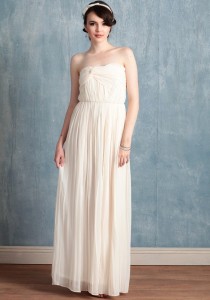 This cream chiffon dress flows with your movements as it gracefully falls to the floor. The strapless column design features boning in the bodice and an elasticized bust perfect for emphasizing your top half. The dress closes with a hidden zipper in the back that smooths your figure and minimizes bulges. The dress also features full lining and a sheer outer layer. The style is from Ruche and it is priced at $249.99 but has been on sale for under $150 in the past.
8. Drop Waist Handmade Dress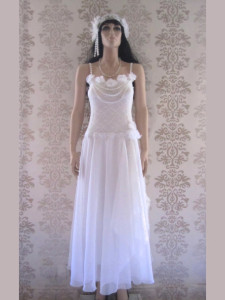 This romantic ivory dress features a floral lace bodice with lace trim, handmade pearled flowers, and an elastic back for a better fit. The spaghetti straps match the flowered lace on the bodice and are the next best thing to strapless for many women. The ankle length skirt flows down from a dropped waist and features chiffon with added layers of chiffon and polyester lace. You can purchase this custom made dress for $230.
7. Strapless Sweetheart Dress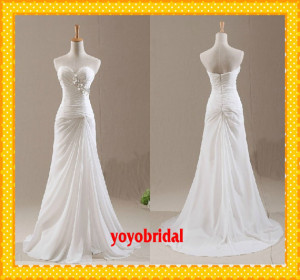 This strapless sweetheart wedding dress is another on the list of best bridal prices for a dress. The dress is custom made with a sweetheart bodice and pleats or ruches that wrap around the waist to the hips. The dress is made of chiffon and satin that creates a softly flowing skirt with a short train. The skirt is pleated into small gathers at the side and back, and features a small zipper.The dress is available in ivory or white and in sizes from zero to 20 and is priced at $168.
6. Mermaid Style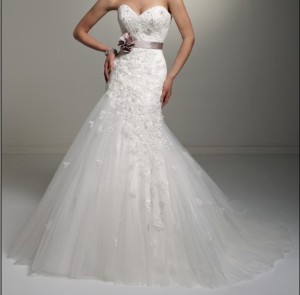 This mermaid style wedding gown is custom made in white or ivory and comes in sizes 2 to 22. The gown is strapless and has a sash that ties at the waist. It's slim fit cut flares out below the waist in a graceful skirt that flows down into the train. Lace work covers the bodice and skirt and the gown laces up the back to ensure a snug fit. You can purchase it for $132.
5. Custom Made Ball Gown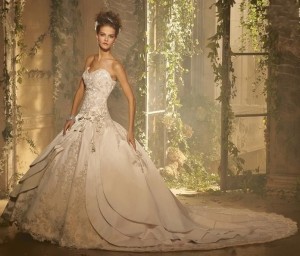 The beautiful ball gown for those who love luxury, this Junoesque Chinese wedding dress is both custom made and affordable. It would look lovely on any bride and comes in white or ivory. Its form-fitting bodice is covered in lace, which also covers the full skirt and flowing train. Layered panels on the skirt go from the sides and cover the back over the lace. This dress can be custom made in any size from 2 to 22 and is priced at $132.
4. Strapless Taffeta Bridal Gown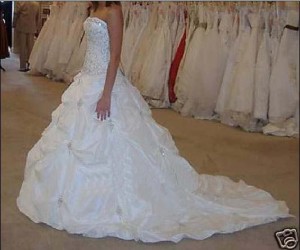 This homemade gown is priced to sell at just $108. The gown comes in white or ivory and features an A-Line style skirt with a snug fitting bodice and lace up back. The lining features boning and a hidden chest pad that offers shaping and support. The skirt flares from the waist to fall gracefully to the floor and flows into a full train. The bodice and skirt are both detailed with silver beading.
3. Gowns at Target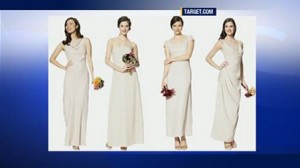 Target has the new Tevolio collection available for the entire bridal party. They have four styles of floor length bridal gowns, each of which cost $99.99 to $129.99, making them an ideal choice for budget-minded brides. The gowns come in ivory or white and are available in sizes 2 to 18. The dresses are mostly satin and come in a variety of styles including cowl neck, cap sleeve, rouched, and strapless.
2. Lace Wedding Dress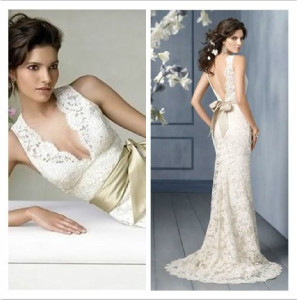 You can find lovely lace wedding gowns that are inexpensive as well. This slim fitting sleeveless dress has a V-neck and a waist deep V on the back. A lace overlay covers the entire dress, giving it a vintage look. The dress has a sash that ties at the waist. The material drapes smoothly to the floor and pools with a short train. It is available in ivory or white and can be custom made in sizes 2 to 22 for $99.
1. Strapless Gathered Bodice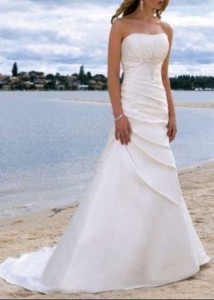 This simple yet elegant strapless bridal gown has a gathered bodice with decorative beading and boned lining for hidden bust support. The lace-up back ensures that the gown fits snugly, and is appealing to most. The dress is made of taffeta and features an A-Line skirt that falls elegantly to the floor with a full train. It is available in white or ivory in sizes 6 to 16 and can be custom made in sizes from 2 to 22. The dress offers one of the best bridal prices, costing just $85 to $99 depending on the size.