The Top Ten Ann Taylor Wedding Dresses for Petite Women in 2013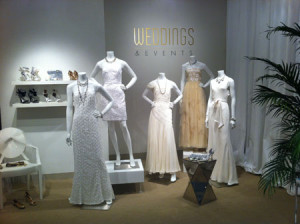 Ann Taylor, through the retail store Loft, is one of the most well known petite designers out there, but few know that she also designs wedding dresses. Her designs include a range of simple and elegant dresses for both petite and regular ladies, but her petites truly stand out as there are very few gowns designed specifically for a shorter frame. Here are ten of the best Ann Taylor wedding dresses for petite women in 2013.
10. Georgette Mermaid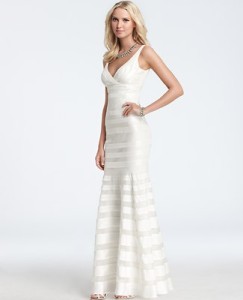 Anyone who wants a traditional style dress without being 100% traditional can look into a variety of different options. One of those options in petites is the Georgette mermaid dress from Ann Taylor. The dress is made of traditional ivory satin but features bands of silver lame to add interest to the dress. The style includes a v-neck and slight flare mermaid skirt, perfect for accenting the bust and neckline.
9. Isabella Lace Dress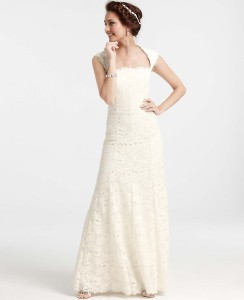 Country brides, or those looking for a very sweet look, can choose the Isabella lace gown. The dress itself features a triangle cut bodice with triangle cut out on the back, a fitted waist and bodice, and a slightly flared mermaid skirt. While not incredibly glamorous, this dress will make you look incredibly beautiful without being overly sexy or revealing which is perfect for the modest bride. The Isabella is available in sizes 00-16.
8. Layla Duchess Satin Strapless Gown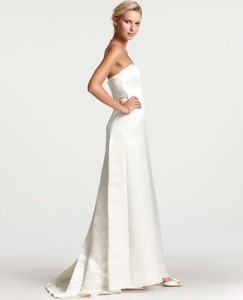 For many brides, simplicity is the key to happiness, and for those who want something simple, nothing beats the pure beauty of the Layla Duchess. This Satin gown features a strapless fitted bodice and simple empire waist skirt with a tiny train. Our recommendation, pair it with bold jewelry, towering heels, and wear a cute sash for the afterparty! Available in sizes 0-16.
7. Gold Lame Gown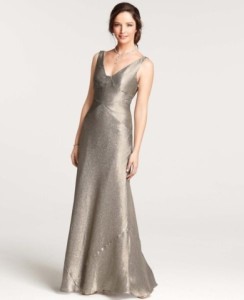 Brides who are not looking for a traditional style dress can choose the gold lame gown as the perfect alternative. The dress itself features a fabulous and almost classically Greek slender Aline cut with just enough flare to emphasize the hips without overwhelming a slender figure. With a V-neckline, and back, the dress will also be perfect for wearing to fancy and formal events in the future. It is available in sizes 00-16, and recommended for any of those sizes.
6. Lace Column Dress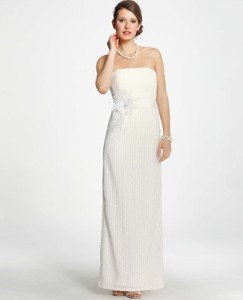 While not the most appropriate style for any bride with a high waist to hip ratio, this dress is the perfect showcase for women who do not want to excessively define their waist. The dress is a simple column dress meaning that it is the same size at the top as at the bottom. It also features an off shoulder design, leaving the shoulders and neck bare and is embellished at the waist with a chiffon flower. The Lace Column is available in sizes 00 to 14, but we would recommend this to the larger bride looking for something flattering as it may overwhelm a very thin figure.
5. Silk Floral One Shoulder Dress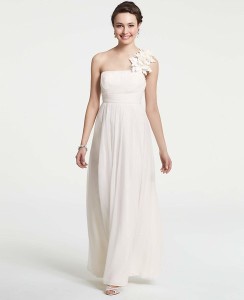 A sweet and casual dress, the Silk Floral One Shoulder is perfect for beach and country weddings, or for the bride who wants to look like a princess without going for a ball gown. The dress features an empire waist and flowing chiffon skirt. The neckline features a fitted bodice with a one-shoulder 'sleeve' made up of a band of chiffon flowers. While not the most glamorous choice out there, it's a simple stunner that's sure to turn heads! The dress is available in sizes 0-12.
4. Jasmine Lace Wedding Dress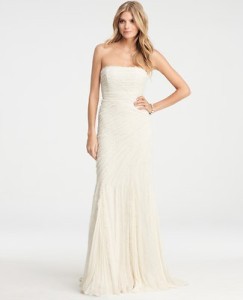 The Jasmine Lace wedding dress is another simple but elegant style, and perfect for a bride of any size. The petite option would look good on a plus or a regular size bride, and is pretty much universally flattering. This dress makes the cut of the best Ann Taylor wedding dresses simply because it is versatile and incredibly gorgeous. The off-shoulder style complements the bust and neck, while the ruched waist hides any imperfections making it almost the perfect dress!
3. Silk Strapless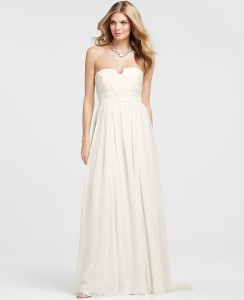 Silk is still one of the most luxurious fabrics you can own, and the Silk Strapless gown from Ann Taylor is just that. The dress features a unique sweetheart neckline with an embellished bust, a banded empire waist, and a simple, flowing skirt. The entire dress is ruched and flowing which creates a simple but luxurious look that will complement almost any bride. Our suggestion, wear it for a beach or country wedding.
2. Off Shoulder Lace Wedding Dress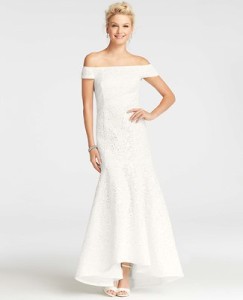 A sexy but elegant gown, the Off-Shoulder Lace Wedding Dress is a clear go-to style for the bride aiming for simple elegance. With cap sleeves, no shoulders, and a very slightly flared mermaid skirt, this dress is striking for the bride who wants to be comfortable, and who doesn't want to overwhelm her figure. While form fitting, the dress is still complementary for the bride with a little more to love, especially when paired with spanx. The dress is available in sizes 0-16 in ivory.
1. Mya Cowl Neck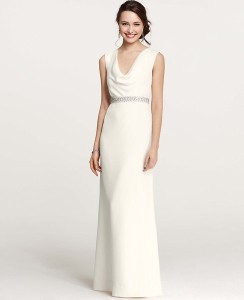 For the bride who wants to make a statement without going glam, there is almost no better choice than the Mya Cowl Neck dress. The dress itself is incredibly casual and comfortable but showcases the wearer with simple elegance. Think a 1920s glamour girl, just without the frills and feathers! The Mya features a cowled neckline, rhinestone belt, and simple floor-length skirt. While this dress is available in petites, we think it would be best paired with towering heels and huge glamorous earrings. Unfortunately, it is only available in smaller sizes, but we believe it's most flattering on a more slender figure anyway.