Ten Best Champagne Bridesmaid Dresses for Your Wedding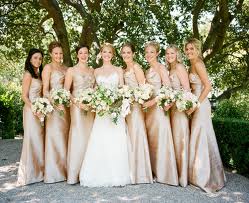 A champagne bridesmaid dress is made using taupe fabric to create a simple yet pleasing complement to a variety of skin tones. Many women choose champagne bridesmaid dresses to subtly complement a white dress and theme while still clearly separating bride and bridesmaids for the cameraman and of course, guests who aren't extremely familiar with the bride. Champagne is also a beautiful luxurious color that complements nearly everyone, so any of the bridesmaids are likely to be happy in the dress.
10. A Line Style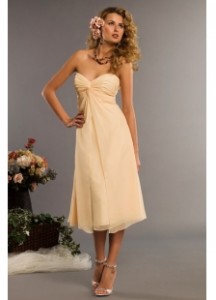 A Line style dresses are one of the most popular styles of champagne bridesmaid dresses. With a fitted bodice and a waist that flares out from just under the bust, this dress is flattering for women of all shapes and sizes. The flared fabric is perfect for appearing elegant without appearing sexy, and is excellent for hiding problem areas that a tighter dress might only accentuate. A line dresses are very popular and come in a range of styles with different shoulder and hem designs for a variety of different looks.
9. Grecian Bridesmaid Dress
Grecian looks are in as a popular and chic look for bridesmaids. Champagne and taupe are very popular for Grecian styles because they flatter the elegant flowing look of the dresses. Women who would like their bridesmaids to dress in Grecian style can expect elegance and flowing fabric suited to women of a range of different ages. Many Grecian styles come as one shoulder or off shoulder to contrast against the high volume of fabrics often used in the bust, waist, and skirts of the dress. Like A line styles, Grecian styles hide problem areas but are excellent for slimmer figures as well.
8. Simple Bridesmaid Dress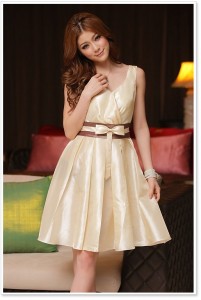 A simple bridesmaid dress is one that doesn't necessarily look extremely formal, but can still be worn to a wedding. From a simple sundress to a solid body style with little to no detailing, the simple dress will allow the bridesmaid to look great without drawing attention away from the bride. Often champagne and taupe styles can be found for nearly every model of dress so the bride can allow the bridesmaids to choose, or select a style herself.
7. Mock Wedding Dress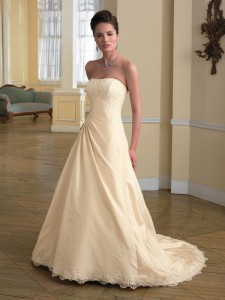 Many weddings today include very dressy bridesmaid dresses. One of the more popular formal styles is to dress the bridesmaids in a toned down version of the wedding dress. Whether this means a shorter hem, darker color, or less detailing, the mock wedding dress style brings a very thoughtful look to a formal wedding. Most dresses of this type will be more expensive than a standard champagne bridesmaid dress so you should be prepared to spend big.
6. Knee Length Styles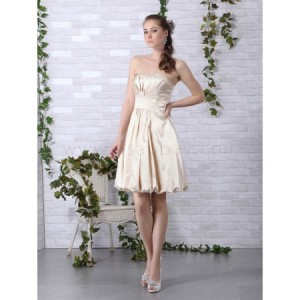 Knee length bridesmaid dresses are very popular for a variety of reasons. The knee length style is slightly less formal, gives the bridesmaid the chance to look slightly less matronly, and will provide a wide contrast between bride and bridesmaid. These dresses come in every style so bridesmaids can choose a cut that flatters their figure.
5. One Shoulder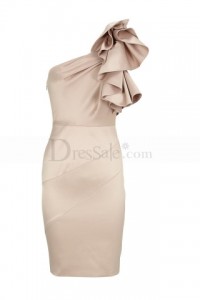 One shoulder dresses are popular for bridesmaids, especially at formal weddings. Brides can choose a one shoulder style for bridesmaids to complement their own off shoulder dresses, or to simply give the bridesmaids a unique and beautiful look. One shoulder dresses can be purchased in a range of styles and in the color champagne.
4. Pencil Dress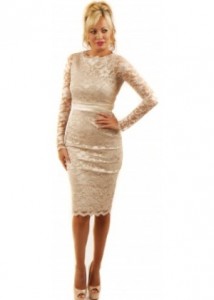 A champagne pencil dress is the perfect bridesmaid dress for all ages. The pencil dress is usually slightly form in the bust waist and hips, extends to the knees, and usually shows little to no cleavage. The result is a look that is modest but appealing and suitable for everyone from a twenty something best friend to a forty to fifty something mother in law.
3. Two Tone Champagne Bridesmaid Dresses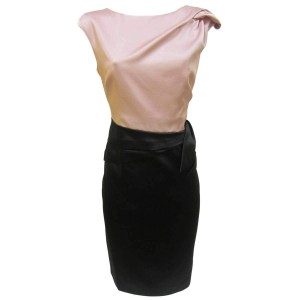 Two tone including color blocking and taupe lace over white, red, or blue is a very popular look. This look will go over especially well if the bride either has a two tone wedding dress or a colored one. Two tones can include any color and any style but should be chosen to match with the theme from the rest of the wedding.
2. Tie Waist Dress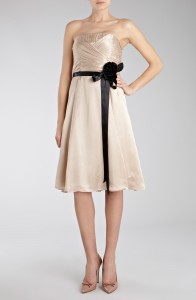 A tie waist dress can include an A line or an Empire waist dress so long as it ties at the waist. The look can be paired with flared or fitted skirts and the tie can be the same color or contrast against the dress. The tie at the waist makes the dress look fitted, even if it is not, and can accentuate curves to make any dress look better. By using contrasting ties, bridesmaids can blend in with a color theme, or even accentuate the brides dress.
1. Strapless Dress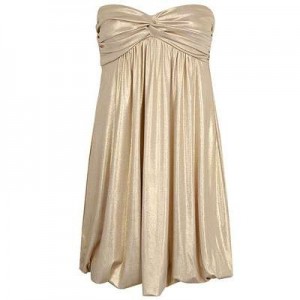 Strapless is and always will be the most fashionable style for weddings, and it's no different for champagne bridesmaid dresses. Brides can look beautiful wearing strapless styles, but by pairing the look with their bridesmaids, they bring a look of elegance to the entire assemble. Popular styles for strapless include A-line, corseted, fitted, Empire waist, and more.