7 Fun Bridal Shower Themes For Summer 2014
Summer is one of the best times to organize a celebration for family and for friends. Apart from the good weather and good mood that this season brings, it also makes having a bright, cheery, and memorable gathering a breeze. Check out these bridal shower themes for summer that will surely help you throw a summer bridal shower with a bang!
1. Garden Themed Bridal Shower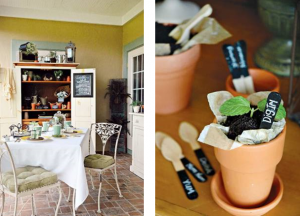 This botanical-inspired bridal shower theme is a no-fail way to make people appreciate how the bride-to-be and her partner's relationship is deeply rooted in love.
Party highlights:
Bright-colored plates
Paper lanterns with fern patterns
Butterfly embellishments
"Potting station" for dessert
2. Berry Themed Bridal Shower
A combination of pink, red, and green, this berry summer party guarantees a beautiful and sweet summer experience for the bride-to-be and the most important girls in her life. You may have the bride's favorite flowers arranged in berry baskets and wooden boxes. As for the food, feel free to play with different dishes that could be served or combined with berries. For this theme, you may highlight a dessert station and fill it with various types of berries as well.
3. Vintage Floral High Tea Bridal Shower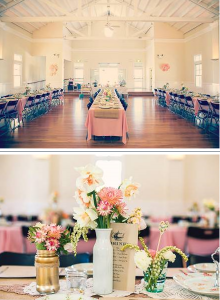 Having a summer tea party will enable you to pick a color scheme that is very cool in the eyes and girly at the same time.  An ideal color scheme for this summer tea party would be peach and seafoam green, with a speck of gold. Moreover, you may use vintage furniture and other vintage materials to give the event pizzazz and personality. In terms of table setting, you may use crochet vintage doilies and old glass jars that are filled with the bride-to-be's favorite blooms.
Party Highlights:
Candy buffet
Vintage materials
Hand painted jars and vases
4. Beach Themed Bridal Shower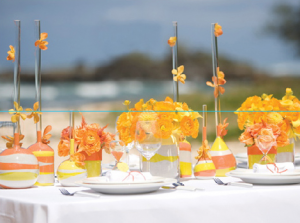 What is summer without the beach? This fun bridal shower theme for summer may be achieved by decorating the venue with colors that remind everyone of the beach, such as sky blue, cream, and sandy brown. Use sand in the centerpieces and venue, should you wish to give the event a funkier beach feel. Moreover, shells will be very useful in making the audience feel like they are on the beach.
Party Highlights:
Unique party favors like mini bottles with sand and embellished with a message tag
Contemporary design on placeholders and menu
Very bright plates and utensils
5. Rustic Lemons and Lavender Theme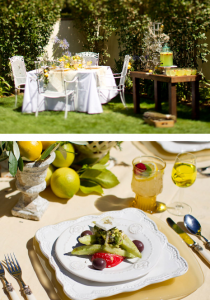 Nothing says sunshine more than this lemons & lavender themed summer bridal shower. This effectively channel the European countryside, in terms of the smell and feel. Rustic wrought-iron tables and chairs must be used in order to create a very charming foundation for this theme.
When it comes to table arrangement, vintage yellow linens are very good to use, paired with centerpieces that include lemon, limes, and lavender. It is also a good idea to have a "citrus bar" for the drinks. For a more authentic feel, do not forget to include Limoncello.
Party Highlights:
Create your own Limoncello station
Chairs adorned with lemons
6. Backyard Blush Pink Bridal Shower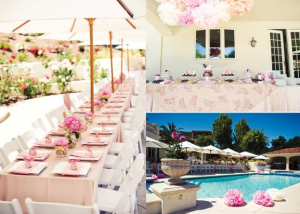 A backyard bridal shower is perfect for the summer. From the table setting to the stunning floral arrangement, this fun bridal shower theme for summer exudes a vibe of freshness and airiness. This is a perfect example of a shower wherein the bride could just sit back, relax, and just feel all the love that is coming from her family and her friends.
Decor plays a part of great importance in this theme. Everything must be color-coordinated, and the hues must match perfectly with each other.
Party Highlights:
Flowy

and elegant chair for the bride-to-be
Custom-made pink macaroons
Paper flower and butterfly cupcake topper
7. Teal Bridal Shower Luncheon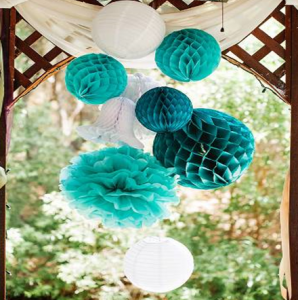 The chic color palette and modern elements make this bridal shower theme perfect for modern brides-to-be. For this theme, you may combine colors like sea foam green, teal, and blue.
Party Highlights:
DIY dessert station
Sea foam green macaroons
Mini champagne bottles
Hanging gazebo decor
With a touch of creativity and resourcefulness, you will surely be able to conceptualize and execute a fun bridal shower. Always keep in mind that you have to check the preferences of the bride, and always ensure that she is happy with factors like the theme and the venue. With all these summer bridal shower ideas, planning and organizing a summer bridal shower will be hassle-free.
Which of these summer themed bridal shower do you like best?