Ten Best Lace Wedding Dress Designers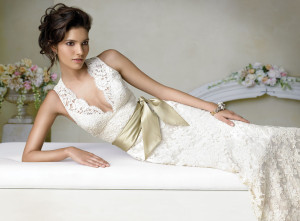 If you're looking for a lace wedding dress then you probably want something beautiful, elegant, and within your budget, but choosing a designer can be difficult. While most women have different taste in clothing, and have different body types, there are a range of designers who make lace wedding dresses to suit every style and figure. While there are hundreds of options available, some designers do offer better quality, style, or prices than others. Here are ten of the best lace wedding dress designers currently making gowns.
10. Davids Bridal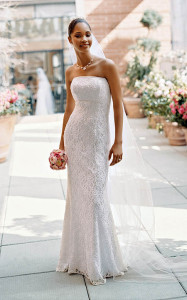 Many people do not consider David's Bridal to be designer, but they do have a wide range of lace wedding dresses in their selection. Most options at David's Bridal are priced affordably, and usually under $1,000. Most Brides consider the retailer as a great place to get a dress because they have 'designer-like' styles that often feature the most popular dresses from the runway.
9. Alita Graham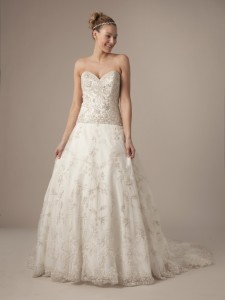 Alita Graham is well known for her collection of pretty lace dresses that are mostly designed for the young and young of heart. Her dresses are mostly A-line, princess, and ball gowns, and often feature chiffon lace overlay over a full flared skirt. While classic in design, many Alita Graham dresses have unique detailing, edging, and beading to make them stand out in their own way. Her styles are perfect for formal and traditional weddings where the bride wants a full ball gown dress.
8. Modern Trousseau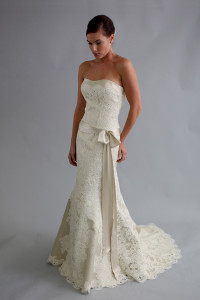 While not the most well known designer, Modern Trousseau creates a range of beautiful lace wedding dresses that most brides love. Their focus is on light, airy, feminine, and classic, and almost all of their styles are suitable for formal and semi-formal weddings. The designer also makes all of her dresses in the U.S.A., and most are very limited edition compared to other designers on this list.
7. Hayley Page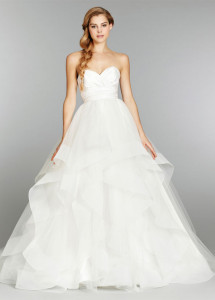 A modern designer with a lot of quirk and style, Haley Page is quickly becoming one of the more popular wedding designers. Page's wedding dresses are sweet, feminine, and often just a little sexy, which is perfect for the modern bride. Not all of her dresses are lace, but many of them are, so she makes a fine addition to this list. Unlike many other lace wedding dress designers, Haley typically uses layers of chiffon rather than traditional knit.
6. Monique Luo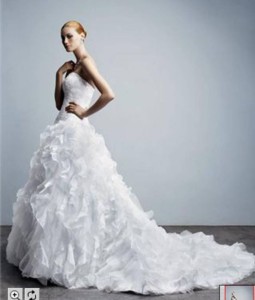 Monique Luo is a dramatic but skilled designer who often uses lace ruffles, tight bodices, and flared skirts to create impressive silhouettes. While she is fond of ruffles, she has also been known to incorporate sleek lace gowns, and simple lace overlay A-line dresses as well. Many of her gowns come in ivory, light pink, white, and sometimes shades of light yellow, so brides who want something other than the traditional white do have options.
5. Sottero & Midgley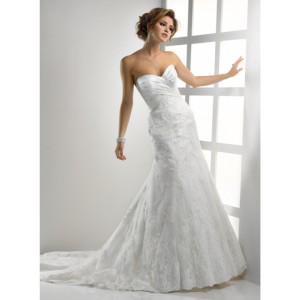 Sottero and Midgely is one of the most popular wedding designers in the world and for good reason. Their line of wedding dresses are almost all fabulous and almost all of them are lace gowns. Sottero and Midgely incorporate satin, lace, and chiffon to create feminine shapes and figures that flatter most body types. Their most popular styles include mermaid dresses, A-lines, and shift dresses.
4. Oscar De La Renta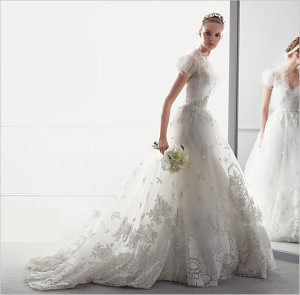 As another high profile designer, most brides who are interested in fashion are sure to have heard of Oscar de la Renta at least once. Oscar, who is also popular for his party dresses, creates stunning lace wedding dresses in a variety of styles and cuts. Simple Empire waist gowns, mermaid dresses, flared ball gowns, and more, can all be seen in his design house. Most importantly, he incorporates a great deal of lace into almost every dress, so brides have a lot of options.
3. Mori Lee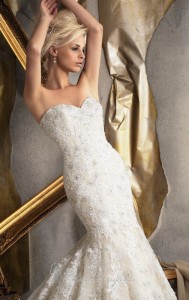 Mori Lee is one of the larger bridal designers out there, and for good reason. The design house features multiple designers, often hosting new collections by designers who would otherwise be unable to make their own lines. While they do have a diversity of different styles in their collection, Mori Lee's vast assortment also means that they have a great deal of tastefully designed lace wedding dresses.
2. Jovani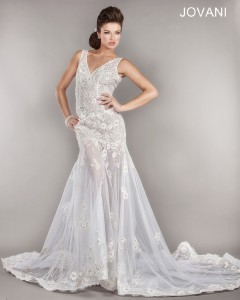 Another designer popular for their party dresses, Jovani also makes a range of beautiful and tasteful wedding dresses. Many of Jovani's styles are also a little over the top compared to traditional dresses, but for the bride looking for something unique, they provide a breath of fresh air. Some of Jovani's lace wedding dresses are sheer and very sexy, but the majority are simple, classic, and stylish.
1. Allure Bridal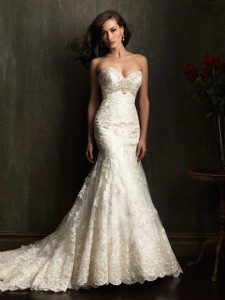 Allure is another very popular bridal designer and rightly so since the majority of their designs are lace dresses. The designer produces mostly mermaid and sheath style dresses but also includes some ball and princess gowns in their collections. As their name might suggest, Allure focuses on simple and sophisticated sexy with a feminine touch. However, they are somewhat pricey compared to some of the other options on this list.