10 Most Romantic Pink Wedding Dresses
Every bride wants to look beautiful on her wedding day. While white is the traditional color of choice, brides are beautiful in any color. Many brides choose to go with a romantic color and choose one of the breathtaking pink wedding dresses available in stores today. Pink dresses are available in shades from pale pink to hot pink depending on the bride's style. Pink wedding dresses will add to the radiance of the bride and give her a beautiful, feminine glow on her special day.

10. Chiffon Flowers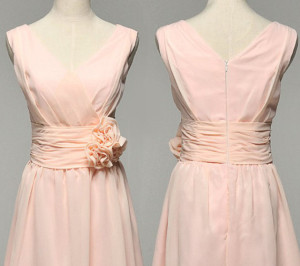 A pink wedding dress with chiffon flowers will add color and look beautiful on any bride. A strapless style is very popular and will complement the pink shade of the dress. Chapel style trains are a beautiful accent and can be white or pink to accent the dress. Lace up corset closing in the back is also popular because it allows the dress to fit perfectly! A form fitting bodice and natural waist is also a great idea for many brides. Chiffon flowers can be added to the waist, bodice, or even to the hemline to add a beautiful and feminine look to the pink dress. Ball, Empire Waist, Ruched, Mermaid, and more are all perfect styles to add flowers to.
9. Pink and Black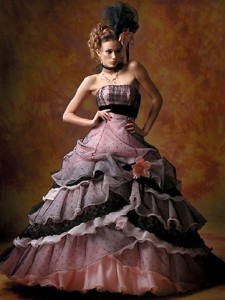 For a more dramatic look, pink wedding dresses come in a style with black tulle or trim. Pink and black dresses can also feature color blocking with part pink and part black, or feature black lace or tulle to accent the pink. Pink and black is a very dramatic look and not for every bride.
8. Frill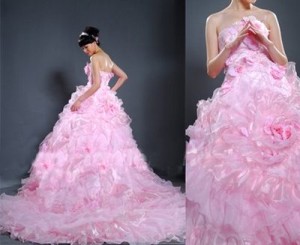 A pretty pink wedding dress with frills is sure to make any bride feel special. A dress with frills is feminine and lovely and can be retro style or very modern depending on the dress. Frills have a very feminine look and feel and are most often appropriate for a semi-formal wedding.
7. Floral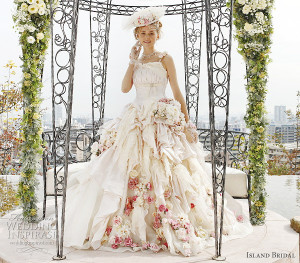 A floral print pink wedding dress can be a lovely alternative to one with chiffon flowers. Floral prints are made in many styles but most often made of flowing chiffon fabric that moves with the bride as she moves. These dresses are most appropriate for spring weddings, especially those outdoors, and are usually very casual. Popular floral prints include cherry blossoms, roses, and more, and can have pink flowers or other colors of flowers on a pink dress.
6. Pink Color Block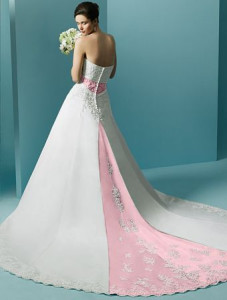 A pink color block dress is an excellent way to add color to a white gown, or to add an accent to a white gown. Color blocking can include a single strip of pink in a white gown, a single strip of white in a pink gown, or might feature a pink bodice with a white top, or vice versa. Color blocking can include a range of colors but white and black are the most common options with pink. Strapless gowns with a pink strip through the bodice are popular, stunning, and flattering.
5. Pink Lace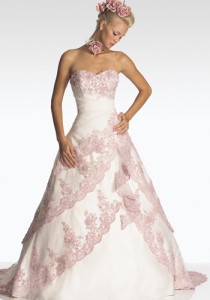 Another choice for anyone looking for pink wedding dresses is a strapless gown in white with pink lace. The lace is an excellent alternative to going all pink and allows the bride to be a little more traditional while still including feminine pink in her gown. Pink lace offers a quiet charm and romance to the wearer, which makes it perfect for just about any type of wedding.
4. One Shoulder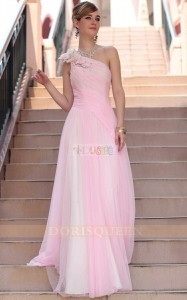 For a stylish gown, the chiffon A-line gown fits with one shoulder styling that brings a Greek goddess to mind. The floor length dress falls gently to the floor and will flow gracefully around the bride as she moves. Flowers and beading can be used to dress up the shoulder, or the bride can choose a simpler look with a strap.
3. Simple Elegance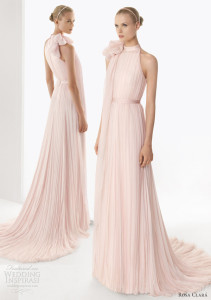 One of the elegant and romantic pink wedding dresses comes in a sleeveless style with a zipper back closing. With a flowing skirt, this pink wedding dress says 'beautiful' without even trying. Brides can choose one shoulder, off the shoulder, or look for pink lace sleeves to accent this simply elegant look.
2. Ball Gown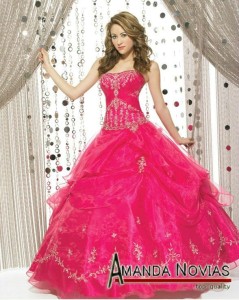 A ball gown can make the bride look and feel like a princess in a pretty light pink, or like the ultimate sexy diva in a hot pink. Ball gowns can make any bride shine on her special day and are beautiful and flattering for all body types. This floor length dress features a form fitting bodice that may or may not lace up like a corset on the back and a flared full skirted gown for a traditional romantic look.
1. Fairy Tale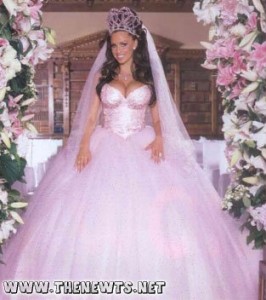 The most romantic of pink wedding dresses is the princess style, full skirted ball gown. This dress is 'the dress' for the fairytale princess and is the ultimate for creating a dream wedding. Typically strapless, this dress has a form fitting bodice and waist and then flares out to create a dramatic contrast that accents the waist and makes it look tiny. This dress can be worn with petticoats for a fuller look. Adding a tiara and veil can create the ultimate fairytale princess look for the bride.