Top 10 Plus Size Wedding Dresses For The Gorgeous Bride
Choosing the perfect wedding gown is probably the most exciting part as get ready for your wedding. Being a plus size bride should not keep you from wearing a gorgeous wedding gown on your most special day. Here are the top 10 plus size wedding dresses for the gorgeous bride: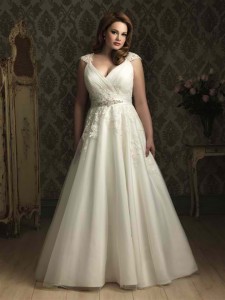 1. Lace and Tulle A-line Gown from Allure Bridals – This gown has a V-shaped neckline that will flatter a woman's full figure. The gown is cinched at the waist by a satin band and crystal brooch detail, creating a flattering shape for the plus size bride. This dress is priced at $232.20 at www.eveningdress4love.com.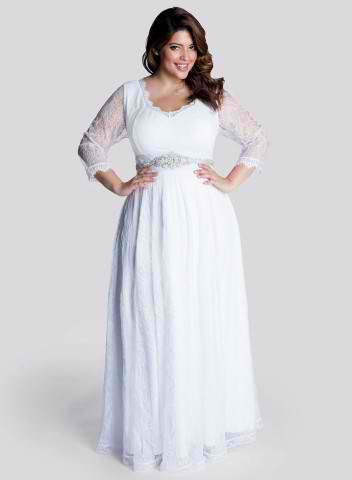 2. Rosalie Plus Size Wedding Gown – IGIGI by Yuliya Raquel has this stunning Grecian gown that will make your wedding a very special and unforgettable one. The surplice neckline elongates the bride's figure. The design accentuates the beautiful décolleté of the plus size woman. The crystal-studded waistband adds a touch of glamour which makes the wedding dress spectacular. This dress is $475 at http://www.igigi.com/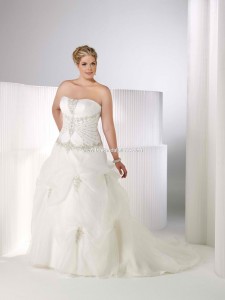 3. Private Label by G Cinderella Gown – If you are looking for a plus size wedding dress that has a stunning semi-cathedral train, this bustier ball gown made with organza cloth is perfect for you. The bodice is decorated with dazzling Swarovski crystals. The exquisite embroidery makes this dress a real sweetheart.  http://www.dododresses.com/ has this at $922.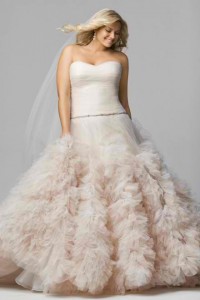 4. Allegra Gown by Wtoo Brides – Many ladies are fans of sweetheart necklines. Wedding gowns with this type of neckline are very flattering, especially to curvy women. The dropped waist creates the illusion of a longer torso. The additional beaded detail makes the dress even more delicate. Of course, who will not love the tightly ruffled ball gown skirt? http://www.bridal-expressions.com has this gown at $1708.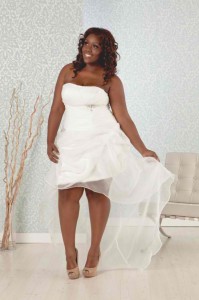 5. Rosalyn High and Low Plus Size Wedding Dress – Many brides are planning beach weddings so this plus size beach wedding dress that is both sweet and sexy, made it to the list. It has a flimsy organza train that is not too long, so you can twirl, dance, and take memorable pictures in the water without the worry of ruining this impeccable dress. At $499 you can turn heads on your wedding day. You can find this and more stunning plus size wedding dresses at www.realsizebride.com.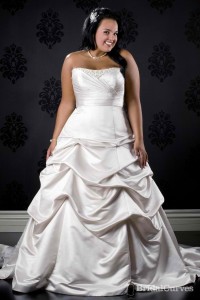 6. Velia Plus Size Wedding Gown – This plus size wedding gown from www.bridalcurves.com has a stylish pleated bodice with Swarovski crystal accents. The gown is fitted through the hips, which flatters the bride's figure. The crystal buttons at the semi-cathedral train adds elegance to this sophisticated design. At $980 this can be your dream wedding gown. At $980, this can be yours to wear on your most special day.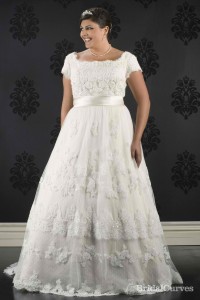 7. Bellisimo Plus Size Wedding Gown – The modest bride-to-be will fall in love with this classic wedding gown. Truly an heirloom piece, this gown with its scalloped semi-chapel train is timeless and will never go out of style. The neckline is made of scalloped beaded lace. The bodice is decorated with hand-embroidered designs accentuated with crystals. This gown is available at www.bridalcurves.com for $1020.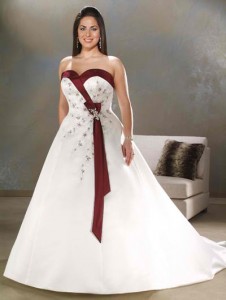 8. Satin Strapless Plus Size wedding Gown – Curvy women should honor their natural curves. There is no need to hide them. Highlight them by using fabrics that flatter your body's natural shape. This gown does the job well, as it is made of satin material. It has just the right amount of appliqué and bead work. What is more amazing about this dress is the price. This is up for grab for only $125 at www.bridalsfactory.com.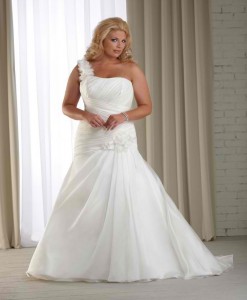 9. One Shoulder Plus Size Wedding Gown – The dainty handmade flowers draw attention to the bride's shoulder. This pretty wedding gown has a ruffled lace bodice that's made to fit the wearer's curvy silhouette. The flowers that fall across the shoulder are embellished with sparkling beads. This can be found at www.huluweddingdress.com for $281.24.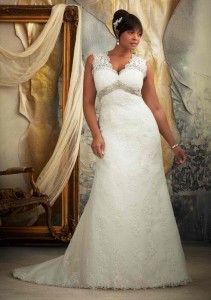 10. V Neck Court Train Lace A Line Plus Size Wedding Dress – This sleeveless classic dress made of lace fabric is simple yet ravishing. The bride will look stunning and sophisticated with this court train wedding dress. This dress flatters the bust area, but still looks decent for a church wedding. This dress is featured on http://www.alizebridal.com for $254.
Choosing your wedding dress is indeed an exciting time! Definitely, you would want a comfortable dress that does not sacrifice beauty and elegance. Which plus size wedding dresses featured here are your favorites?