Ten Inexpensive Wedding Centerpieces You Can Make Yourself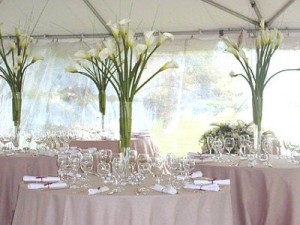 Let's face it, weddings are expensive. Fortunately though, if you are even a little creative, you can save yourself quite a bit of money by doing some things yourself. Do it yourself centerpieces are a great way to save the bucks for what you really need it for later, which is the honeymoon. Do it yourself may scare some, bringing images to mind of very cheaply made wedding centerpieces, but with these ten ideas below you can make some awesome pieces that will look like you paid a fortune for them.
10. Wine Glass Lamps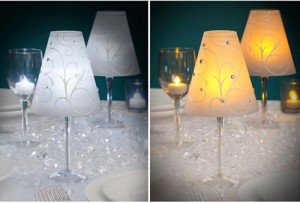 No need to buy a lamp, besides, where would you run all the cords? To make your own lamp centerpieces you can use simple, and cheap, battery run candles. Then you just grab some wine glasses to drop them into, and some vellum wrap shades and walla! You have 12 beautiful pieces for the center of the tables. Total cost for a set of 12 of these lamps is just $15 (if you have the glasses). If you don't have the wine glasses, you can get them for $1 each at DollarTree.com.
9. Floating Candle Centerpieces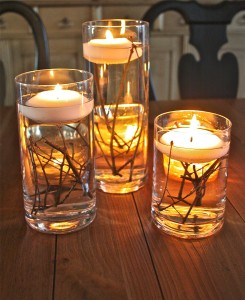 Something great about making your own wedding centerpieces is that you can color coordinate them to match your wedding colors. You can use pretty much any glass bowl, jar, vase, or cylinder to float your candles in (even battery ones). Since it's see through, you can then add colored beads, rocks, marbles, or even little twigs (or other unique objects), to the bottom of the container to help match your wedding theme. The approximate cost for 12 tables (3 floating candles at each center) can be done for as low as $140 (incl. vases).
8. Simple, Chic, and Personal Vases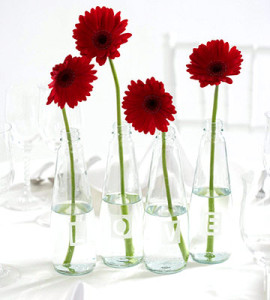 When adding flowers to a wedding the cost can raise significantly. To keep some floral ideas in your wedding, think simple, not fake. One real flower looks a lot better than a dozen fake ones, especially when you drop it in a bit more unique vase. For this idea, just find some glass soda, wine, or other beverage bottles, some vinyl lettering and a flower that you feel matches the best to your wedding theme. Using the vinyl letters the message can be whatever you want it to be, some choose 'LOVE' across four containers, or 'Mr' and 'Mrs' 'Last Name' across three. The cost for 12 table centers (assuming 3-4 vases per table), could be as little as $40 if you have the bottles already.
7. Tree of Your Life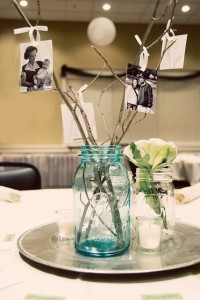 Glass jars, wine bottles, or even any vases you have laying around, can all make a 'tree of life' centerpiece the center of attention at the reception dinner. After finding some small twigs, around 12″-14″ long, attach some photocopied, wallet sized, black and white images of the couple to the "trees." To attach them just use a paper punch to put a hole through the top and then tie on the pictures with a little piece of ribbon or string. Total cost? This one can be done for nearly nothing. We would guesstimate around $30 for 12 tables, that's if you have to buy the containers and includes the printing and ribbon costs.
6. Sea Shell Candles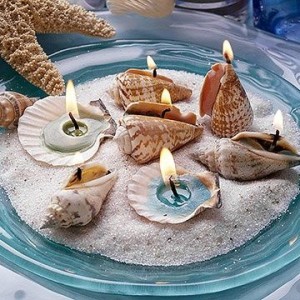 For a beach themed wedding some sea shells filled with wax and a wick can make any table beautiful. For open shells that will hold a candle, the process is easy, for those that won't hold a candle, it's still not that difficult. Just buy some candle wax and the wick and you're ready to go. Melt the wax according to the directions on the package and drop in the wick, each wick and wax set will have directions on how to do this. To add to this centerpieces charm, set the shells on top of a plate that's covered in sand. Total cost for this wedding centerpiece on 12 tables will be around $40-50 (if you got the shells yourself).
5. Mini Paper Trees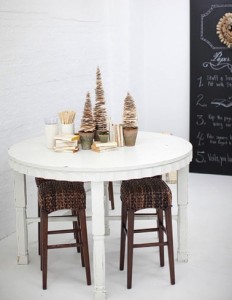 Making mini paper trees to add to the center of each wedding guest's table is not only very inexpensive, it's also something that can be used for several wedding themes. These are fun for country, outdoorsy, or even Christmas weddings. To create a mini paper tree you need little terracotta pots, some moss, styrofoam, skewers and paper of course. Cutting the paper in larger squares for the base and smaller as it grows its way to the top will create a pretty paper tree as you press the squares onto the skewers, click here for more directions. You can further decorate them according the theme when you're done. Cost will run around $30 for 30 trees (this is calculating for the pots and moss).
4. Nature with a Vintage Twist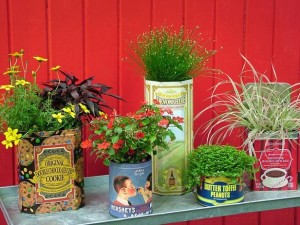 Incorporating plants with antique, or at least antique looking, planters are perfect for a wedding with a strong theme of the same. Finding the containers may be an issue, but often you can find them at thrift stores or just by asking your friends to lend them to you for the big day. To protect any antique or vintage tins, line them first with a ziploc bag. Plants are easy to find at local nurseries, and to make them smaller you can usually break them up into multiples. The price for this will vary greatly depending on the containers, but may be as little as $20 for the plants and up to $150 if buying the tins (for 12 tables).
3. Pail Centerpieces and Place Savers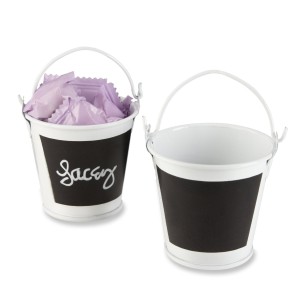 Sometimes a centerpiece can serve more than just one purpose, and this is the case with this cute idea. This DIY needs just a few tiny things. First, you need adorable, tiny, galvanized tin pails. Next, the chalkboard paper, which comes as pre cut in little tags or in a roll. Now you just need some chalk and something to fill the bucket with. Fill it with something neat for them to take home and remember the wedding, or with some candies that they can enjoy while watching you light up the dance floor. Adding a larger center tin to keep up the theme will make it even better! Cost? This will vary depending on how many guests you have, but the tiny pails cost approximately $1.50 each if you get them at Amazon.
2. Fruit-tabulous Ideas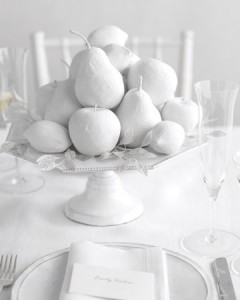 There's quite a bit that you can do with fruit for wedding centerpieces. Take apples and turn them into candle holders (simply core them and place a candle), spray paint your fruit in your wedding's colors and place them on a platter, or lastly, paper mache them. The last look of a tray full of paper mached fruit, including pears, apples, oranges and lemons, will definitely make a statement. The only challenge to using real fruit as a decoration is that your time is limited to use it. Your cost will mostly be limited to the price of fruit, and can average from $50-$150 depending on the cost of the produce in your area.
1. Pumpkins and Squash, Not Just for Fall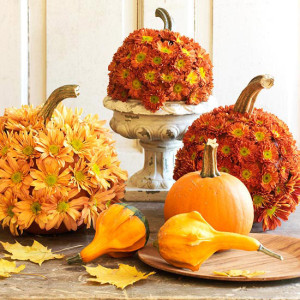 Using pumpkins and squash may seem only fit for a fall wedding when considering using them for decoration, but they fit into any time of year if they fit your theme. So much can be done with the variety of shapes that they come in, making them a great idea for table centers. Hot glue some flowers to a pumpkin and plop it in a planter to make a unique and memorable table decoration. Fake flowers will work fine for this project, and real pumpkins and squash will too. This is one last idea that won't break the bank, your total costs should be less than $75 for a dozen tables.