10 Ideas for Lovely Wedding Fans
Favors for your wedding guests are different for each couple. One idea for your favors is wedding fans. Several different types of fans are available for you to use and personalize for your guests. They are especially nice if you are planning an outdoor wedding in warm weather as they will help keep guest cool. Whether you use them during the ceremony or leave them for guests at your reception, fans make a wonderful remembrance for your guests. You can find these items at several web sites that include Favors and Flowers, Event Blossom, Koyal Wholesale, and Ann's Bridal Bargains. You can use a variety of ideas to create the ideal fan for your special day.
10. Photo Fans
One idea for your fans is to use a photo of the two of you. You can add your names and the date to the front with the photo. It has a simple design using a rectangle fan with a border and a handle. When you order photo fans, you are able to customize the print color font style, and choose from wood or plastic handles.
9. Scalloped Paddle Fans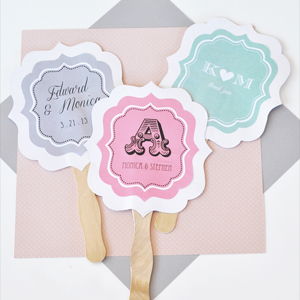 A pretty scalloped edge on a fan adds a hint of elegance to a paddle fan. You can add up to two lines of text with 20 characters in each line, which gives you enough room for the date and names. Designs available to add include hearts, doves, and wedding cake. Several colors are available that include pink, blue, green, and gray for the scalloped edge paddle fans.
8. Monogrammed Fans
Adding your monogram to a paddle fan is another idea of how to personalize them. You can find rectangle paddle fans with Damask borders to surround your monogram. Imprint colors include poppy, salmon, Merlot, mist, aqua, moss, peacock, and orchid. Damask and dots colors include sapphire, salmon, grapevine, mist, canary, and ebony. The available colors make it easy to match your wedding colors to your monogrammed paddle fan.
7. Heart Fans
A romantic idea is to use heart shaped fans for your guests. The paddle fans have hearts in place of the traditional rectangle shape. These can be personalized with names and wedding date or used as a program for your ceremony. Imprint colors include black, claret, almond, fuchsia, gray, hunter green, ginger, periwinkle, violet, rosewood, and sage. Images available include a tux and gown, hearts, and birds on a branch.
6. Fans with Ribbon
One idea to customize your wedding fans is to use ribbon as a decorative touch. You can wrap a ribbon around the rectangle fan that matches your wedding colors. Another idea is to tie a ribbon around the handle of the fan. If the handle has a hole at the bottom, you can tie a ribbon through the hole. You can use a satin ribbon or an organza ribbon to accent your fan.
5. Rustic Fans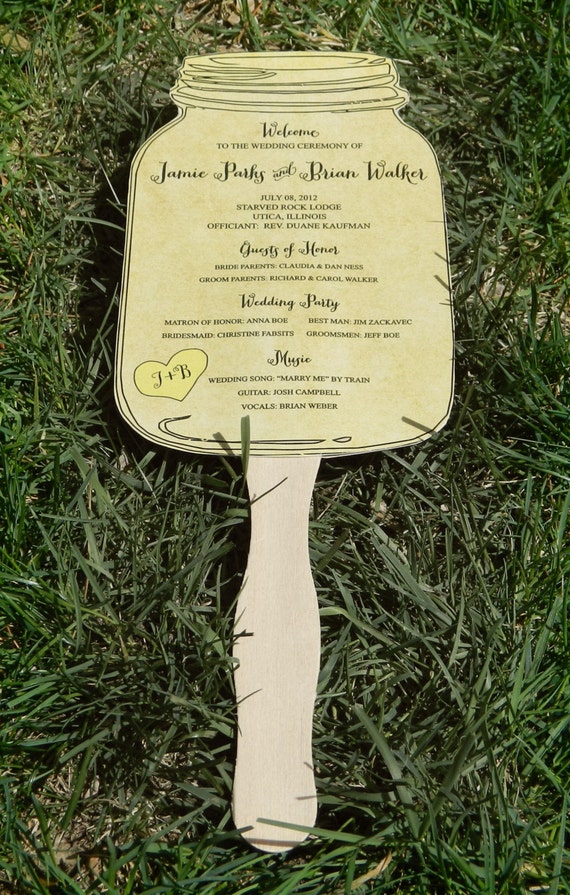 Rustic themes are popular with weddings and rustic wedding fans is another idea for your guests. Some are shaped like mason jars with handles. The cute fans can double as your program and are ideal for outdoor ceremony. You can find the rustic fans on Etsy and you are able to customize the colors. They are handmade and the front and back is printed on card stock then put together with a wood handle to make the mason jar fans.
4. Vintage Paddle Fans
Pretty vintage blossom paddle fans are a lovely favor for your wedding guests. The background on these rectangular fans is black. You can choose a color for the vintage blossoms from the available tones that include mint, lavender, blue, tangerine lemon, pink, red, and sand. Add up to two lines of text to personalize your fan. Fans come with a choice of wood or plastic handles.
3. Fan Kits
One idea for your wedding guests is to make your own fans. Do-it-yourself fan kits are available that include materials to create your own fans. You use your printer to add details to the paper fan then put them together. The kits come with instructions and a CD that has several design templates, which makes it easy to create your fans. Handles, paper fans, and adhesive glue dots are included in each kit along with test printing sheets.
2. Scalloped Cherry Blossoms Program Fans
Using fans as your programs is another way of incorporating them into your wedding. These are ideal for outdoor weddings as guest can use them to stay cool and follow along with the ceremony. The pretty scalloped cherry blossom program fans come in various colors including chocolate and salmon, ebony and velvet, fern and cotton candy, and latte and butter. You have a choice of having one or two sides with print as well as how the print is placed on the fans.
1. Folding Program Fans
Folding program fans are a unique way to present your programs to your guests. Colors for the fans include sky, violet, slate, rosewood, berry, passion, hunter, and periwinkle. Image options include brides and grooms, doves, hearts, and wedding cake. The folding fans have three, four, or five panels so all of your information can be included.