Worst Pre-Wedding Mistakes You Have To Avoid

Avoid these pre-wedding mistakes for you to have a meaningful and beautiful wedding.
We know far too well that planning a wedding can be very stressful. Choosing the right dress, dealing with the budget are just some of the challenges you will face. Your wedding should be one of the most beautiful days in your life; therefore, it should be planned perfectly. However, because of the so many details involve, even the smartest couples sometimes goof up.
To avoid turning your wedding to a big disaster, we've listed here some of the worst pre-wedding mistakes that you should keep an eye on before you say that sweet "I Do."
1. Forgetting your budget
The very first pre-wedding mistake that couples usually make is blowing off their wedding budget. A lot of excited brides throw cash out the window, and get shocked to discover that they've already spent all their savings. Remember, a wedding is a costly celebration. Without careful planning, you will end up starting a new life filled with loans. To avoid this, list down all the expenses for your wedding day and allot a reasonable amount to cover them. And after you do this, make sure that you stick with your budget.
2. Choosing a less convenient time
Every couple has a certain date in mind for celebrating their union. Probably, you want to get married on Valentine's Day, New Year's Day or on the anniversary of your first date. But before you finally decide, consider a date when most of your guests is free to attend.
3. Inviting too many guests
Make sure that the number of people on your guest list matches up to the number of people allowed in the reception venue. No matter how friendly you are, you can't invite 300 people to your wedding with a reception venue that has a 200-person capacity.
4. Getting your wedding dress too late
Avoid choosing and buying your wedding dress at the last minute. Your dress should be your priority. Make sure to buy your dress a few months (preferably six months) before the wedding date. You may want to leave plenty of time for the shipping and enough time for the fitting. Most of the time, custom-made dresses require alterations to make sure it fits properly. Getting it at the last minute will certainly be stressful.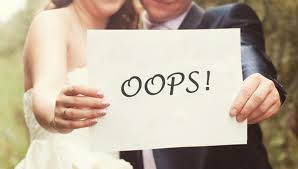 5. Booking at the last minute
If you want your wedding to run smoothly, make sure to reserve all the necessary bookings in advance, or else you may end up having no guests or paying extra. This goes for all the things included in the wedding planning – hotels, photographers, reception venue, caterers, organizers, etc. The recommended venue or event booking should be done at least six months before the actual date. But if you're going to get married in the peak season, you may want to reserve much earlier.
6. Leaving all paperwork for the last hour
Don't wait until the last minute to arrange all the necessary documents for your wedding, including marriage license, passport (for honeymoon and international weddings), visa, and divorce papers (for those marrying the second time). If you want to get your marriage license in time, make sure to fix it early. As for those who are getting married the second time, ensure that you have the official divorce papers to avoid getting any trouble in getting your marriage certificate.
7. Indulging in last minute beauty regimens
Taking a new diet program a few days before your big day is definitely a no-no. No matter how much you want to look sexy on your big day, a sudden weight loss can result in a big wedding disaster. Not only will this make you look stressed out, but it will certainly ruin your fittings (for your wedding dress).  The same goes for trying out new beauty products prior to the wedding date. Last-minute skin treatments can lead to undesired results, such as rashes, breakouts, and worse, skin infections! Save your day by sticking to long-term beauty treatments.
8. Doing it all alone
Let's face it – you can't do it alone. A wedding is a big celebration, so it should be given proper attention. If you do everything on your own, there's a tendency that you'll overlook some of the important details of your wedding. Your friends and family will surely love to help you plan the most important event of your life, so don't ignore their offers. Make sure that your spouse-to-be helps out.
By avoiding all these worst pre-wedding mistakes, you'll surely enjoy your big day without stress.