Top 10 Cute Engagement Cake Ideas That Are Easy To Make
Getting engaged is something to celebrate and you should take time to enjoy being engaged. A party is a wonderful way to celebrate your engagement and is a way of getting both families together along with friends. The party does not have to be large or formal. An engagement party means you need engagement cake ideas for the centerpiece of your party. You can use the colors you will be using in your wedding. Your engagement cake can be simple yet tasteful.
Here are top 10 cute engagement cake ideas.
10. Simple Sheet Cake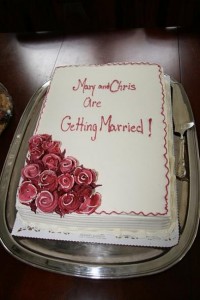 You can decorate sheet cakes using simple ideas to make a cute engagement cake by adding flowers or other decorations. A simple message with the couple's names is also a tasteful choice and can be combined with other decorations. Using white or a plain colored frosting and a contrasting color to write names will look very nice in almost any color. You can add frosting piped along the edges and you can use silk flowers or flowers made of frosting as decoration.
9. Fancy Sheet Cake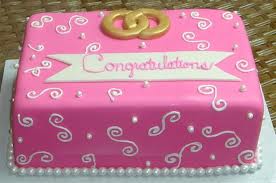 The great thing about sheet cakes is they are versatile and can be made in multiple ways. You can decorate sheet cakes so they have a fun and fancy look. Using fun engagement cake ideas, you can create a cute cake for a party from a simple sheet cake. Fondant can be used instead of frosting so the cake has a smooth and finished look and simple scrolls can be added with a banner of congratulations. Because fondant comes in many colors and can have color added to it you can create fondant gold rings to use on the cake as well.
8. Engagement Gift Cake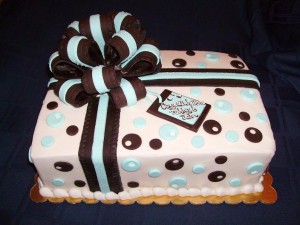 Another idea for an engagement cake is a cake shaped and decorated as a gift. This cake would also have fondant instead of frosting for a smoother look. You can use the wedding colors or other colors the couple likes. Making strips with fondant is a good way to create a ribbon and bow for the gift cake. You can make fondant shapes of circles to decorate the cake. You can also make a tag with the couples name written on it to finish the cake.
7. Ring Bearer Pillow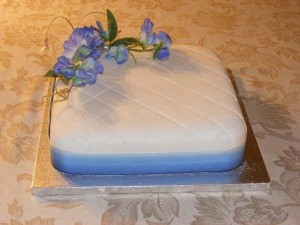 One cute idea for an engagement cake is to make one that looks like the ring bearer's pillow. You need square cake pans for this cake. Layer the cakes and frost the bottom part in blue. White frosting or fondant can be used on the top half of the cake and down just over the blue. Lines can be drawn with a knife in the white frosting to make it look like a cushion. Adding a sprig of silk flowers to one corner of the pillow will put the final touch on the cake.
6. Simple Heart Cake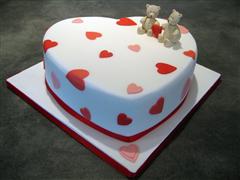 Using heart shaped pans; you can make a simple heart cake. Fondant can be used to make heart shapes to go on the frosting. Layer the hearts using frosting or fruit filling between layers. Frost the cake and add the heart shapes. You can add some type of decoration such as a pair of small bears or love birds to the top of the cake.
5. Interlocking Hearts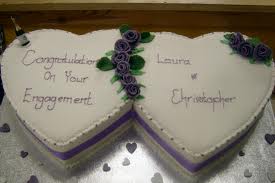 Making interlocking or double hearts and putting the couple's names on the cakes makes a cute cake for an engagement party. Putting the names on one heart and a simple congratulations message on the other is a nice idea. This engagement cake can be decorated with silk and icing flowers. To put the hearts together, use the steps above to bake the cake, and then use the corner of the cake form to mark out a small 'bite out of one side of the cake. Fit the second heart into the bite, and cover the top with icing or decorations.
4. A Tower of Cupcakes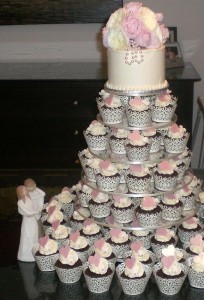 Cupcakes are very popular and they can be used to make a cute engagement cake. You frost and decorate each cupcake and place them on tiered cake holders. This simple idea allows less fuss and the removes the need to cut the cake. Cupcakes can be filled with cream or fruit filling by using a pastry bag to inject filling into the cakes.
3. Cupcakes with another Cake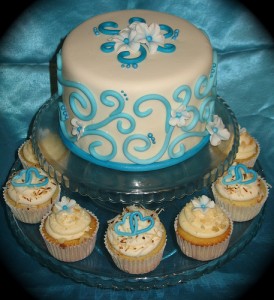 Cupcakes can also be used to accent a cake. They can be placed around a smaller cake for a unique type of engagement cake. The cake can be round, heart shaped or square and the cupcakes will accent it nicely. Use hearts and silk flowers to decorate the cupcakes, and try to have them match the cake. Frosting can be piped on the cake to decorate it.
2. Elegant Round Cake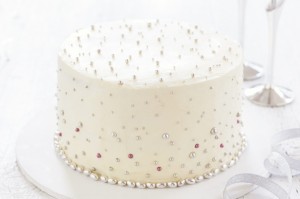 You can make a simple yet elegant engagement cake using round cakes. Layer the cakes with frosting or fruit filling between layers. Frost the cake then add white fondant for a smooth finish. Use edible sparkles, glitter, and silver decorations which can be found in a baking store to make the cake shine. This cake is easy to make yet looks beautiful.
1. Engagement Ring Cake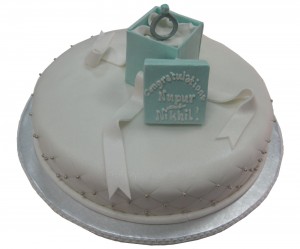 You can use a round cake to make a simple yet stylish engagement cake. Use fruit filling or frosting between layers of cake. Frost lightly and cover with fondant. Add a ring box to the top of the cake with a ring inside. Lay the lid to the box at an angle, leaving box open. Use fondant to make a ribbon to add to the cake top next to and around the ring box. You can also use real ribbon for this decoration if you want it to be easier. A cake with the engagement ring included makes the perfect engagement ring cake, and that's why it's number one our list.