Top 10 Dance Songs for Weddings to Get Your Guests Up and Moving
It is traditional to have a reception or party after the ceremony where there will be food, speeches, and lots of dancing. But what are the best songs to play that will get your guests up and moving? Below you will find our top 10 list of dance songs for weddings that should encourage anyone to get up and dance.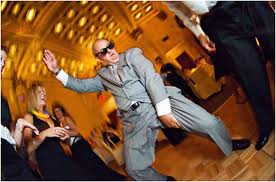 10. 'Party Rock Anthem'
The first on our list of dance songs for weddings is a song performed by popular electro recording duo LMFAO, featuring English singer Lauren Bennett and GoonRock. This is a fantastic party and dance song that concentrates on shuffling, which is a popular modern form of dancing.
9. 'Yeah'
An extremely popular Crunk&B, hip hop dance song that will encourage almost anyone to get out of their chairs and dance is called,'Yeah.' It's a song by American artist Usher, with guest vocals from Lil Jon and Ludacris. Although this is a song about cheating, it is still an extremely popular among dance songs at weddings because of its upbeat tempo, which is very easy to dance to.
8. 'Whatever You Like'
This song is an R&B, Synthpop song that is upbeat and easy to dance to, making it a popular choice among dance songs for weddings. The song is by recording artist T.I. and was released on July 29th, 2008. It was named as the 16th most successful song from 2000 to 2009, which means that almost all of your wedding party guests will recognize it and be able to sing along.
7. '1,2,3,4'
'1,2,3,4', sometimes known simply as 'I Love You,' is a love song by The Plain White T's that is perfect for a wedding dance party. Therefore, it's one of the best dance songs for wedding receptions around. The '1,2,3,4,' song is considered to be part of the pop rock genre but has a slow tempo which makes it ideal for slow dancing.
6. 'Take on Me'
No party would be complete without a few 'blast from the past' songs, and what better choice is there than the popular 1985 song 'Take on Me' by the Norwegian band A-ha. The song combines synthpop with different instrumentals, with a beat that is easy to dance to. Any of your wedding party guests that grew up in the 80's will quickly find themselves dancing, and singing along to popular song, even though it's not as modern as other wedding dance songs on the list.
5. 'Wild Thing'
'Wild Thing' is another popular 80's tune that is often requested and played with other dance songs for weddings. The rap rock song, performed by Tone Loc is a song that almost any guest will recognize and be able to sing along to. The title of this song is reference to the popular phrase 'doing the wild thing' which is a euphemism for sex, which makes it even more suitable for a wedding party because that is what everyone expects the bride and groom to be doing when they leave.
4. 'Say Ahh'
This is a popular R&B, pop, and hip hop song that will get many people onto the dance floor. 'Say Ahh' is by American artist Trey Songs and features Fabolous. The lyrics of this song talk about two adults meeting and enjoying time together, which could make it easy to fit into the wedding party theme.
3. 'Can't Get Enough of Your Love Babe'
A wedding party wouldn't be the same without at least one Barry White song, and there is none better than 'Can't Get Enough of Your Love Babe'. This slow, sensual love song is perfect for any wedding party and will work well as the bride and groom's first dance, or as a slow dance later on during the evening. Barry White is a classic, and his music includes many popular dance songs for weddings.
2. 'I Loved her First'
http://www.youtube.com/watch?v=ab4VRWX8y1A
This country song tells a story of a father having to give his precious little girl away on her wedding day, which makes it a perfect addition to any dance songs for wedding playlist, especially as a song for the father of the bride to dance with his baby girl. The song is performed by Heartland, a very popular American country music group.
1. 'You And Me'
A popular love song by American alternative band Lifehouse is 'You and Me'. It comes with lyrics that talk about how one person feels about another. This song is so suitable for a wedding party that an extended wedding version was released on July 26th, 2005. The extended wedding version is almost a full two minutes longer than the original, making it an idea song for the bride and grooms first dance, their entrance, or simply a slow love song to play during the course of the evening. Due to it's being perfect for any part of the night, it makes it to the top of the list of our best dance songs for weddings.