Top 10 Unique and Unusual Engagement Rings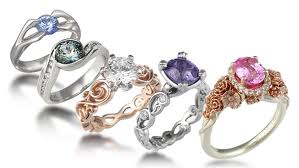 Once upon a time, engagement rings all looked pretty much the same. Each ring featured a gold band with a single diamond on top. These days, though, engagement rings are becoming more and more unique. Couples are looking for ways to express their individual personalities, as well as their own style, and engagement ring fashions are beginning to reflect that. More and more often, couples are choosing to design their own engagement ring, or are choosing styles that are a bit more non-traditional. These engagement rings are something truly special to the couple; representing their relationship in a way that a traditional style couldn't. Listed below are 10 trends we've notice that make for some unique and unusual engagement rings.
10. Unusual Shapes
In the past, engagment rings were limited by the various diamond cuts available. You got a regular solitaire or princess cut diamond. The use of varying cuts, smaller stones, and diamond flakes in many designs however, has made engagement rings much more interesting. Animal shapes such as butterflies are becoming more common. Heart-shaped engagement rings are also increasingly popular. Asymmetrical cuts such as pear-shaped diamonds and ovals are also becoming increasingly popular. These asymmetrical cut stones can be turned sideways to give the ring an even more unusual appearance.
9. Colored Diamonds
Forget about a clear white diamond ring. Many couples are choosing their engagement ring to show their love of color. These colored diamonds have become increasingly popular in celebrity engagement rings. Yellow, pink, and even black diamonds are beginning to appear in jewelry stores all across the country. Your engagement ring is something you'll be wearing for a long time, so it's important that you love everything about it, including the color.
8. Gemstones and Pearls
Some couples just aren't that into diamonds. Many women have a different stone as a favorite; perhaps a birthstone. Engagement rings using pearls and varying gemstones are becoming more common. Sometimes these gemstones are paired with smaller diamond accents, but often they are left by themselves. These rings are truly personal, and usually carry an even deeper meaning and importance to the couple.
7. Illusion Settings and Patterns
A year ago, women all over the world fell in love with Bella Swan's oval pave diamond engagement ring, shown above. Since then, ring styles that use smaller pave diamonds to create varying patterns are becoming more common and lesser known as an unusual engagement ring. While most couples can't afford something quite as elaborate as Bella's, it is still an excellent way to inject a bit of uniqueness to a long-lived couple tradition.
6. Tiny Bands
Smaller, more feminine bands are becoming just as common as overly large diamonds these days. Many women prefer the simplicity of a small, unassuming engagement ring to something more eye-catching. Sometimes these tiny bands are left plain and simple, while other couples prefer to pave the entire band with tiny stones. For women with smaller fingers and hands, these thin bands are often an excellent choice, and allow them to have a ring they love in the size they need.
5. Twisted Bands
Sometimes the look of the band can be just as important as the diamond itself. These twisted bands twine around each other, symbolizing the couple's union with each other. Two separate bands twisting together to become one, as two people join together to become one couple. Often one band will be set with tiny diamonds or gemstones while the other is left plain as an interesting symbol of the masculine and feminine. Twisted bands are a beautiful way for a couple to express the idea of unity.
4. Varied Metals
Traditionally, engagement rings were confined to white or yellow gold. Today, more couples are turning to different metals such as pink gold, sterling silver, copper, or titanium. Many couples are even combining different metals for an unusual looking engagement ring that is truly unique. This is excellent for women who enjoy mixing jewelry styles, as with two metals present, she'll never have to worry about her engagement ring not matching her other pieces.
2. Raised Settings
In these rings, the design revolves more around the setting itself than it does the diamond. This creates an unusual focus for the ring, but allows for a great deal of versatility and personality. Settings may feature and interesting scroll or engraved design, or it may be set with tiny stones itself. There are a variety of options available. Raised setting engagement rings truly allow a couple to express their unique view on life together.
1. Skipping the Stone
Some couples choose to skip the center stone altogether, focusing instead on an interesting design or combination of metals. These rings often contain unity symbols such as intertwined hearts or twisted bands of varying metals. While they may not have the "bling" of traditional engagement rings, these unusual engagement rings are no less eye-catching and special. Of course, there are also couples out there who skip the idea of an engagement ring altogether, feeling that the ring is an old and outdated tradition.