Top Ten Ball Gown Wedding Dresses for Your Princess Wedding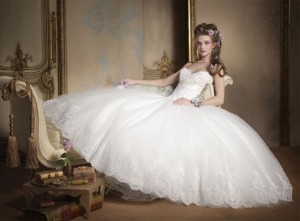 A ball gown wedding dress features a tight bodice, a loose or fitted waist and flared hips that fall into a floor length skirt. Wedding and ball gowns come in a variety of styles but are always beautiful, glamorous, and perfect for a princess wedding. For cuter chic, try choosing dresses with pink and lace trim.
10. Ribbons and Bows
Tying the waist with a ribbon or a bow is an excellent look for a ball gown wedding dress, and it can even be used to show personal sentiment. A large red ribbon adds contrast and a look of passion, while pink is more sweet and lovely, black adds simple contrast, and any other colors you like will work as well. Many ball gowns, especially empire waists will feature a large ribbon sash, but you can feel free to add your own in taffeta, silk, or chiffon depending on your dress.
9. Halter Ball Gown
A halter dress is flattering, can be low cut without being revealing, and whether you choose a halter dress that ties at the neck, or simply wraps around it is up to you. Great options include backless halter dresses that will display a large portion of your back. A halter dress hugs your bust, and then sweeps down into a long and wide gown, which creates a beautiful silhouette.
8. Two Tone Dress
All white wedding dresses are quickly becoming a thing of the past, and one of the most popular options for a wedding dress is a two tone dress. This type of dress usually features a skirt and bodice with darted color inlay in either a light or dark shade depending on the amount of contrast you are looking for. This is a great way to have a unique wedding dress while still adding in traditional values to your dress.
7. Lace Train Wedding Dress
A long lace train is both traditional and glamorous, and you can choose a train to be as long or as short as you want. Pick a dress that's easy to walk in, and remember that trains are not good options for outdoor weddings.
6. Alternate Ball Gown Wedding Dress
From black to bright red, brides around the world are going for alternate styles of ball gowns. Whether for gothic, or just an alternate style, a colored wedding dress can add a beautiful touch of personality to your look. Just remember to choose a color that flatters your skin, and your jewelry.
5. Empire Waist Dress
An empire waist ball gown is pulled in at the waist to emphasize your waistline. Whether you're a plus size or a zero, this style can be flattering, especially when compared with a wide flared skirt. Usually the effect is to emphasize the waist to make your figure look smaller and your hips bigger, thus creating more curves. Add a petticoat beneath the dress to emphasize the look.
4. One Shoulder Wedding Dress
One shoulder ball gown wedding dresses are unique, cute, and flattering. An asymmetrical look is very much in style with fashion, and choosing it for your wedding gives you the opportunity to show off part of your chest and your arms without going to over the top. Many women with tattoos on one shoulder also choose a one shoulder to either purposely display or hide the tattoo.
3. Strapless Wedding Dress
One of the most classic ball gown wedding dresses is the strapless style. Usually topped with a bustier, this dress is set to emphasize the bodice and minimize the waist, making it a beautiful choice for women of all shapes and sizes. A strapless dress draws attention to the face and eyes, which is a great thing for wedding photos. You can pair it with a cardigan or jacket if it's cold, or you're sensitive about your arms.
2. Lace Sleeve Ball Gown Dress
Lace sleeves are a great way to bring the ball gown wedding dress in as a winter or autumn dress. Sleeves can be three quarter or full length but can be used to hide the arms, to shape the arms, and to add additional warmth to a dress. The look is often quite elegant, especially if the shade of white or ivory that you've chosen flatters your skin.
1. Corset Ball Dress
The corset ball dress is quite simply the most flattering style for any body type. Corsets can be tightened to pull in the waist, emphasize the bust, and the flaring skirt emphasizes the look even more. Corset ball gown wedding dresses offer an easy to wear dress that can actually still be worn if you lose or gain a little bit of weight before the wedding.