Top Ten Cheapest Emerald Cut Engagement Ring
Not everyone can afford the $5 million that Jay-Z used to buy Beyonce's emerald cut engagement ring, but luckily there are some affordable choices of emerald cut engagement rings. Emerald cut stones bring out the brilliance and the beauty of individual stones in a way that other cuts can't do. Finding a diamond engagement ring that's not too expensive is something so easy to do these days with sites like EBay, Etsy, Amazon, and of course certain lower priced jewelers. We compiled such a list for you, so get ready, here's our top 10 cheapest emerald cut rings!
10. Solitaire Emerald Cut Cubic Zirconia Ring for $36
Who ever said i thad to be a diamond in an engagement ring? Cubic Zirconia is a great option if you are one that is fine with foregoing diamonds. A favorite of many, the solitaire stands out from other rings for its easy elegance without a lot of fuss. This ring is an emerald cut cubic zirconia for $35.99 . Cheap enough for grooms with a budget and beautiful enough for a bride to be proud of when showing off to her friends.
9. Canary Yellow Diamond Engagement Ring For $60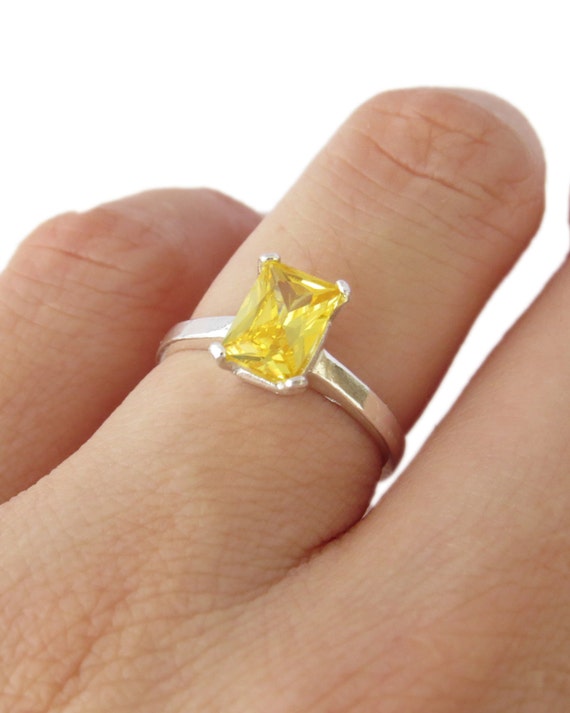 Love diamonds? Diamonds come in many colors, so you won't have to just settle for the traditional look. Canary yellow diamonds have gained popularity over the last ten years. This lovely ring is perfect for a bride with a yellow themed wedding.
8. Emerald Cut Diamonesk Engagement Ring for $99
Brides looking for style, gorgeous looks and a great price will love this ring from The Bradford Exchange. Diamonesk is a simulated stone that shines like a diamond and is affordable. An emerald cut diamonesk in the center of this ring is surrounded by pretty baguettes in sterling silver is sure to be a big hit.
7. Emerald Cut Halo Engagement Ring Only $81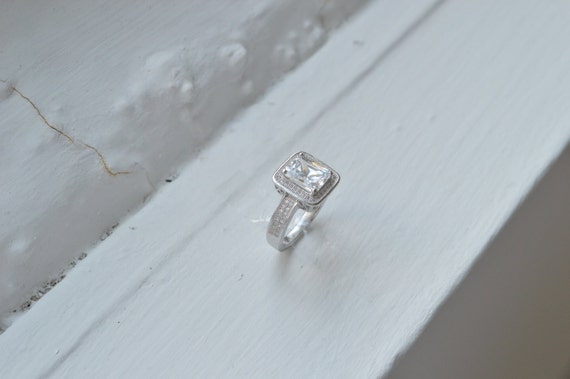 Halo engagement rings are a lovely sight on a bride's finger. This pretty halo emerald cut ring has double rows of cubic zirconia around the band. $81 on Etsy is a fantastic price for an engagement ring.
6. Platinum and Silver White Sapphire Ring For $122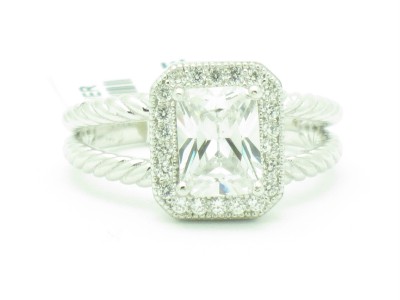 Brides who want platinum, but do not want to spend thousands of dollars for the metal, will love this pretty ring. Sterling silver is plated with platinum to look like a million dollars was spent, without spending a million dollars. Find rings like this one at great prices on EBay.
5. White Topaz Engagement Set Only $149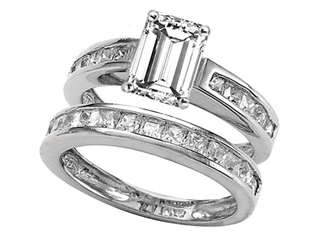 The white topaz rings have gotten favorable reviews for being cheap and lovely. This emerald cut white topaz set is indeed lovely, simple and less than $200. For the couple of a budget, this set is perfect for value and beauty.
4. Vintage Emerald Simulated Diamond Ring for $200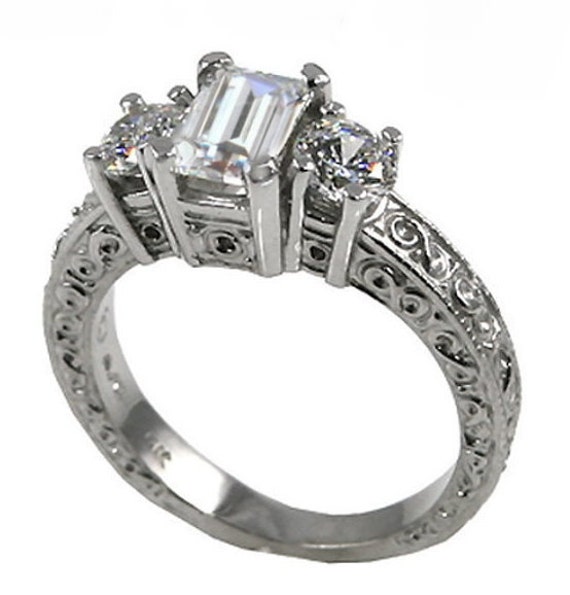 Couples that are looking for something different for their engagement ring will love this gorgeous vintage style ring. Etsy is a great choice for people who are looking to save a little money and find jewelry that is like a piece of artwork.
3. Blue Sapphire Vintage Style Ring For $220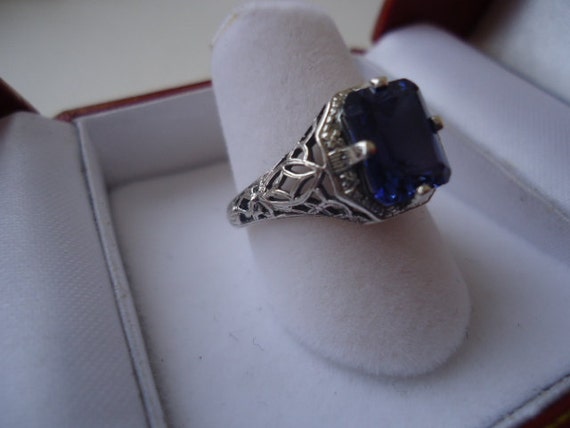 Sapphires are a great choice for an engagement ring because they are a symbol of loyalty between two lovers. This ring is done with a vintage lace look that is sure to please a bride who loves blue.
2. Morganite Rose Gold Engagement Ring About $320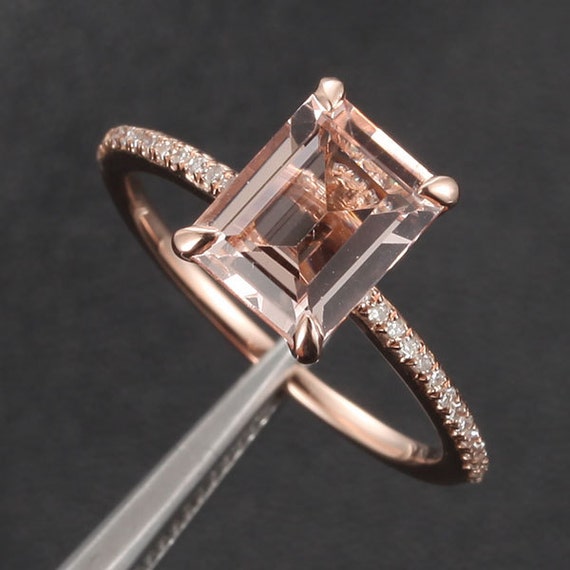 An uncommon choice for wedding rings, morganite is a gorgeous stone that can be pink or peach depending on the intensity of the hue. This ring is combined with pink gold for a stunning look that is sure to be admired.
1. Peridot, Diamonds And White Gold Ring For $373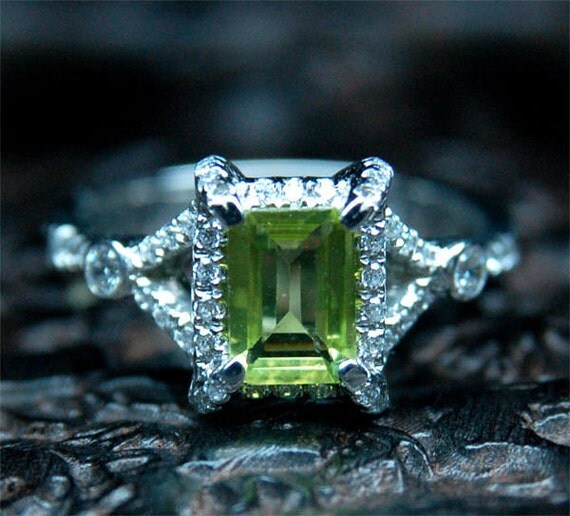 Peridot is sometimes referred to as "evening emerald" because the peridot shines more brilliantly at night. This white gold ring has a single large peridot nestled in the center of the ring with small diamonds creating a halo around the peridot stone. This ring is the perfect choice for a Spring wedding or an August bride.