Top Ten Mermaid Style Wedding Dresses to Wear to Your Wedding
A mermaid style wedding dress features a fitted bodice, fitted waist, fitted hips, and then flairs out at the mid-thigh or the knees to create a dramatic and beautiful effect. Mermaid wedding dresses are flattering on almost all body types and can include a range of styles and looks. Plus size women can pair the mermaid dress with a corset to create dramatic curves while thinner women can show off their figure in the fitted dress.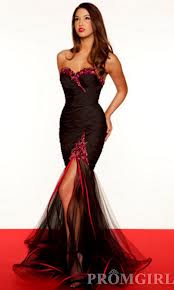 10. Ruffle Skirt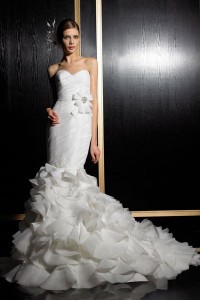 Ruffle skirt mermaid style wedding gowns create an image of opulence near the bottom of the skirt. Ruffles can be made of chiffon, lace, silk, or taffeta but will maximize the size and volume of the skirt for extra effect. Many designer wedding dress makers employed ruffle skirts for their mermaid dresses but you don't necessarily have to purchase these skirts from a designer.
9. Tiered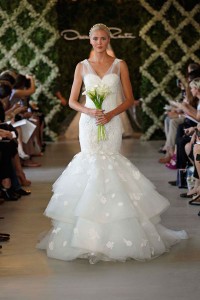 Tiered mermaid skirts usually feature two layers of skirts, usually made of lace. The effect is similar to that of the ruffle skirt but will add more subtle volume. The style can be adapted to appear retro or modern but is almost always a flattering style. Having multiple layers of lace adds volume, can be a great way to go smoothly into a train, and is very elegant and beautiful.
8. Lacey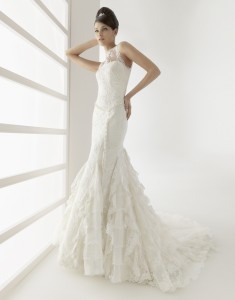 Lace is always in fashion and doubly so with a mermaid wedding dress. Consider lace sleeves, lace counterpoints on the skirt, and a lace train. Lace is elegant, beautiful, and can be sexy in its own way without being over the top. Consider chiffon, organza, or knit lace for this style.
7. Simple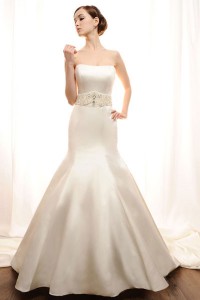 Simple might not be what you were planning on for your wedding, but you might be surprised at how easy it is to pull off. Combined with an elegant hairstyle, some great makeup, and a little self-confidence, you can take a simple satin mermaid dress and be the star of any show. If you want to add to the dress a bit then you can always consider adding a colorful sash or lace belt to the look.
6. Strapless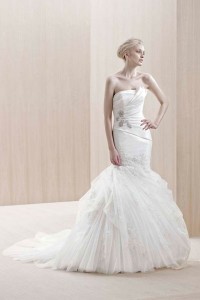 Strapless is always in style for wedding dresses and pairing a strapless gown with a mermaid style dress gives you an elegant impact that no one will forget. Adding in extra details will give a more dramatic impression but you can choose to wear a simple dress as well. Strapless looks are great for women of all sizes but should be chosen with care by anyone with a larger bust.
5. Color Block Dress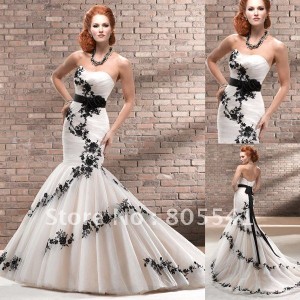 Color blocking is all the rage and it can be used to add a dramatic impact to your wedding dress. Choosing a dress with a skirt in another color, a half skirt to add a hint of color to one side of the dress, or even subtle colored lace over the dress can add a beautiful touch to any dress. A subtle example would be taupe lace over a white dress while a more stunning example would be a white dress with red or black embroidery.
4. Country Style
If you're having a simple wedding then you don't really want an all-out dress. A country style dress should feature knit lace, gentle skirts, and a sweetheart neckline. While not the most glamorous look, you will look beautiful. Country styles are excellent for both young and mature women.
3. Layered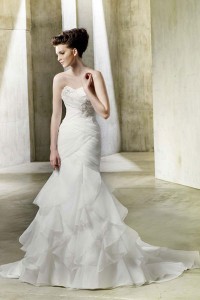 Layered mermaid wedding gowns can start with subtle layers and folds of fabric on the top and then work their way down the dress to include full layers of lace and organza at the bottom. Similar but different from both the tiered and the ruffle skirt, layers create an elegant impression that will have all eyes on you as you stroll down the aisle in sophisticated splendor. Importantly, layers can be used to hide problem areas around the tummy.
2. Long Train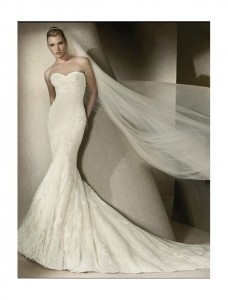 A long train can be beautiful with any dress, but with the mermaid style it simply flows out from the already expanding skirt to create a natural and beautiful fountain of lace. Trains are not appropriate for outdoor weddings and should be carefully considered by anyone who has a habit of tripping or catching themselves.
1. Long Sleeve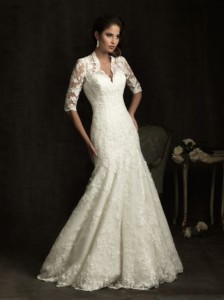 While very few wedding dresses are long sleeve, simple and elegant mermaid style wedding dresses can pull the look off perfectly. A great idea is to choose a dress with lace sleeves that will perfectly balance and complement the bottom of the dress. Best of all, lace sleeves can cover up your arms if you don't have perfectly toned appendages. Both three quarter and long sleeves are excellent options.