Top Ten Styles You Can Get from a Tuxedo Rental
If you're planning on going to a tuxedo rental instead of buying your own tux, then you should consider your options before going. Renting instead of buying gives you the freedom to choose any type or color of tuxedo, instead of choosing a tuxedo that you can wear elsewhere, you can pick the perfect tux for your wedding. Here are ten of the most popular tuxedo styles that you can get at a tuxedo rental store.
10. Morning Coat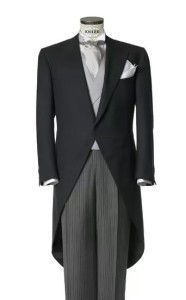 The morning coat is a very formal style that, as named, is best reserved for early morning weddings. The style has been in use since Victorian times when men literally dressed up in a morning coat to go down to breakfast, and then changed into riding, work, or hunting gear for later in the day. Your morning coat features a single broad tail down the back close buttons, and does not close over the hips.
9. Cutaway
The cutaway jacket is almost exactly like the morning coat except it covers more of the hips. The jacket features a single long tail with no divides, and was most likely first created for formal riding. Men who choose this style should wear it to formal weddings where the bride is as dressy as possible. Consider pairing it with a top hat and cane for a very Victorian look.
8. Dinner Jacket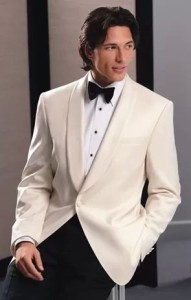 The dinner jacket is quite possibly the most versatile style available for men today, and is one of the most popular styles to buy outright. Dinner jackets come in a variety of materials, but should most likely be silk or satin for renting to wear to a wedding. Dinner jackets usually end at the waist, can feature a couple of different lapels, but usually peaked or a shawl collar, and two or three buttons. Dinner jackets are most popular in white.
7. Stroller Coat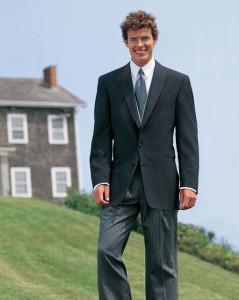 The stroller coat is almost exactly a shorter version of the morning coat, and is one of the best options to wear to a formal afternoon wedding. The single tail extends to about hip lenght, while the jacket is waist length on the front. Consider pairing it with a formal waistcoat for a polished look. This coat can be worn in beige, black, or grey.
6. Tails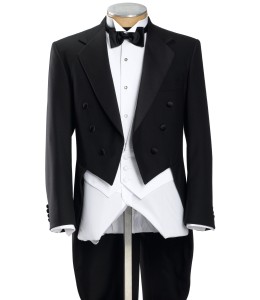 Coat tails are quite possibly the most classic formal elegant look but you have to be careful how you wear them. Consider trying the coat on and looking at yourself from behind before you make your decision. A jacket with tails is a waist coat with two split tails that can extend to the hips or the knees depending on the style of jacket. Consider wearing it with a waistcoat, white bow tie, and white vest for the most formal look.
5. Beige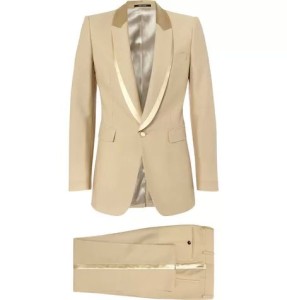 While not a style, beige tuxedos are quickly becoming one of the most popular styles. If you don't want to look like James Bond or a 50s icon standing at the altar, then a beige tux will make you look a lot more modern. Consider pairing it with a white shirt, matching waistcoat, and matching pants. Usually a darker tie is the best way to go because it adds contrast to the whole ensemble.
4. Grey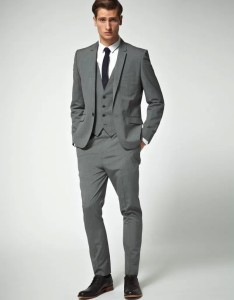 If beige isn't your thing but you still want to look modern, consider going with a grey suit instead. Dark and light grey are all in fashion so you can choose whichever you want. Most of the time you can go with very dark charcoal grey if you would like to look like you almost have a black tux.
3. Black Suit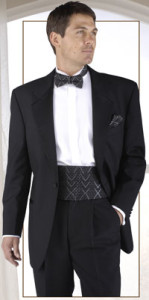 If you don't want to wear a tuxedo then a black suit is your next best option. Look for classic cuts and polished styles, and a pointed lapel for the best look. It is also a good idea to look for silk or satin rather than wool or cotton, as the material is a little more formal rather than business. Basically it should be at least a little shiny.
2. Evening Suit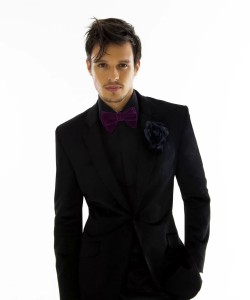 Evening suits are easy to get, easy to wear, and less old fashioned than a tuxedo. They are also available in a range of colors including blue, grey, beige, and black, so you can wear whatever you want. Usually the evening suit is paired with a regular tie rather than a bow tie, and is usually worn with a belt.
1. Classic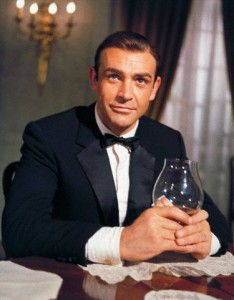 The classic tuxedo is best when worn after 6 PM, although some do choose to wear it for very formal afternoon weddings. Tuxedos come in black and grey, and are usually paired with a white shirt, and a bow tie. Most tuxedos extend to the hips and then only have one button, which can accent the waistline for those with a bit of a belly. Most wear a classic tux with a vest as well for maximum formal effect.