Use These 10 Personalized Seed Packets to Make a Statement at Your Wedding
It is customary for the bride and groom to give small gifts to the wedding party as a way of saying thank you for making their wedding day such a special occasion. Gifts often range from jewelry to keepsake boxes and toiletries. Many couples also give a small wedding favor to each of their guests so that they have something to help them remember the occasion. One type of wedding favor that is becoming extremely popular are personalized seed packets, and below you will find our top picks for these unique and unusual gifts.
10. Forget Me Not Postcard Seed Packet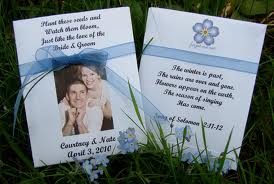 Forget me not's are very easy flowers to grow. In milder climates, the flowers will bloom the first year, and in cooler climates they will usually bloom during the second summer. They produce beautiful blue flowers that provide a nice contrast to many spring bulbs. These seed packages can be printed on both the front and the back, giving plenty of room for wedding information and a custom message.
9. Bucket of Love Seed Favors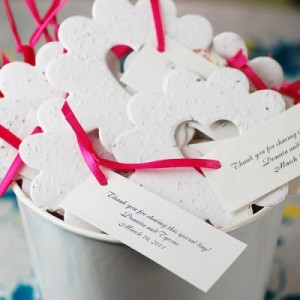 The bucket of love seed favors is a great way to give your wedding guests a special thank you gift. You can buy multiple buckets and use them as table decorations at your reception, or you can simply buy one big bucket to have at the entrance. Each bucket is filled with paper flowers that are embedded with wildflower seeds so that the guests can plant them. Each paper flower also includes a customized message for wedding information.
8. Personalized Wildflower Packet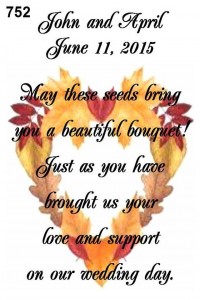 A package of wildflower seeds that can be personalized with the bride and grooms names and date of the wedding. Each packet also has one of six different verses printed on it, and the verse can be chosen when the seed packages are ordered.
7. Organic Zucchini Seed Packet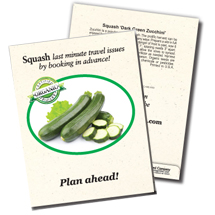 There is no denying that flowers are beautiful. But some newlywed couples may prefer to give their guests something a little more practical. If this is the case, a personalized pack of organic Zucchini seeds may be the perfect option. The names of the happy couple, wedding date, and a short message can be printed onto the seed package, giving guests a practical favor that will help them remember your special day.
6. Victory Seeds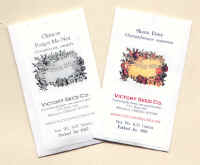 This is a seed company that specializes in personalized seed packages for gifts and favors. You can choose from many different types of seeds, including wildflowers, baby blue eyes, forget me not's and bachelors buttons. You can also choose whether you want a personalized package in color or black and white, and of course, you choose what is printed on the package.
5. Sweet Basil Packet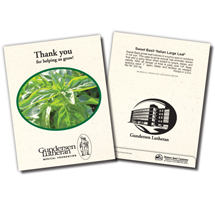 Another practical seed package that can be given as a gift instead of the more traditional flower packages. This seed package is completely customizable, with spaces on both the front and back for personal messages.
4. Happiness Seed Packet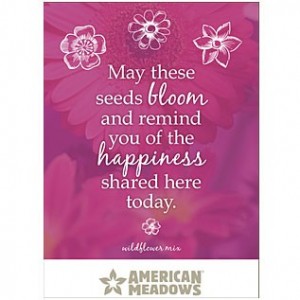 A seed package filled with easy to grow wildflowers. There is a preprinted message on both the front, and the back of the package thanking your guests for sharing your special day. While this pack is not customizable, it is still a perfect thank you gift for couples to give to their wedding guests.
3. Money Plant Seed Packet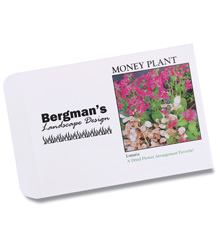 A fully customized seed package that contains money plant seeds. The front of the packet has a color picture of the plants and a space for your own personalized message. Additional locations such as the back of the package can be purchased for a small, additional fee.
2. Personalized Wedding Band Seed Packet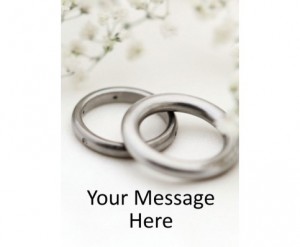 A uniquely designed seed packet with a beautiful picture of two wedding bands on the front, and space for a 40 character message on the front. There is additional space for a 300 character message on the back of the packet. The only downside with this seed packet is that there is no information as to what seeds are included.
1. WeddingPackets.com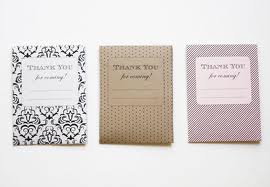 When buying personalized seed packets from this website you can choose from many different types of seeds. Then you can completely customize the packet to suit your individual style. There are many pre-printed packets for you to choose from with space for you to add your own message. Or you can create your own, unique, one of a kind packet and use a photograph or your own artwork along with a message.