Top 10 Show-Stopping Wedding Cake Designs
The wedding cake is more than a centerpiece at a wedding buffet. The traditional meaning of the cake cutting ceremony shows the groom's promise to provide for his family and the woman's promise to support him. The cake represents the couple's prosperity in their married life so it is something that any wedding cannot do without.
The look of the wedding cake has evolved through time. From the old fashioned three layered all white  marshmallow icing cake designed with candy flowers, the wedding cake today can appear in any color or shape the couple requests it to be. They are designed to fit the wedding theme, the couple's personalities, their venue and it can even tell their love story.
Here are the top 10 sow-stopping cake designs that stand out:
Fresh Fruits and Cheese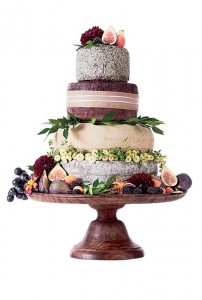 Couples who are having a garden wedding or a vineyard wedding usually request for a closer-to-nature design for their wedding cake. In place of the regular chiffon cake, they can have a cheesecake instead. One example is the photo above which is a creation by Murray's Cheese, in New York, NY which costs $250.
Whimsical Wedding Cake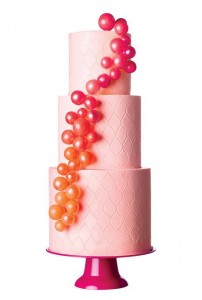 The whimsical wedding cake theme is very popular lately for fun loving and playful couples. Just like this bubbly pink wedding cake by Cake Alchemy, in New York, NY. It is a pale pink fondant cake etched with a fun pattern and designed with red bubbles.
Heavenly Feather Cake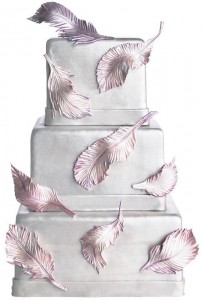 Feathers have somehow found its way into wedding themes. And this includes wedding cakes designed with them. This gorgeous three-tier lilac feather-embellished fondant cake is from Lulu Cake Boutique, in Scarsdale, NY. It serves around 100 guests at $12 per slice.
Rose Bouquet Wedding Cake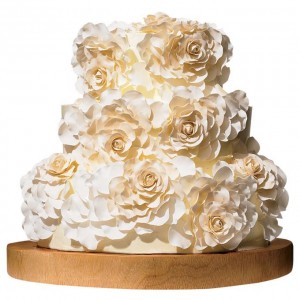 Love is in bloom for couples who pick this top to bottom floral wedding cake. This three dimensional butter cream floral wedding cake with sugar roses is definitely a great focal point to your wedding buffet. This design is from Nine Cakes, Brooklyn, NY.
It's Raining Love and Prosperity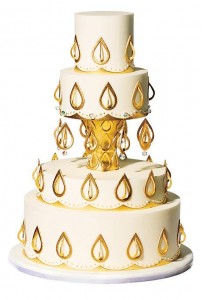 Gold and crystals have also become one of the trends in modern weddings. This design by Mark Joseph Cakes has a gold tier separator which makes the cake look a lot taller. It is decorated with hanging gold raindrops and Swarovski crystals which symbolizes the couple's wealth.
Love As Precious as Gold Cake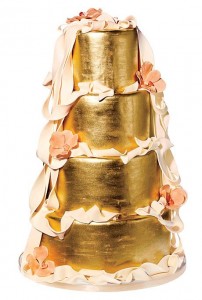 This stunning metallic gold cake is the perfect choice for a classy and enchanting wedding. This cake is by Mali B Sweets, in Greenport, NY.  To compliment its elegant gold icing it is  embellished with ribbons and orchids to give it a romantic edge.
Classic Romance Wedding Cake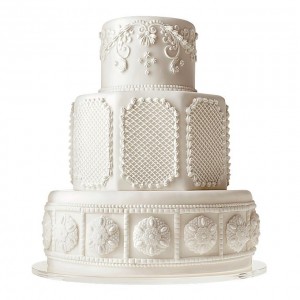 Modern cake designers have found ways to create the classic romantic look for a three-tier elegant white wedding cake. This creation by Mark Joseph Cakes, in New York, NY, is inspired by the Italian old world romance.
Passionate Colors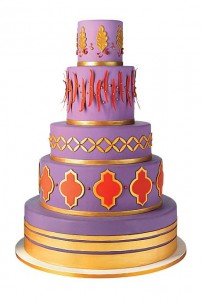 Many modern weddings have been choosing darker colors for their cakes. This deep purple, gold and red colored cake is a good example of this new trend. Designers infuse a little of the couple's personality into their design using their favorite love colors.
Uniquely Romantic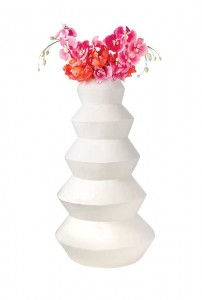 For couples with an extraordinary love story, no ordinary wedding cake will do. This white and wild shaped wedding cake from Heather Barranco Dreamcakes, from New York, NY is a good example of that unique wedding cake.
Love Your Roots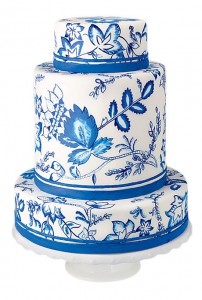 Many cake designers create personalized creations and consider the ethnicity or nationality of the couples they design for. One good example is this delicious white and blue cake decorated with elegant China patterns. This design is by Sugar Couture, from Brooklyn, NY.
Which Do You Like Best? 
These 10 great looking wedding cakes are designed professionally. Because of this, they can be quite expensive. But if you know how to bake, you can easily make your own beautiful wedding cake based on their themed designs.