Jul 27, 2013
Ten Amazing Black Wedding Dresses
Who said weddings have to be white? Imagine, all eyes are on you as you begin to walk down the aisle in a non traditional wedding dress. You must see these amazing black wedding dresses! While not classic, these dresses are sure to make an everlasting impression on the groom!

10. Black Tailored Couture Dress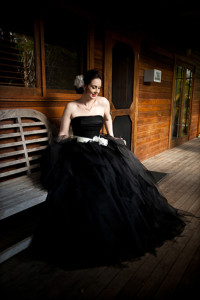 The couture is a gorgeous choice as it is tailored for the bride to be. The tailor pays attention to every detail to create a beautiful dress that is sure to turn heads as you walk down the aisle in this lovely black design! The black dress is elegant in the way if form fits to the bride's body and can include any of a range of styles including A-line, ball gown, princess, or even empire waist.
9. Off The Shoulder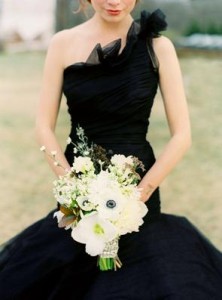 This simple black dress is not really all that simple. The dress is styled in the mermaid fashion, form fitting to just past the hips with flairs into a gorgeous bouquet of a skirt, commanding attention wherever the bride goes. With added organza detail that goes up and over the left shoulder, the entire dress is softened so that it flatters in a feminine way. There is no need for an added necklace as the shoulder strap would only interfere with the look. Yet a black pearl on the ear would bring the entire ensemble together. This dress could be worn both short or long.
8. The Roman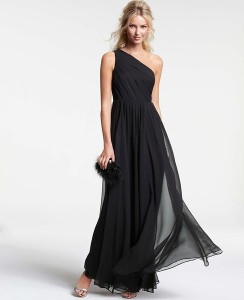 This long black dress is very feminine with it's long draping material swooping over the right shoulder of the bride to be. The multiple layers of fabric promises a restraint free and comfortable wedding day. Paired with a simple set of silver or black open toed shoes and possibly a pair of pearl earrings or elegant black diamond earrings, the dress would complete your wedding day attire.
7. Black Lace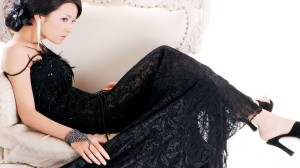 This black lace beauty is sheer, yet covers all the right places, with a hint of seduction. Coming to the ankle, it would be perfect for a high heel slip-on shoe. The strategically placed feathers at the neckline add to the femininity of this dress as do the spaghetti straps. A nice diamond set of teardrop earrings would be just fabulous, the longer and flashier the better as this dress makes a statement!
6. Backless Lace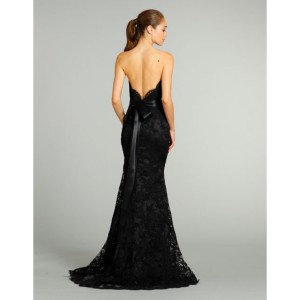 Consider this A line sweetheart neckline strapless dress for your wedding. The dress conforms to your curves, hugging the body and draping nicely past the toes. It is made with lace and is simply gorgeous! The cut shows the entire back of the bride, yet is discreet enough to be ok. A simple black full sandal would go perfectly with this dress, as well as a stunning diamond necklace with teardrops leading down the spine.
5. Short Black Dress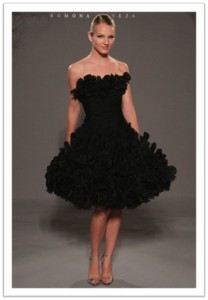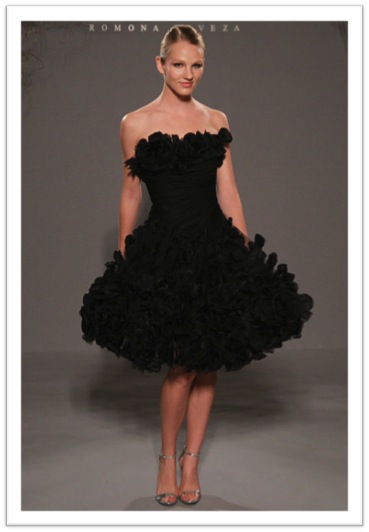 Oh my! As if the bride herself didn't command attention, this would surely add to her excitement! Imagine sashaying down the aisle to your waiting prince! A simple yet elegant black shoe would go wonderfully with this short black dress! Certainly no accessories are needed, but a set of pearls would look fabulous!
4. Short Strapless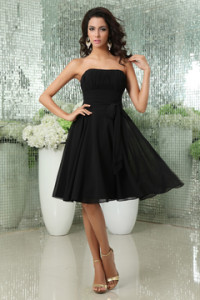 The short strapless black wedding dress is just fun! It screams lets take care of business and go have some fun! An open toed sandal would be a great with a wide heel as it is a must to go dancing in this black beauty! Of course it is your day, and your prince would have a ball with you in his arms.
3. The Haltered Mermaid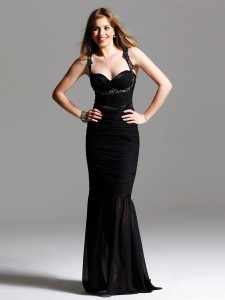 Yet again the mermaid strikes! This black elastic chiffon wedding dress is a sure crowd stopper with it's fitted gown, and skirt that flows into loose sheer waves of material just above the knee. Satin accentuates the top of the dress, beaded straps wrap around the neck in halter fashion. How could you not feel beautiful in this gown?
2. Elegant Empire Strapless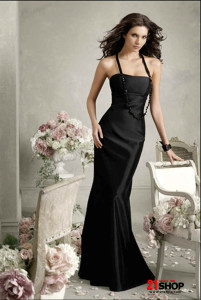 This floor length mermaid style dress is made of black satin, elegant and promising, and this strapless, fitted dress is simply amazing. Perfect for the sophisticated woman who loves to have a grand time and make a statement upon her arrival! A simple string of black pearls and open toed shoes would pull this whole look together.
1. Satin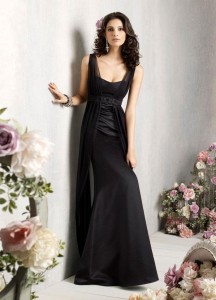 Nothing can compare to the luxury that is a black satin dress. This particular dress is simply amazing with it's high empire waistline, low cut neckline and flared skirt. The sheer cover up is strapless and drapes down the length of the body very nicely to create an elegant look. A pair of long diamond earrings would just be the icing on the cake for this fabulous black wedding dress.