10 Amazing Purple Wedding Bouquets with Style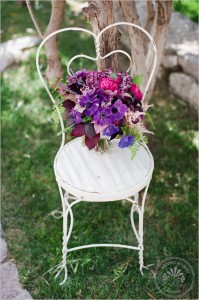 If your wedding colors are purple or lilac, you may think it will be hard to find flowers to match. You can use several flowers in purple wedding bouquets though. Some of the most beautiful flowers come in shades of purple. You can mix white and pink with your purple flowers in your bouquet. Another option is to use different shades of purple for a stunning bridal bouquet. Bouquets come in many styles from small to large, simple to elegant.
10. Cascading Purple Orchids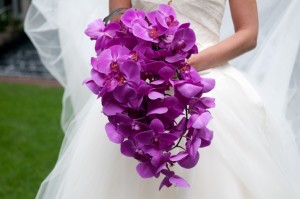 Orchids are a wonderful choice in any bridal bouquet. You can use purple orchids in a cascading bouquet for a stunning display of beauty. It is a simple idea of one flower type and the effect is wonderful. Orchids offer a beauty and grace to your wedding day. Green can be added and the bouquet tied with a ribbon for additional charm.
9. Tulips in Shades of Purple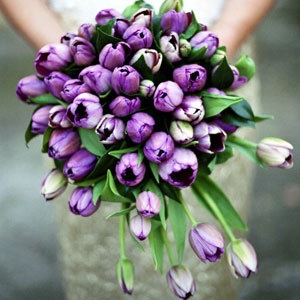 Tulips are a simply pretty flower. You can create a full pretty bridal bouquet using purple tulips. Add different shades of purple for added color along with some baby's breath. You can also use purple and white tulips for a dramatic color difference. Tie your bouquet with a ribbon leaving the strings hanging for a pretty effect.
8. Calla Lilies in Purple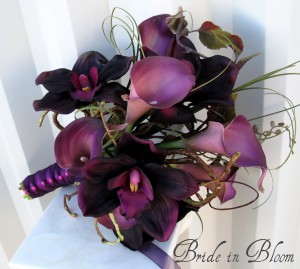 Another stunning choice in flowers is calla lilies. These beautiful flowers will fill out a bouquet with their grace and trumpet shape. Add some green sprigs to this bouquet and you will have a showcase bouquet for your wedding. A few green leaves and even some twigs give the bouquet a unique look.
7. Simply Beautiful Carnations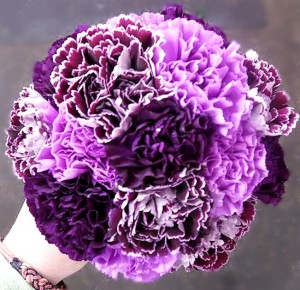 From deep purple to lighter lilac shades of purple, carnations create a beautiful purple wedding bouquet. You can add in some purple tipped carnations that add a bit of white to the arrangement. Your flowers will look stunning against your wedding dress. Tie the bouquet with matching ribbon. Carnations make wonderful full round bouquets.
6. Dandy Daisies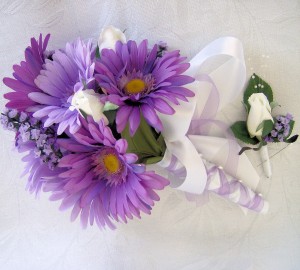 A wedding bouquet made with daisies makes a nice presentation. Add light and dark shades of purple daisies to your bouquet. You can add white daisies to the purple for an extra splash of color. Use a gauzy lilac colored ribbon mixed with white satin ribbon to give the bouquet an elegant look.
5. Hydrangeas in Purple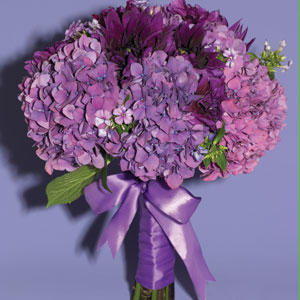 Hydrangeas are full round flowers clustered together. Each is like a small bouquet by itself. Your wedding flowers will be full, round, and amazing when you use hydrangeas in shades of purple. Add some greenery and white baby's breath and tie the bouquet with a wide ribbon for a completed look.
4. Heavenly Scented Lilacs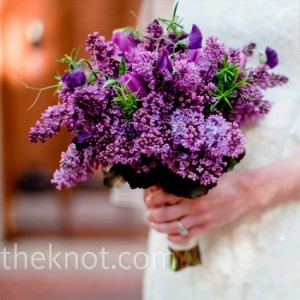 Using a flower with a heavenly scent like lilacs provides a stunning bouquet as well as a divine aroma. Lilacs come in shades of purple that complement each other in any arrangement. For extra color, add a few white lilacs or baby's breath. You can add a bit of greenery to show off the purple shades of the lilacs. Use a satin ribbon to tie the bouquet.
3. Pretty Pansies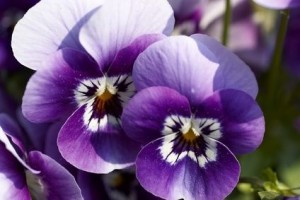 Pansies are simple yet pretty flowers that come in purple. You can use pansies in your bouquet mixed with other flowers. Add pink and white pansies to the purple pansies for a colorful bouquet. Mix pansies with lilies or daisies for a special arrangement. Your flowers will be simple yet pretty. You can add baby's breath and greenery to fill in the bouquet.
2. A Spring Mixture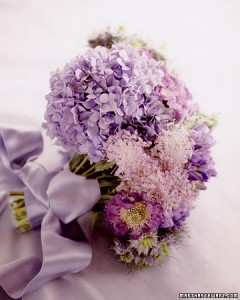 When choosing flowers for your bouquet, you can use a mixture of blossoms. Use various shades of purple in different flowers to create a special bouquet. You can use hydrangeas for fullness; add daisies and other filler flowers in purple and pink for contrast. Mixing different flowers will create a one of a kind bouquet for your special day. You can add in some feathery greenery and tinted baby's breath. Add satin ribbons for a pretty effect.
1. Romantic Roses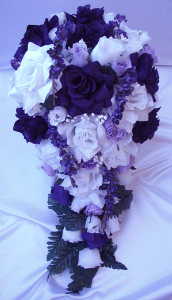 Many brides consider roses the most romantic wedding flower. Using purple roses in your wedding bouquet will create a romantic look. You can use shades of purple roses that cascade gracefully down. Add a few white roses, baby's breath, and greenery to fill in your special arrangement. Purple roses will make a spectacular bouquet for your wedding day and will look amazing against your wedding dress.