35 Incredibly Creative Ways To Add Color To Your Wedding
The wedding's so bright, I gotta wear shades.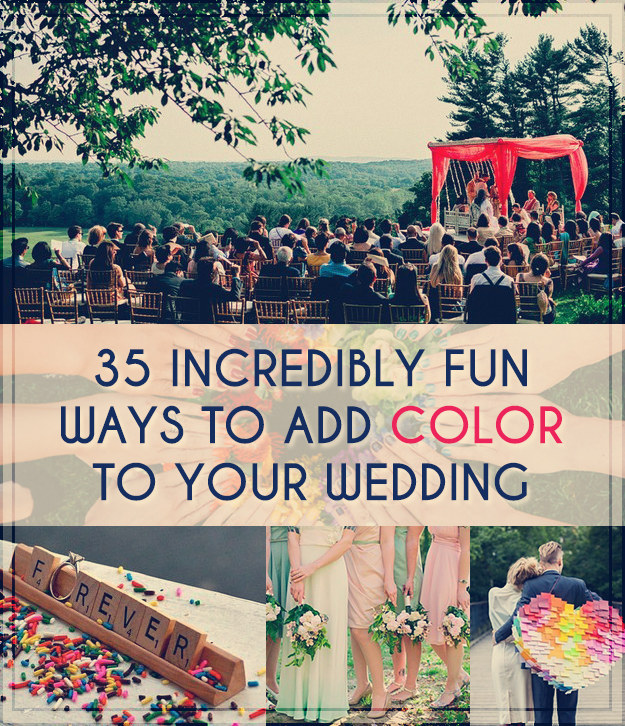 1. Swap confetti or rice for bright pom poms.
2. Set up a garnish bar for drink.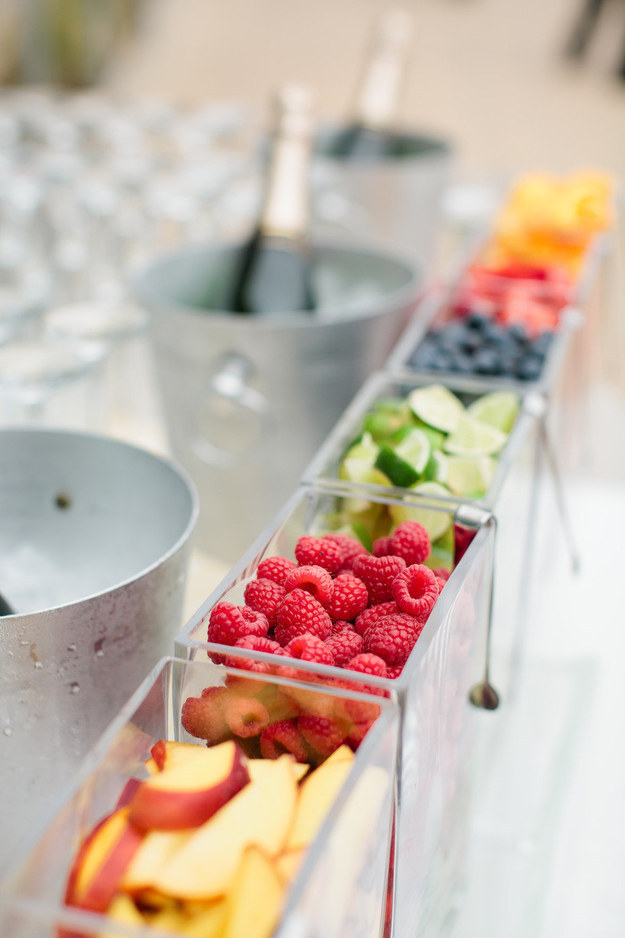 Have a toppings bar for icecream and cake.
3. Build an ultra-bright bouquet.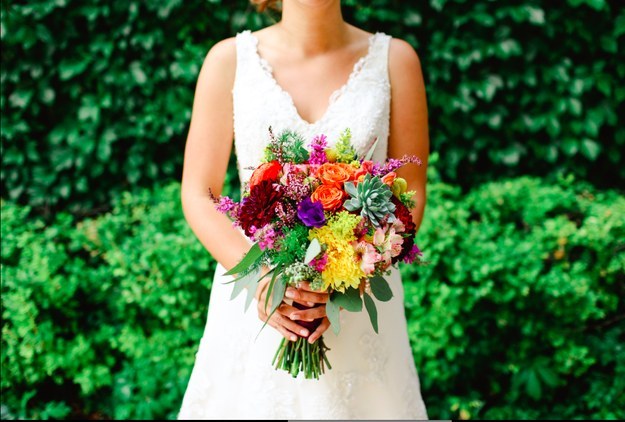 4. Frame the ceremony site in a bold, vibrant hue.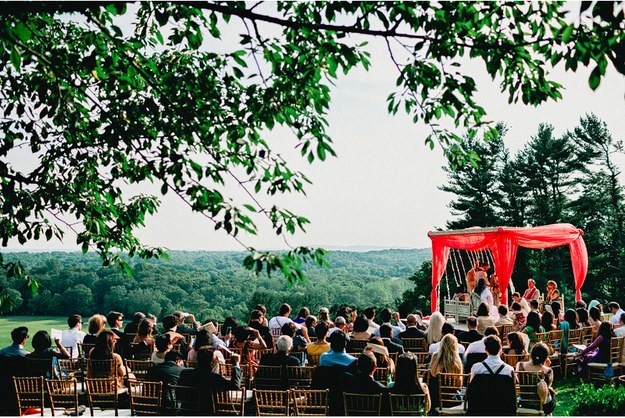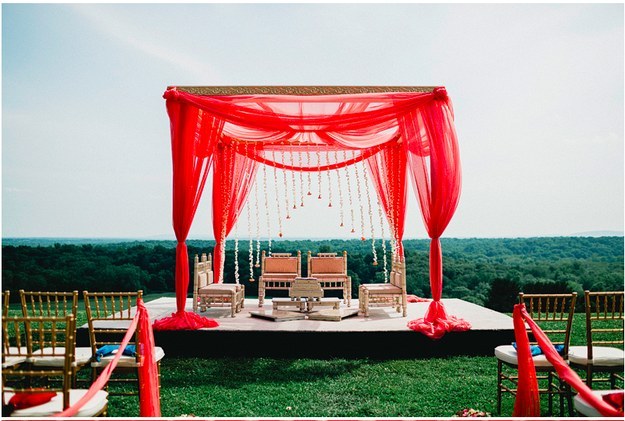 5. Match ties to shoes…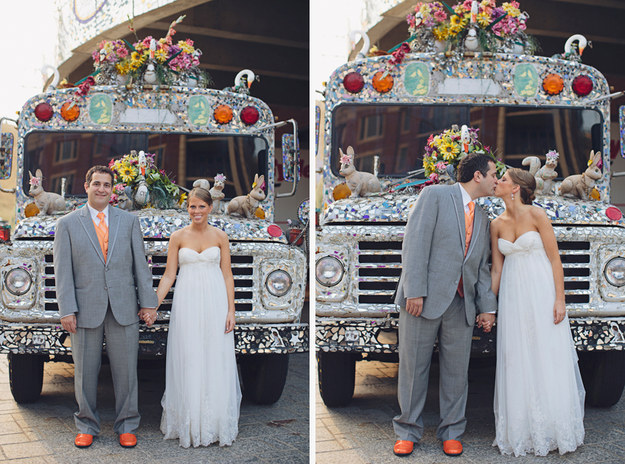 … or to socks.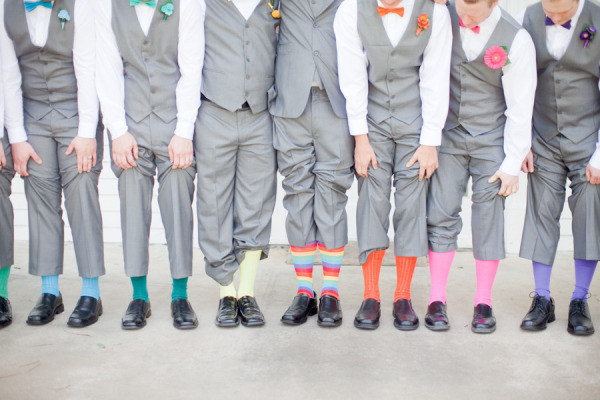 6. Ditch the all-white cake.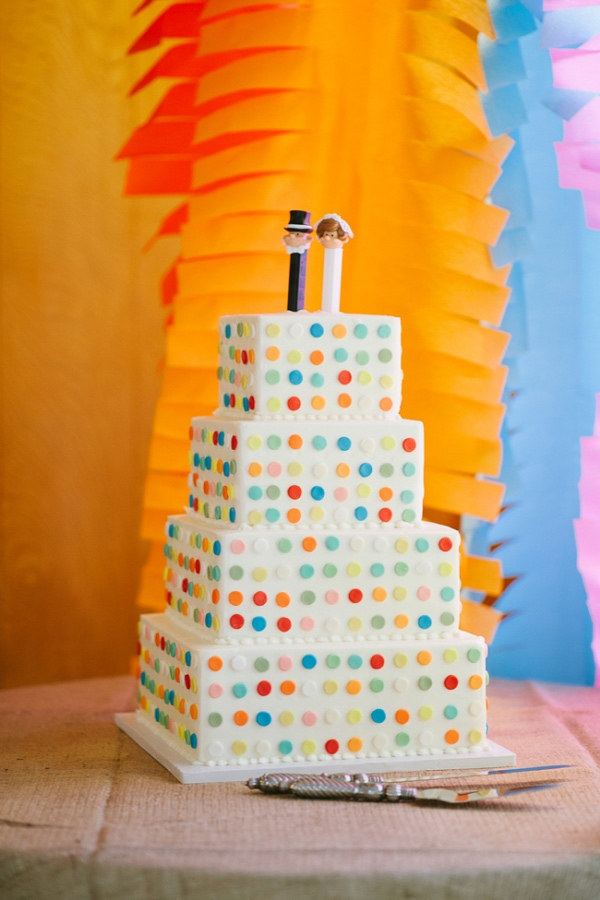 7. Sport multi-colored manis.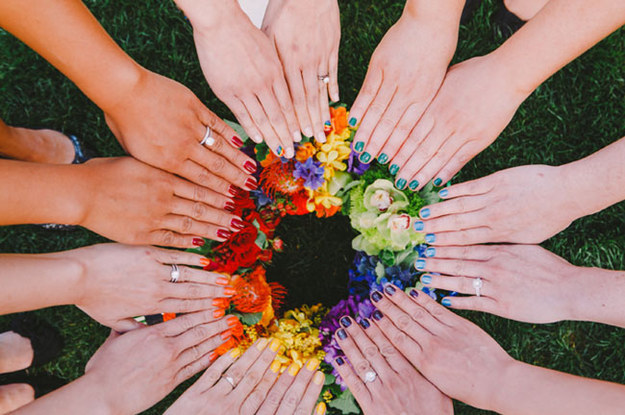 8. Customize the groom's suit jacket with a hidden splash of color.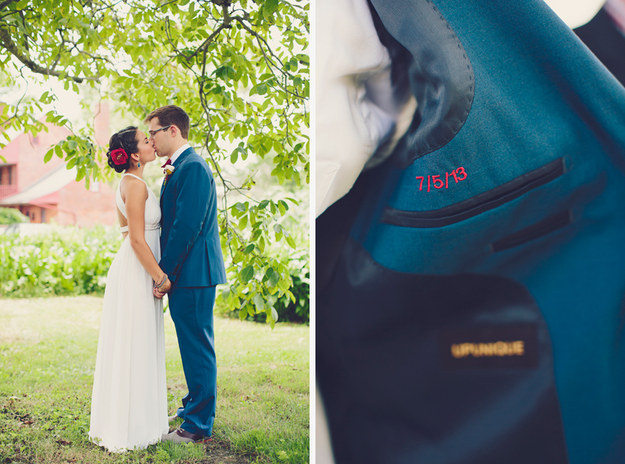 9. Mix tones with a mod-inspired DIY backdrop.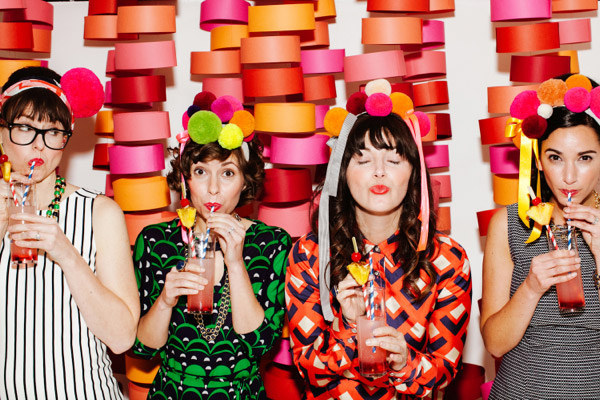 Easy how-to instructions on how to make one here.
10. Or put together a balloon wall.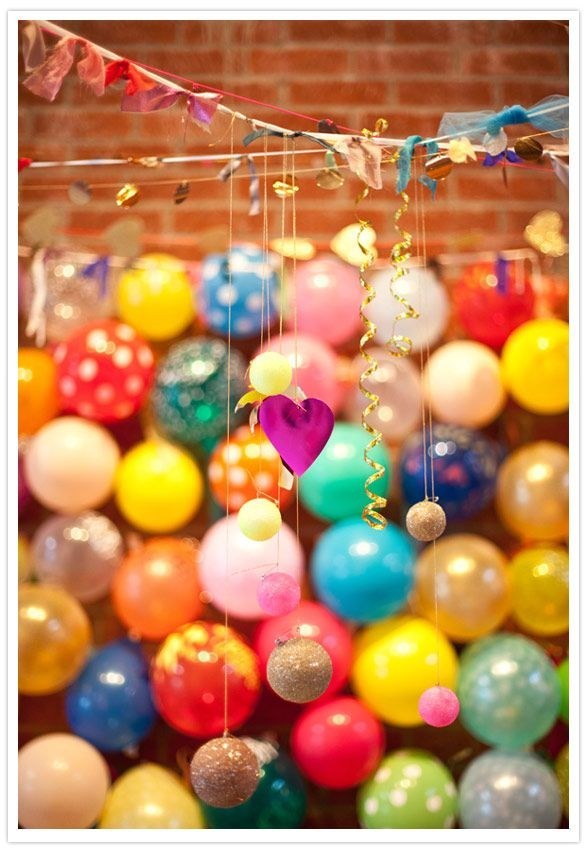 11. Tint the traditional champagne toast with a hint of color.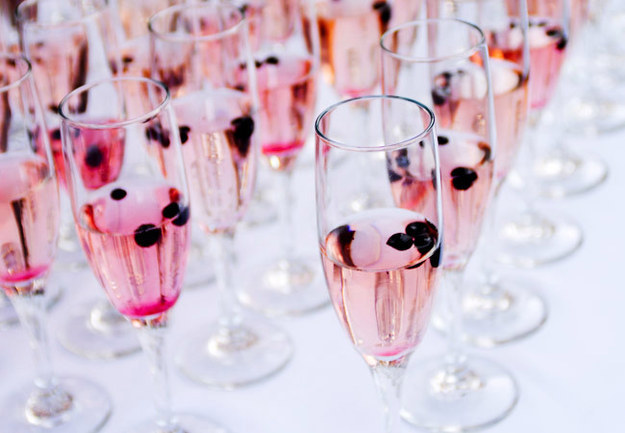 This one used a small splash of grenadine.
12. Trade traditional flowers for fabric ones.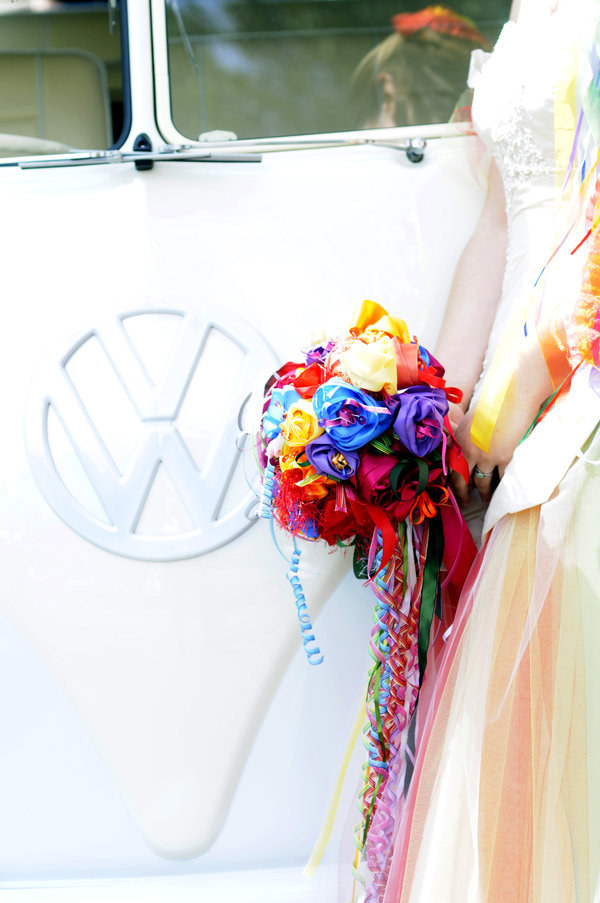 13. Go for an unexpected color scheme.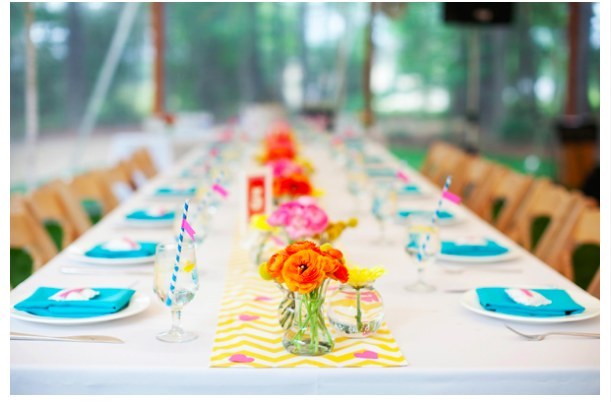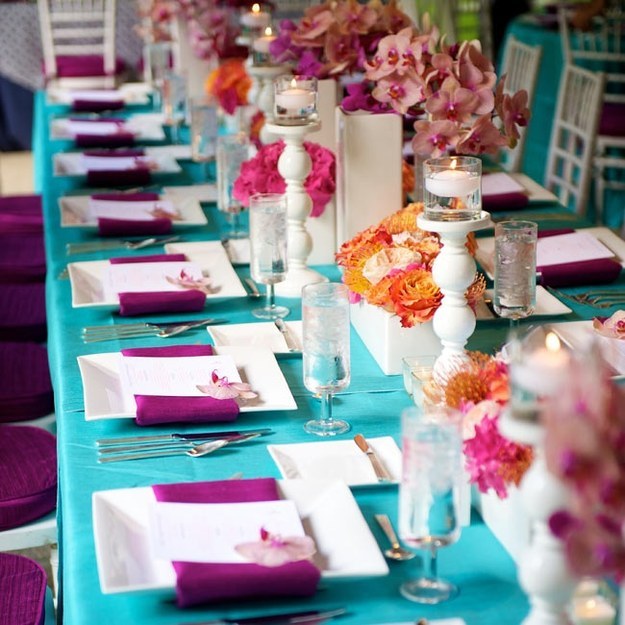 Turquoise, orange, purple, and pink. Why not?
14. Remember that wedding dresses don't have to be all white.
Experiment with add-on fabrics or dip dyes. The effect can be as bold or as subtle as you'd like.
15. Hang colorful ribbons from the ceiling at the reception…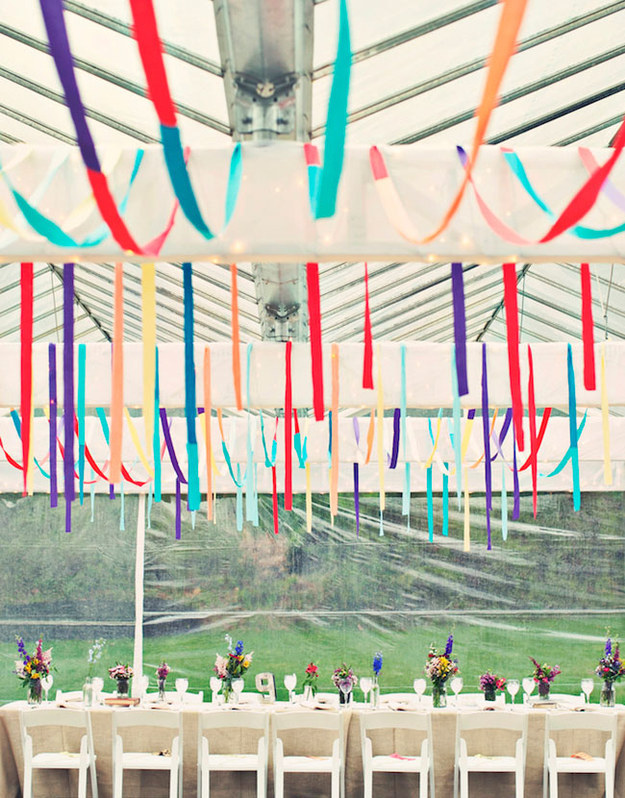 Or behind the ceremony site.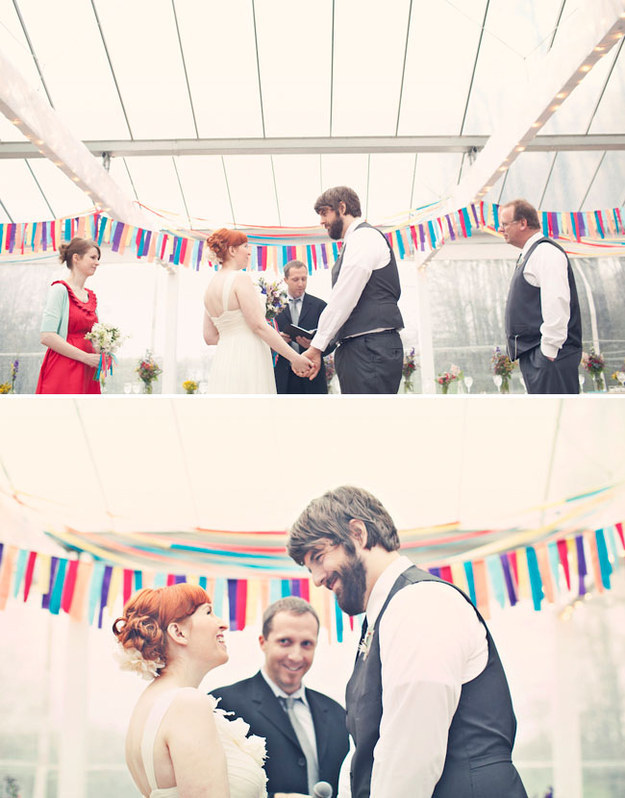 16. Slip on a vibrant pair of heels.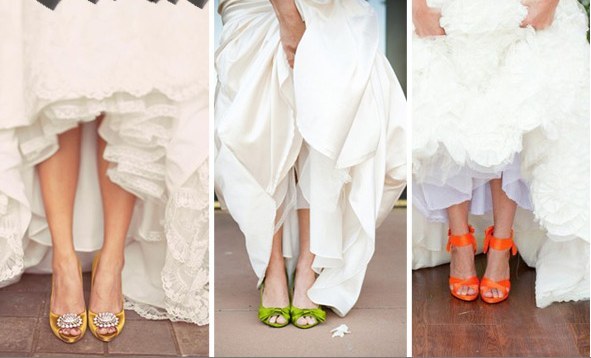 17. Have your first look under a parachute.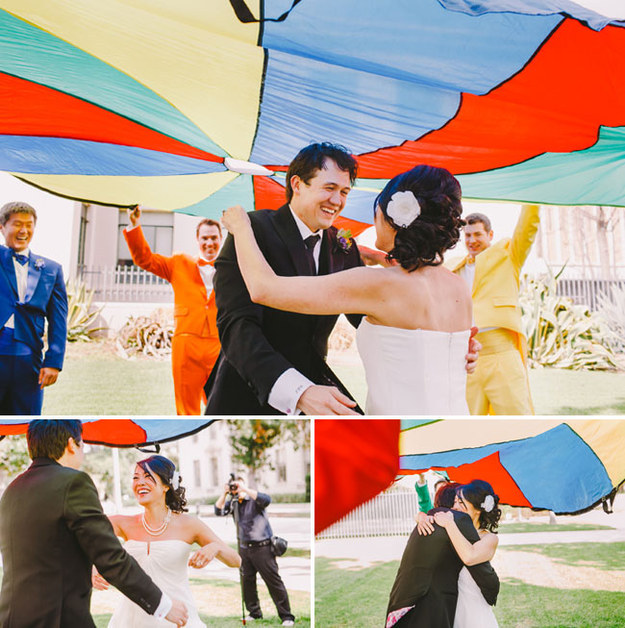 Bonus points if your groomsmen match the parachute.
18. Brighten up the boutonniere.
19. Stock the bar with colorful sodas.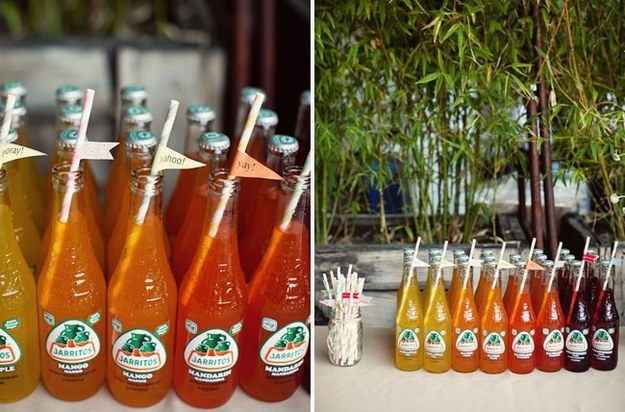 20. Give each bridesmaid their own hue.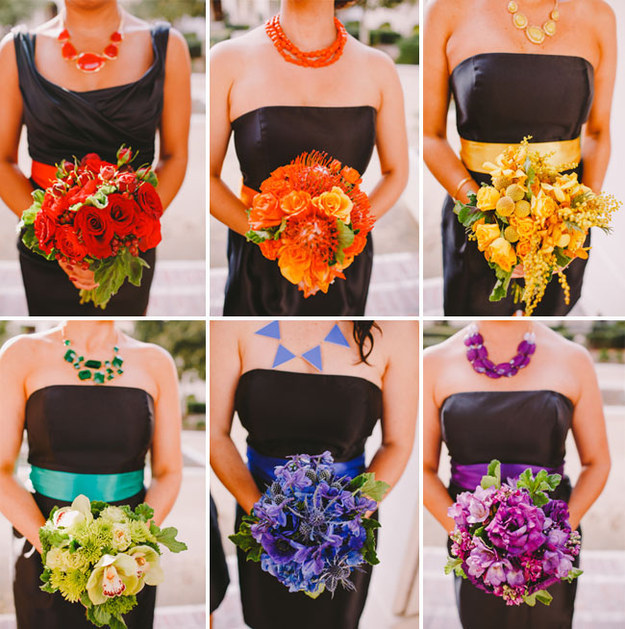 Your bridal bouquet can include a mix of all the flowers.
21. Add a layer.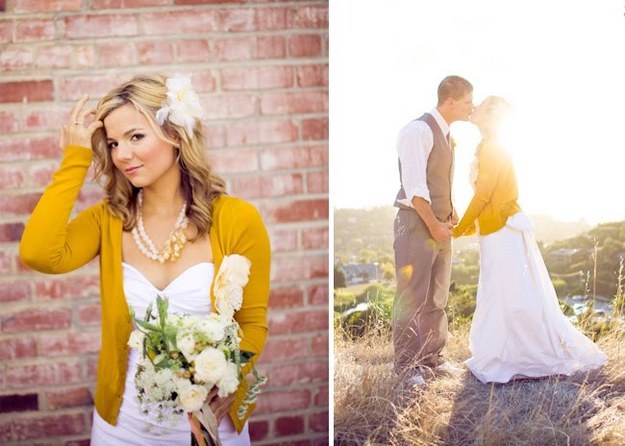 Don a colorful cardigan or wrap when the sun starts to set.
22. Don't forget the cufflinks.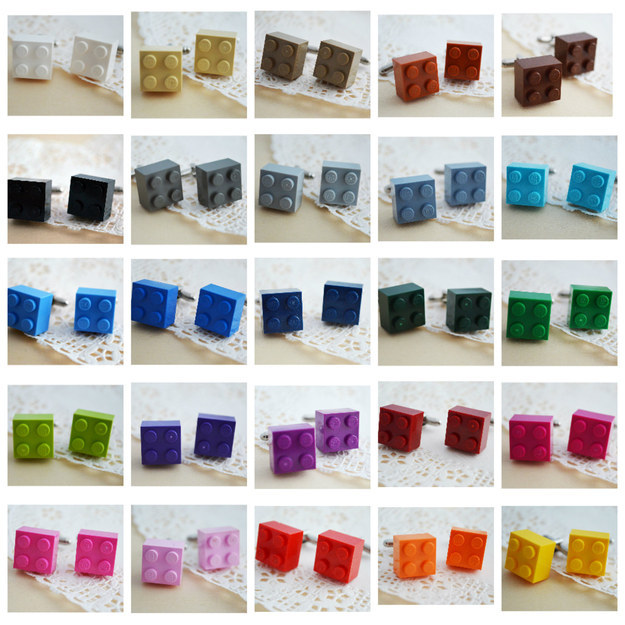 These are $12 on Etsy, and come in dozens of colors.
23. Play around with unique decor and accents.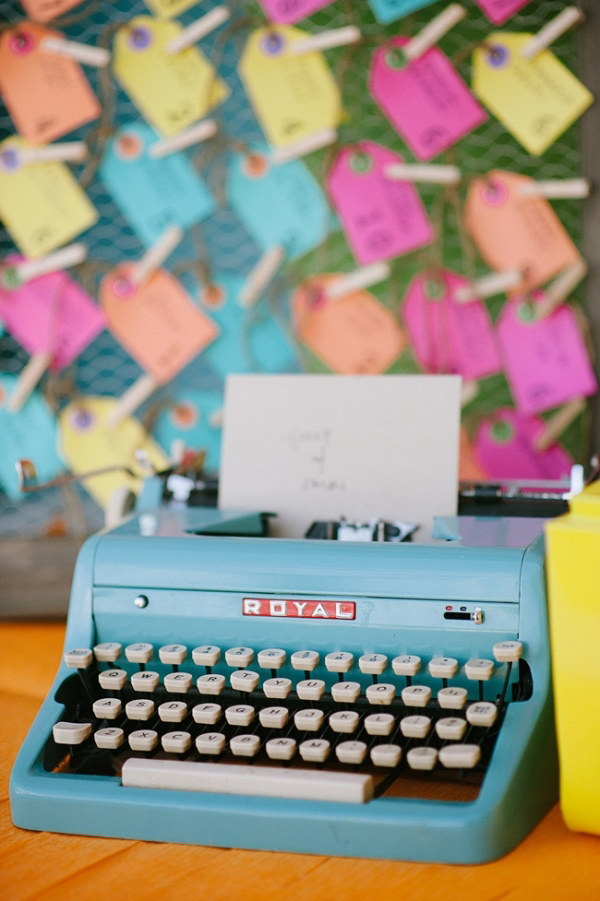 Because the world can only handle so many mason jars.
24. Use paint chips as seat markers.
25. Amp up a neutral table setting with napkins that pop.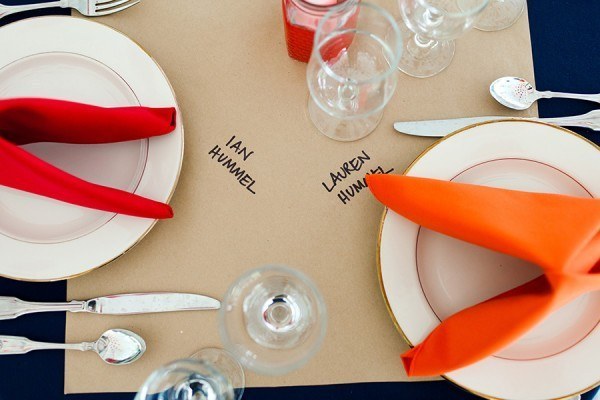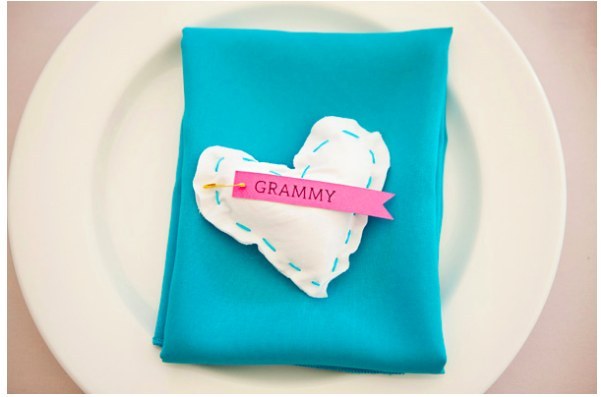 26. Sprinkles!
27. Incorporate a bold prop, like a bicycle…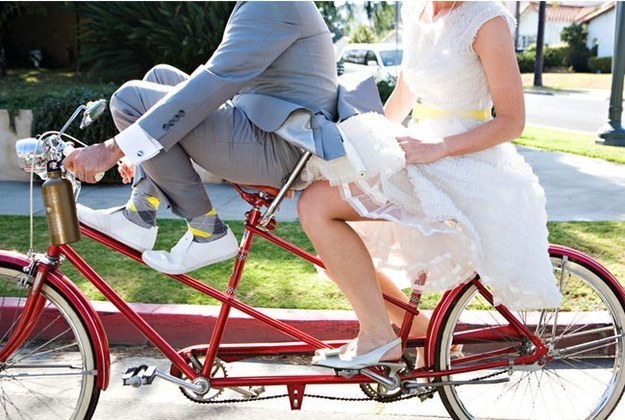 Or a bus.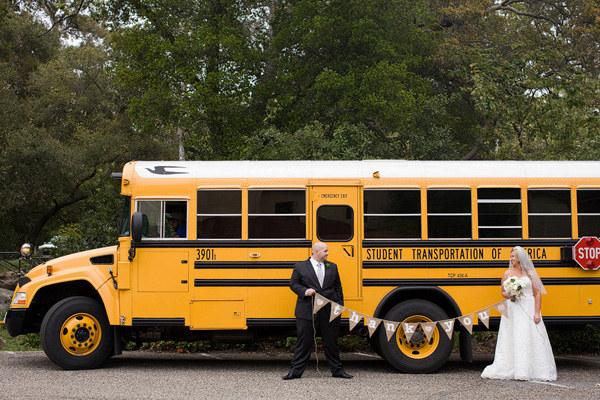 Bold indeed.
28. Set up colorful lawn games…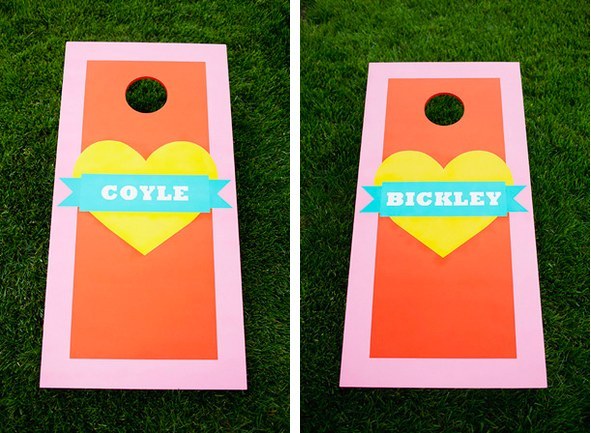 29. Or a piñata!
Learn how to make a DIY piñata using Post-It notes here.
30. Pass out whimsical ribbons to guests.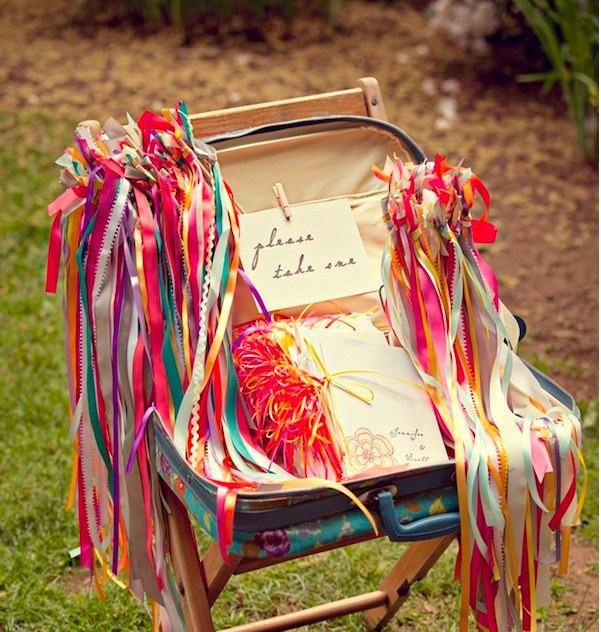 31. Turn your guestbook into a colorful keepsake like this Guest Book Art.  "Please write a note then place a thumbprint balloon in the sky!"
32. Build an eye-catching (and easy!) centerpiece.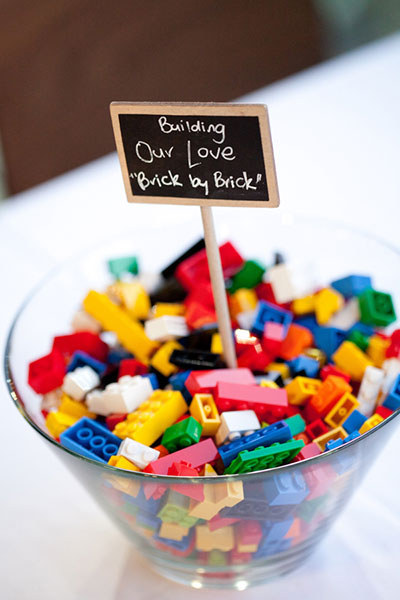 33. Have props handy.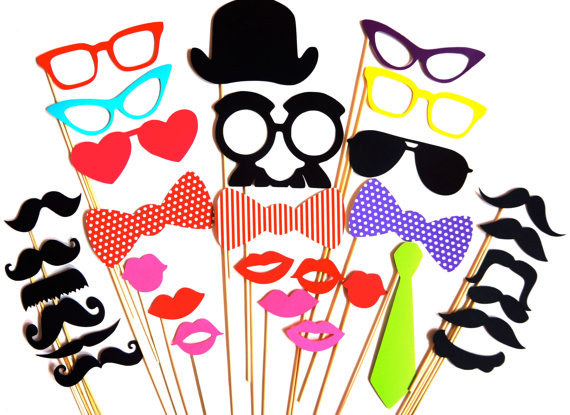 You can find these on Etsy.
34. Hand out rainbow-colored wedding favors.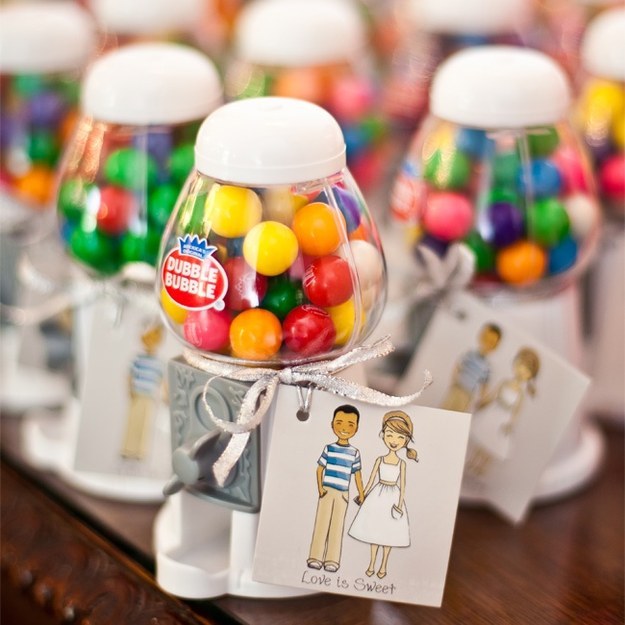 35. Break out the crayons.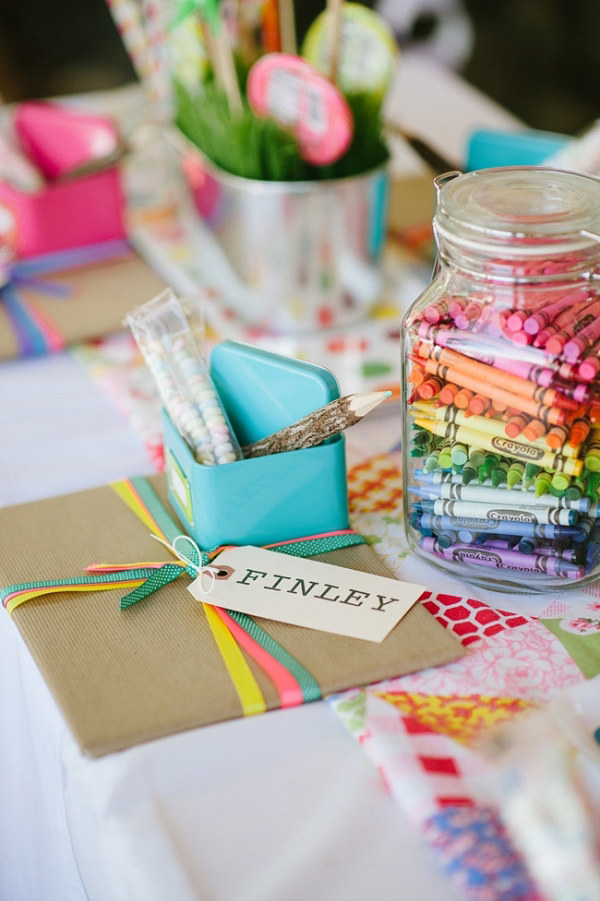 Cover the tables with white butcher paper and let guests channel their inner Picasso.
Ready, set, COLOR!