10 Delightful Designs of Lingerie Bags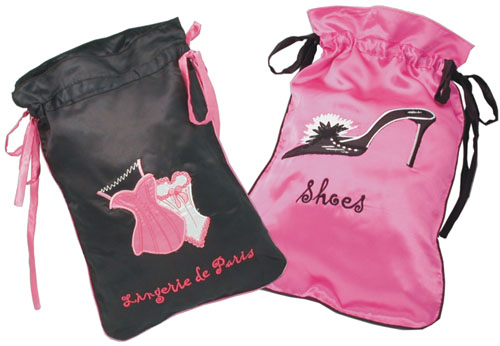 When a bride-to-be is planning her trousseau, she is sure to include special lingerie for the wedding night and honeymoon. These items are delicate and need special care. An item that all brides need is something that will keep her delicate items from snagging on things as they are packed. There are varieties of lingerie bags she can choose from that will keep her unmentionables intact. Some of the bags are for packing the delicate items to keep them safe as you travel. Other bags are designed to help bras keep their shape and stay safe in the washer, as well as hold other underwear garments together in the wash. Each type of bag is useful for keeping satiny undergarments snag free and looking like new.
10. Travel Bra Bag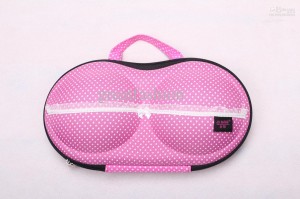 When traveling, you need to pack your padded bras carefully so they will hold their shape. A stylish bra travel bag is the ideal solution to having your padded bras packed safely. The bag that looks like a padded bra has a zipper closure that ensures your undergarments are moisture proof and dustproof. The bag holds up to four bras, depending on the size of the cups. The other side of the bag has room for panties inside the mesh pocket.
9. Wash Me, Wear Me Bags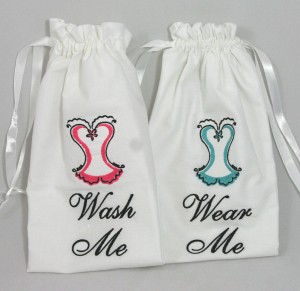 A set of lingerie bags for clean and worn items make nice additions to any brides' luggage. They are handmade items that are made to order. The white cotton pouches have drawstring closures. Brides can keep their fresh undergarments in the bag that says "wear me" and place the worn items in the matching bag that says "wash me" on the front. The fashionable pouches protect your delicate items and keep them together in your suitcase.
8. Personalized Bag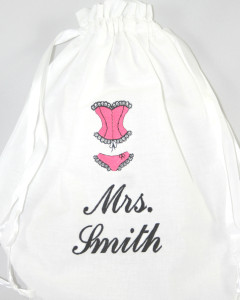 Any bride would love a personalized bag for keeping her lingerie intact as she travels. A made to order pouch with the brides name or initials on the front is a thoughtful and useful gift. This type of pouch is typically made of white cotton material. They have drawstring closures to keep under garments separate when in a suitcase. The pouches have a 2-piece corset adorning the front above the bride's name.
7. Pretty Panty Bag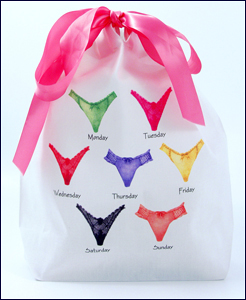 A white cotton bag with a satin ribbon makes a fancy place to keep your delicate items secure as you travel. The bags from Mariasch Studios, come with a black or pink satin ribbon closure. They have four different designs to choose from including seven pairs of pretty panties. The panties adorn the front of the bag in bright colors. Any bride would be pleased to pack her unmentionables in one of these cute bags.
6. Vintage Pink Rosebud Portfolio Satin Bag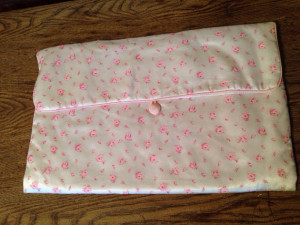 A pretty bag for silky unmentionables that is made of satin is sure to enchant any bride. The delicate pink rosebud pattern on this Etsy.com image is a purely feminine look. The vintage style is oblong with a flap that closes in the front with a small pink button. Bags like this are large enough to hold all delicate items securely in your suitcase. The pretty bag keeps delicate items discretely from view in your luggage.
5. Two Compartment Bags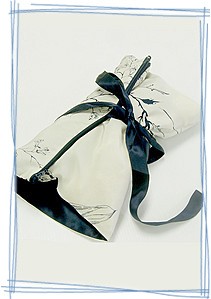 Another type of bag for keeping your silky delicate items in is a bag with two compartments. This gives you a compartment for clean items and another to keep worn items separate. This type of bag has a zipper closure for each pocket. This keeps undergarments securely hidden in your luggage. The silk bags can lay flat or you can roll them up to fit in your suitcase.
4. Floral Cotton Bag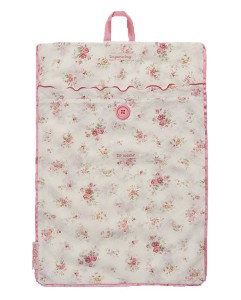 A floral print bag with small pink flowers is the ideal place to keep your lingerie tucked securely in your suitcase. The bag is made of 100% cotton with a white background and pretty pink trim. The bag has a pink handle and button. There are two pockets in the bag for clean and worn items. Each pocket is marked with "to wear" and "to wash" so you know which items are clean.
3. Pink Padded Wash Bags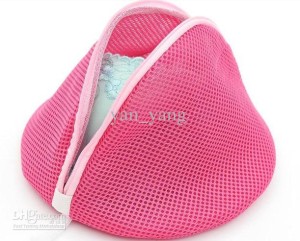 When the bride returns from her honeymoon, special bags help keep those satiny items safe in the laundry. A pink padded wash bag will protect bras and panties in the washer. The mesh bags allow water to freely clean items. All delicate items are cleaned without snagging on something while holding their shape. The zipper closure keeps items safely inside.
2. Molded Bag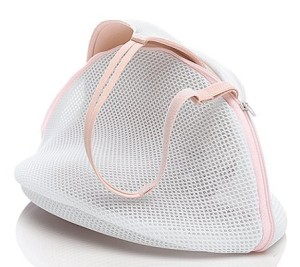 Mesh laundry bags with a molded foam lining to keep padded bras in shape as they wash are ideal for any bride. The bags hold up to four padded bras. The bags are made of a cotton and polyester mesh. The mesh sides allow water to cleanse items. They have a nylon zipper closure to keep items securely inside while in the washer.
1. Embroidered Bag Set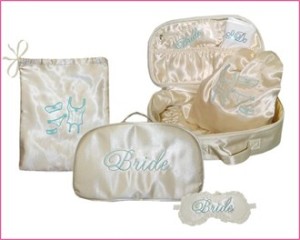 A set of ivory satin travel bags is an ideal gift for any bride. The bags shown above are from AdvantageBridal.com, and are embroidered with blue stitching. The lingerie bag with drawstring closure is embroidered with a corset and other lingerie. The matching travel bag has Bride embroidered on the front and has a zippered pocket as well as four gathered pockets. A matching satin eye mask completes the gift set.