Top 10 Themed Rehearsal Dinner Ideas
Rehearsal dinners don't need to be boring. This traditional meal after a rehearsal at a church can be jazzed up by adding a theme to the dinner. Changing up the sit down dinner to a themed dinner allows your family and other wedding party members to unwind and get to know each other before the big day.

10. Mexican Fiesta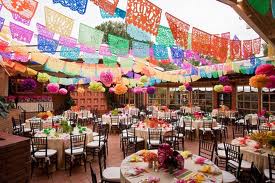 You can celebrate your big day with an all-out Mexican fiesta. Incorporate the colors, foods, and games traditionally held during a fiesta party and then decorate accordingly. You can decorate your rehearsal dinner with large sombreros, and pinatas filled with candy. Make sure to offer your guests some non-traditional food too, especially for those who have a hard time digesting Mexican food.
9. Hawaiian Luau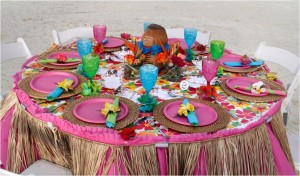 A Hawaiian luau is a casual rehearsal dinner theme. Traditional Hawaiian foods such as kalua (which is a drink) pork, poi, sweet potatoes, Mahi-Mahi, and Huli Huli chicken can be served to even the pickiest of eaters. If you can, try having your Hawaiian luau on the beach or a lake front park. Have your guests wear Hawaiian shirts and other tropical attire. Be sure to shower them with flower leis when they arrive.
8. Backyard Barbecue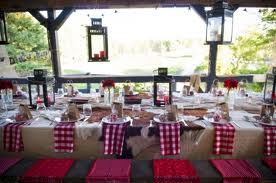 Break out the grill, the picnic tables, and the checked white table clothes for this simple and easy rehearsal dinner theme. Cook traditional backyard barbecue foods like ribs, chicken, corn on the cob, potato salad, and watermelon. You can decorate the backyard with hay bales, lanterns, and string lights to set the mood and you can use a grill if you're feeling up to it.
7. The Orient Express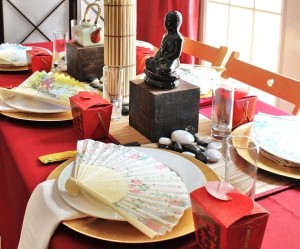 Take a trip to the Far East by designing your rehearsal dinner around Oriental cuisine and decor. You can easily set the mood for this theme by pre-ordering yourfavorite Chinese dishes from your local Chinese restaurant. Ask guest to wear red, or have silk kimonos and jackets available to help them get in the mood. Paper red lanterns, fortune cookies, chopsticks, Buddha statues, and gold accents can be used to incorporate the theme into any room.
6. Fondue Fun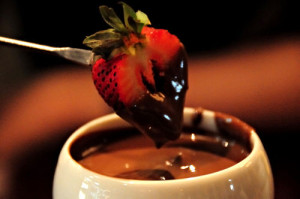 Bring on the cheese, and the dessert, but don't forget to throw in a main course into a fondue fun themed rehearsal dinner too. With this theme, you can either book at large room at a local fondue restaurant or host the party at your home or a relatives house. Fondue is a conversational dinner that can help family and friends get to know one another and enjoy cooking at the same time.
5. Clambake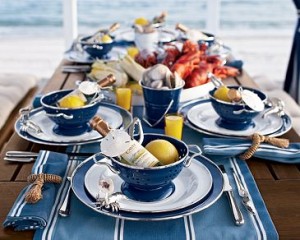 The traditional New England clambake is a fun idea for a rehearsal dinner. Lobsters, clams, mussels, corn on the cob, and new potatoes are the traditional fare. You don't need to be near the ocean to have a clambake. This type of themed rehearsal dinner can be hosted in a backyard, at a park, or inside someone's home.
4. Take Me Out to the Ball Game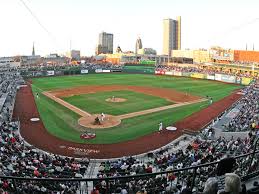 Have some fun and break away from sitting down for dinner by taking your wedding party to a ball game. Reserve a box or a group of seats and route for the home team. Popcorn, hot dogs, cotton candy, burgers, beer, and soda are fun foods to enjoy at the ballpark. If baseball isn't your favorite game, choose a sport you love that you can bring a large group to.
3. Wine and Dine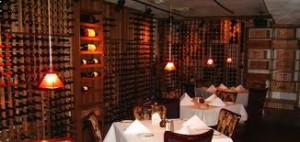 Incorporate your favorite wine into a wine and dine rehearsal dinner. For those that don't drink, offer sparkling cider. Food at a wine and dine dinner can incorporate finger foods like baked brie, cheese cubes, sliced apples, beef tenderloin medallions, and a variety of decadent desserts. Wine and dine dinners can be held at your favorite restaurant or in your home.
2. Murder Mystery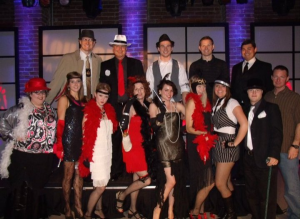 Bring some fun to your rehearsal dinner by having a themed murder mystery dinner. Dinner can include a buffet of your favorite foods. The game can begin during dinner or as guest mingle. Ask your guests to dress for the part by wearing trench coats, elaborate dresses for the women, and maybe even a French maid's outfit.
1. Casino Night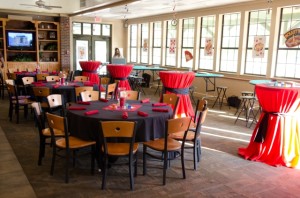 Bring lady luck to the table by having a casino night themed rehearsal dinner. Finger foods, cigars, and good drinks set the mood for the night. Place different types of card games around the room and even offer your guests a prize for the person who wins the most games. No matter which theme you choose for your rehearsal dinner, the idea is to have fun before the big day. Breaking away from the normal dinners that are typically held may help you ease your nerves and lose those cold feet.