10 Pretty Ideas for Using Wedding Arches
As you plan all the details for your wedding, you will find some decisions are for fun and decorative additions on your big day. Wedding arches are a popular item that many couples choose to use for their special day. When couples plan an outdoor wedding, an arch is a beautiful addition. These items are often used at the reception to provide a decorative entrance for the newly married couple and their guests to walk through. An arch adds decoration as well as elegance to your ceremony or reception. Several designs are available and you are able to decoration the structures in a variety of looks. The arches are available for rent or purchase at many local locations that rent wedding items as well as online at some wedding shop web sites such as David's Bridal. Party City and Hobby Lobby are included in locations that carry the items as well as eBay and Amazon.
10. Classic White Metal Arch

The classic white metal arch typically comes in a kit. Easy instructions are included so that you can assemble the arch. It comes in a box with all the parts that you will need. The simple design of the arch is ideal for any outdoor ceremony or reception. It is available on the eBay web site.
9. Sweetheart Arch
Another idea for your arch is the sweetheart panel arch. This simple design adds a hint of romance to your ceremony or reception. This style comes in white metal and gives the appearance of a heart with the shape at the top of the arch. Hobby Lobby has the sweetheart arch available for you to rent.
8. Wooden Garden Arch
For outdoor weddings, a white wooden arch is a lovely addition. The arch has a rounded top and lattice panel inserts on the sides. The garden arch makes an ideal location for the bride and groom to take their vows. You can find this pretty wooden arch online at the Party Time web site.
7. Add Lights
One way to make your arch look romantic and magical when you use it for your reception is by adding white lights. Some arches come with the lights included while others need to have them added. The arches that come with lights typically include net style lights with the clips to hold them in place. Many web sites including Amazon, David's Bridal, and Party City carry metal arches that include the lights.
6. Use Flowers
Using silk flowers to decorate the arch for your wedding is another way of personalizing it. You can use flower garlands or other types of silk flowers. One type of garland is a 6-foot long garland with cream and white roses and lilies along with green leaves. Other types include rose buds with leaves. Craft and hobby shops have silk flowers you can use for decoration purposes in various colors as well as white or cream. This lovely rose and lily garland is available at Amazon.
5. Tulle and Organza
An option for you when you decorate your wedding arch is tulle and/or organza. Each of these materials adds elegance to your arch when you wrap it around the edges of the arch or over the center as a swag. When used with the lights, the material seems to glow as the lights shine through. Sheer white organza and white tulle netting are sold at most craft stores and other locations that sell sewing material. Both materials come in other colors as well if your preference is a color other than white or ivory. You can find both tulle and organza online at the Save on Crafts web site.
4. Add Bows
Using bows to accent your arch is another option available for you. You can match the bows to the bows you use on the pews. The delicate looking bows are available in several designs and some include a flower in the center of the bow. Bows are connected with material making it easy to place them around your arch for a graceful appearance. The Large Size Bows web site has a variety of colors of bows available.
3. Coordinating Columns
Using coordinating columns on each side of your arch is a way of adding to the central display. These columns are made of white metal. There is a flat top where you can place a candle or vase of flowers. Use matching flowers or bows on the columns to bring the area together. You can find coordinating columns on the Hobby Lobby web site.
2. Corinthian Columns
You can use Corinthian columns on each side of your arch as accents. They have a Grecian appearance and look lovely with a flower arrangement on the flat top. Using columns is a way of extending the altar area for an outdoor wedding. The Hobby Lobby web site has Corinthian columns available for rent in pairs or as a single addition.
1. Candelabra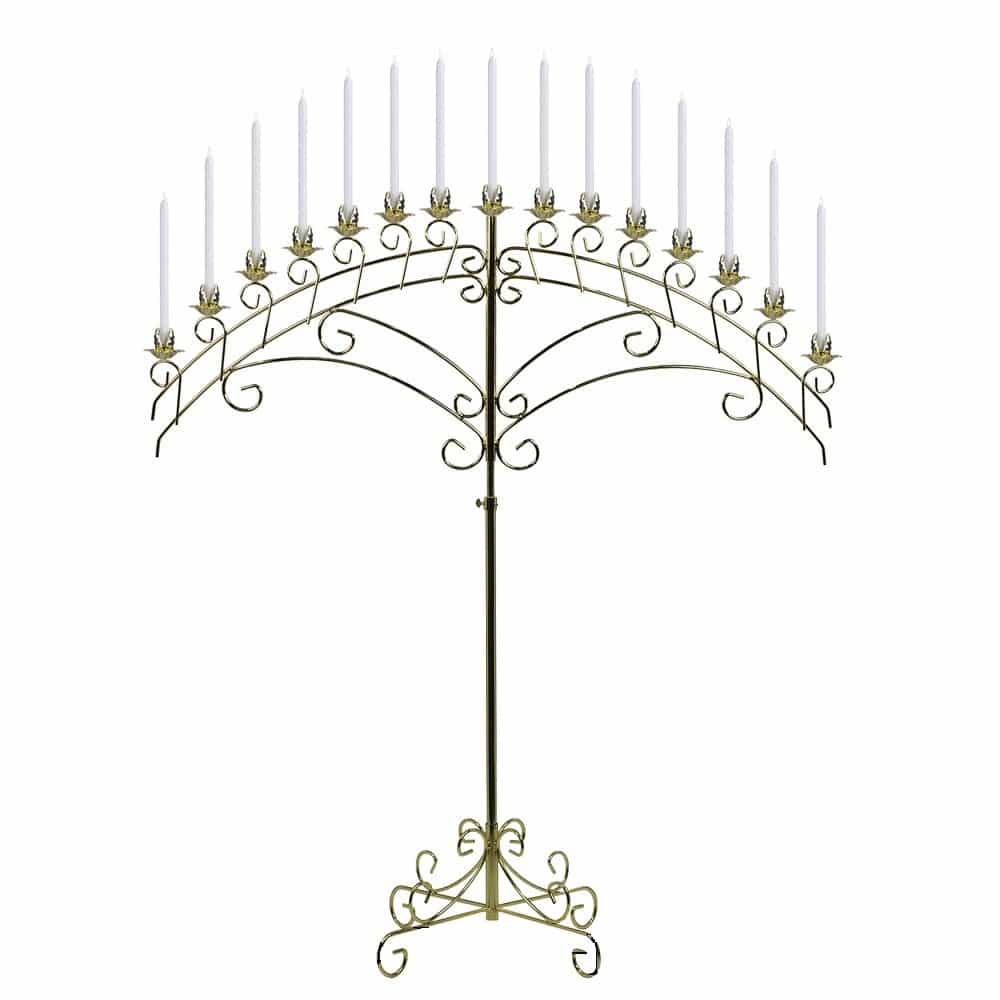 An elegant addition to your wedding arch is a candelabra on each side. You can rent them with mechanical candles or use real candles depending on your preference. Use these beautiful additions to the arch for your reception or outdoor ceremony. The Hobby Lobby web site has candelabra available for rent in a classic design as well as a spiral design.