Top 10 Jaw-Dropping, Sexy Lingerie Every Bride Must have
The wedding ceremony is finished. The reception is over and the guests are already getting ready to go home. You yourself are now having a final check on things before leaving the venue. It's getting dark and it will be your first official night together as a couple. Are you ready for it?
The Importance of Lingerie
Just as the wedding gown and the groom's suit are official attires worn for the matrimonial ceremony, so too, are lingerie — an important piece of the bride's clothing during the newlywed couple's first night. There are many reasons women should own and wear lingerie:
A good lingerie that brings out your best feature can boost your self confidence.
It enhances your appearance, especially if the lingerie you have flatters your figure.
Wearing lingerie can enhance romance or romantic emotions.
Good-quality lingerie can bring forth a youthful sensuality.
Lingerie can help improve your sex life. It sets the mood for romance and sensual lovemaking.
Jaw-Dropping Lingerie Choices  
The following pieces of lingerie should be a part of every bride's wardrobe. Why should it be jaw-dropping? Because it denotes unpredictability, which is one important and exciting element to make a marriage work.
1) Camisole – This clothing item typically covers the top portion of the woman's body. It's also often referred to as "Cami". Sometimes, the camisole comes with a cropped lower portion making it like a hanging blouse, allowing exposure of the navel/waist portion. Use with matching panties and with or without a bra.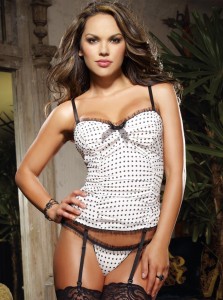 2) Babydoll – This refers to a negligee or night wear. It's commonly a matching bra and panty set and there's a see-through cloth attached to the brassiere portion. The breast and the thighs/legs are accentuated, and attention is drawn away from the waistline, although there's some added kinkiness since the woman's figure is still seen through the flimsy covering.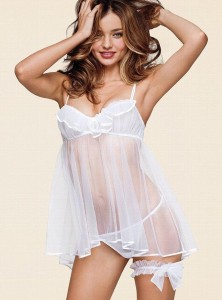 3) Bra and Panty Sets – A matching pair will add to the hot and sexy image you'd want to project on your first night with your spouse. Don't forget to add accessories like this faux pas red feathery shawl here for that added accent and appeal.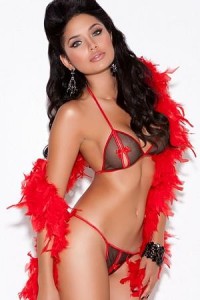 4) Corset or bustier – This is an essential element in your wedding trousseau. This will add that much needed curve on your waist to have that enviable figure your guests will totally admire.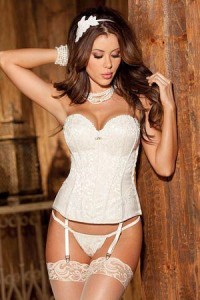 5) Garter and Suspender Belts – Both of these hosiery accessories help in keeping the bride's stockings up properly. Apart from being an essential element in the wedding ritual, these can also be playfully used as a part of the honeymoon attire. Make sure color motif and styles are all matching to make it more attractive for your mate.
6) Pantyhose, Stockings or Body Stockings – These leg-wear make for a prettier and sexier pair of legs. It adds drama and augments to the elegance of the total outfit.
7) Robes and Gowns – A gown like this one can come in ankle length or knee length. It should flatter the figure of the person wearing it. Find the right color according to your mood and preference and use matching robes to complete the total package.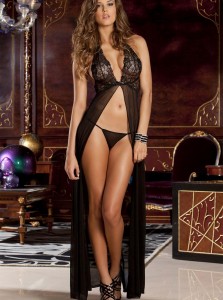 8) Chemise – This type of lingerie is similar to the babydoll, but with a closer fit. Think of it as a longer version of the camisole, but a bit more comfortable. It's typically sleeveless, but it can be short, knee length or floor-length. It's usually trimmed with ribbons, bows and lace to add daintiness and enhance that girly effect.
9) Sexy Briefs or Teddies – The image below are sexy briefs. It's like a mini version of boxer shorts displaying the lower portion of the ladies bottoms. Teddies are like bathing suits since they're a continuous bra and panty set, just like the next image. This one is shown in leather material, which can be a great part of your regular bridal wardrobe.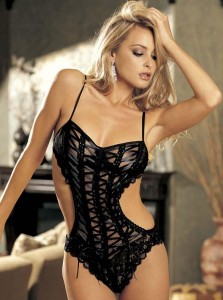 10) Lacy panties, thongs, G-strings or cute boxers – As the name implies, lacy panties are just like regular panties but made of lace. Thongs look like regular bikinis in front, but are narrower at the back. G-strings are even narrower than thongs since they merely cover the genitals. The back portion of this type of undies is mere strings, like the one shown below, hence the "strings" in G-strings.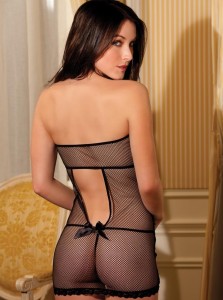 Your Choice
As a bride, try your best to complete this jaw-dropping lingerie list and you'll surely have your spouse at your beck and call every time.