10 Fun and Flirty Tea Length Wedding Dresses
A bride can decide to wear one of these fun and flirty tea length wedding dresses to an afternoon wedding or to any casual ceremony. Brides look beautiful no matter what the length of their dress is and if the bride is not into a formal affair, a tea length dress will fit into any setting. Tea lengths are typically just below the knee and will allow her to show off her great legs and that gorgeous pair of shoes as she walks down the aisle.

10. Lace Two-Piece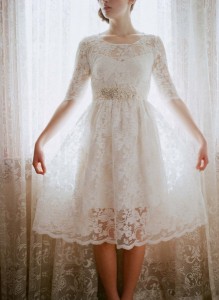 For a hint of romance and a more vintage look, brides might like one of the tea length wedding dresses in a two-piece style. The underdress is in ivory cotton with a fitted bodice. The outer dress is made of a sheer lace with a scoop neck and sleeves. The skirt is usually gathered at the waist with a belt or bow and usually in A-line style.
9. Halter Style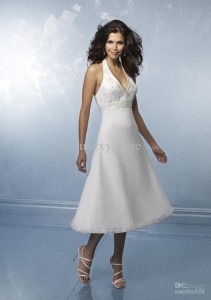 A halter style gown offers a stylish yet flirty look that shows off the bride's shoulders. The dress can have a V-neck and an A-line style, a more prim high neck look, or even a very formal look with criss crossing straps. Halter styles are perfect for anyone who is looking for a retro of 50s style wedding dress, but can also be very appropriate for anyone who wants to show off shoulder without going strapless.
8. Romantic Lace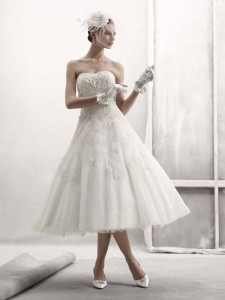 Any bride can add romance to her look with one of the tea length wedding dresses that has a fitted bodice adorned with lace flowers and beading. This dress style has a hint of Hollywood romance and glamour. The dress style is flattering for any bride and usually features a full skirt that can be worn with a petticoat for extra flair.
7. Pleated Bodice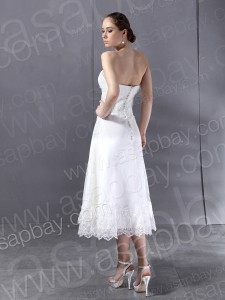 A strapless gown with pleated bodice is a charming style of tea length wedding dresses. The chiffon bodice with gentle pleats fits snug yet not tight and accents the waist and bust of the bride. The dress has lace over the fitted waistline then gently falls below the knee. Lace around the bottom of the dress adds to the charm of the dress but might not always be available.
6. A-line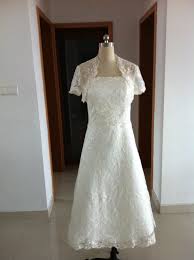 A simple A-line style tea length wedding gown is flattering for all brides. With a fitted bust and waist and flared hips, the A-line flatters the waist to create a trim and slimmed down figure, no matter what the bride's dress size. A-line dresses can come with any neckline or sleeve style and are especially common in vintage and retro styles.
5. Sweetheart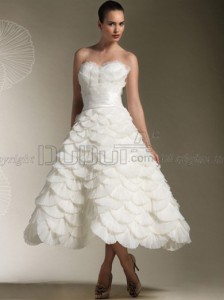 A sweetheart wedding gown adds a sweet and lovely look to any bride's appearance. Sweetheart necklines feature a gentle heart shape that cups the bust to accent the chest and bring attention to the face and neck. As can be expected from the name, sweetheart styles often make the wearer look sweet but sexy, which is perfect for most brides.
4. Short Sleeves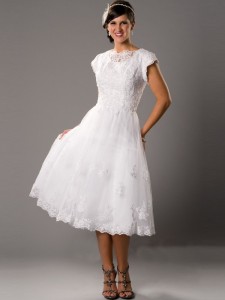 Another style of tea length wedding dresses is short sleeve gown. Short sleeves are excellent for any bride who is getting married when it is too cold for strapless, but who still wants to show off her arms. Pairing this dress with a cardigan or cloak can be a perfect indoor/outdoor changeup for anyone getting married in the winter.
3. Casual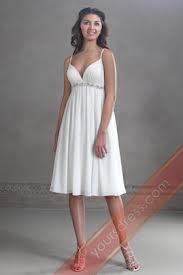 A simple, sweet, and casual style wedding dress is a casual tea length dress. Floral patterns, colors, spaghetti straps, and other accents are all very popular with this dress. Tea length dresses can be almost any style but are most frequently A-line or empire waisted depending on the maker, and the preference of the bride.
2. Formal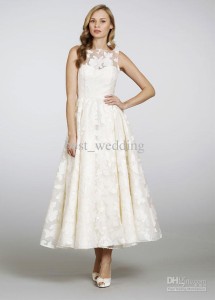 A more formal style of tea length wedding dresses includes any made out of formal fabrics such as silk, organza, chiffon, or similar and in a formal style. Strapless, silky, very ornate, and sometimes halter styles all offer a formal look with tea length. These dresses are ideal for an afternoon formal ceremony and are great for the party afterwards!
1. Satin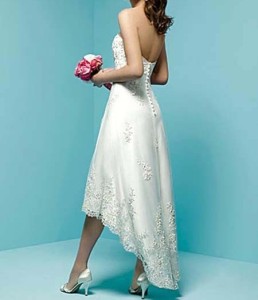 Satin is a beautiful formal wedding dress that is often sold in tea length. Satin dresses are often available as bridesmaid dresses but work just as well for a bride looking for a shorter formal style. Satin dresses come in a range of styles but often fitted and A-line styles are the most popular. White, red, blue, grey, and pink are usually the most popular colors, but one of the advantages of satin is that it is available in most colors. Beading, rhinestones, and floral accents all look great with this dress.