10 Ways to Uniquely Display Place Cards at Your Reception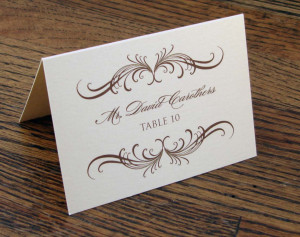 Place cards are used at almost every wedding but they can get boring. If you want to make your wedding more unique, try skipping the plain cardstock for your place cards at your reception and have some fun with different display options. Alternatives to the standard card aren't expensive and they add a unique touch to your reception. Although you can still purchase the standard place card along with your wedding invitation, look at one of these options for displaying them uniquely.
10. Apples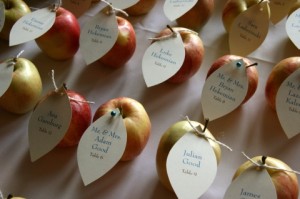 Pick one of your favorite apples and tie or pin a paper leaf to the apple to serve as your place card holder. You can also use fake leaves or even real leaves. Be sure to indicate the name and table number your guest is to sit at with a dark permanent marker or use a printed option for a neater name.
9. Scrabble Pieces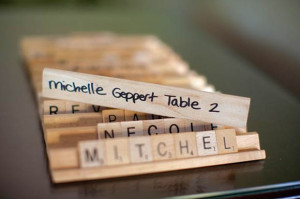 A fun way to display table seating is by using scrabble pieces to spell your guests last names and then write on the back their full name and table number. You'll first need to glue the pieces together with wood glue and allow them to dry before writing on the back. You can use a colored permanent marker or even a jewel toned marker to write the name or invest in a wood stamp.
8. Find Your Dart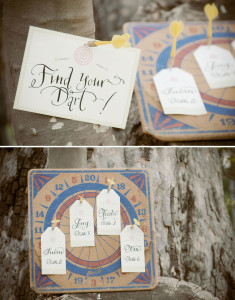 Place several small dart boards around your reception check-in area with each of your guests names on a piece of paper pinned with a dart. You can also make a dart board and have each guest throw a dart to pick their own seating arrangement rather than make up the arrangement ahead of time.
7. A Small Potted Plant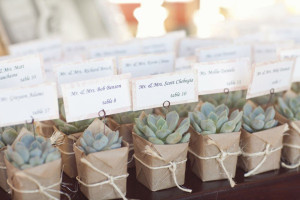 Small potted plants are great little keepsakes to use as place card holders. Any small potted plant will work well, you'll just need a card holder inserted into the dirt. You can hand print your guests names and table number or have these small cards printed at your local print shop.
6. A Small Vial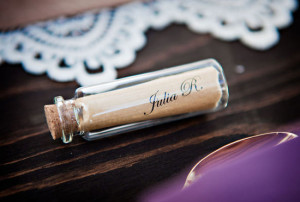 A small glass or plastic vial with a scroll indicating the name of your guest and their table number is a cute and simple way to display a place card. Make sure the name of your guest is visible on the outside of the scroll. These small vials can be used later on to store small items.
5. On a Lollipop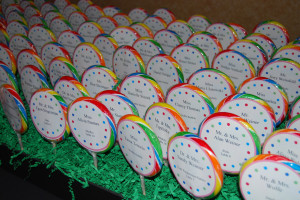 Everyone loves candy. Display your guest names and table numbers on a large lollipop by using a printed label. These labels are easy to make at home and can be found at office supply stores. Create a stand for the lollipops by adding styrofoam (like what you use for flowers) and insert the lollipop stick into the tray. You can cover the styrofoam with fake grass, flowers, or tissue paper.
4. Mason Jars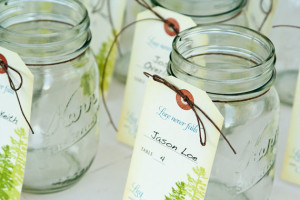 Start the reception out right by offering your guests a drinking cup that is theirs to keep for the whole evening and to take home. Mason jars come in a variety of colors and clear glass. Simply insert a fun straw and tie a piece of paper to the straw with your guest names and table number. Alternatively, you can wrap string around the mouth of the jar with the place card attached.
3. Hanging Tree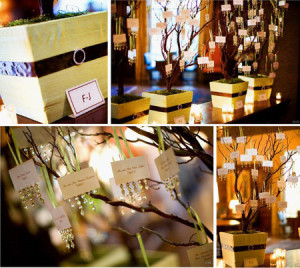 A hanging tree is decorative and charming as a place card holder. You can find decorative tree branches at local craft supply stores. This place card holder is easy to make on your own. Simple purchase the branches, floral foam, a decorative pot, ribbon, and paper for the place cards. Add the floral foam to the pot and stick the branches in. Create your place cards and punch a small hole at the top for your ribbon. Hang the place cards from the tree at varying heights. You can also add a hint of color to the branches by spray painting them to match your wedding colors.
2. Kissing Bells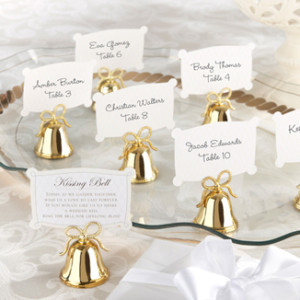 If you've been to any wedding reception, you might remember the tradition of clinking your glass to get the new couple to kiss. Instead of banging on the fine glassware, offer your guest an alternative with the kissing bell. This bell can also be used as a place card holder.
1.  Wine Corks
Wine corks are a great and simple way to display place cards. You'll need corks that have been flattened on the bottom and cut with a small slit on the top for the card. You can either make the place cards at home with cardstock or purchase pre-printed ones.
Adding a little variety to the standard display of a place card is a great way to jazz up your reception from the start. Best of all, most of these items can double as parting gifts to your guests.