40 Personal DIY Details From Real Weddings
The weddings of strangers are always fun to look at – whether you're planning a wedding yourself, throwing a party, or just daydreamin'. All of these examples are from real couples who found unique ways to imbue their wedding day with personality and love.
Invitations and Programs
1.  Adorable hand-drawn illustration invitation.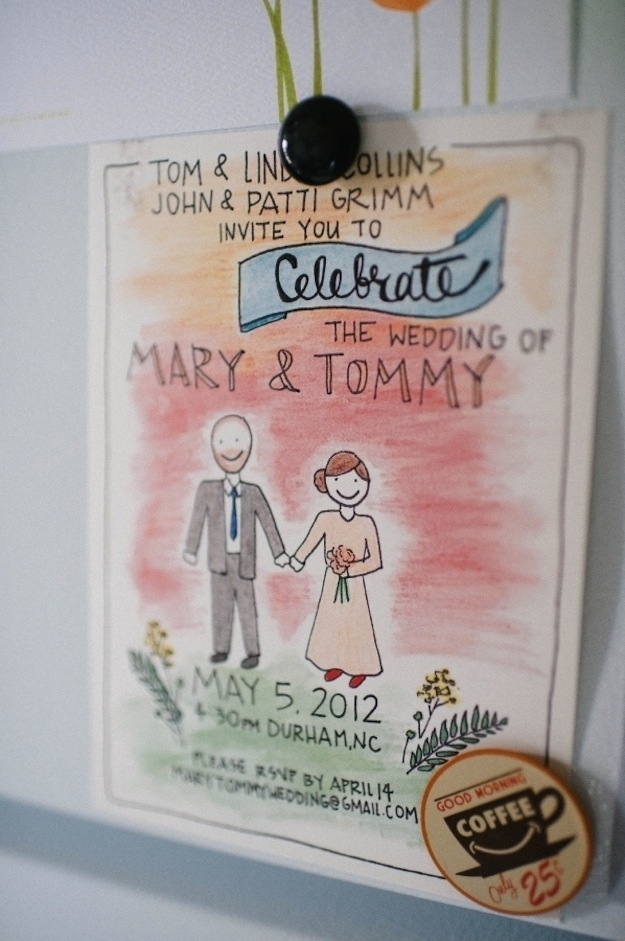 2. Save the date, invitation, coasters, and mix CD all designed by the groom.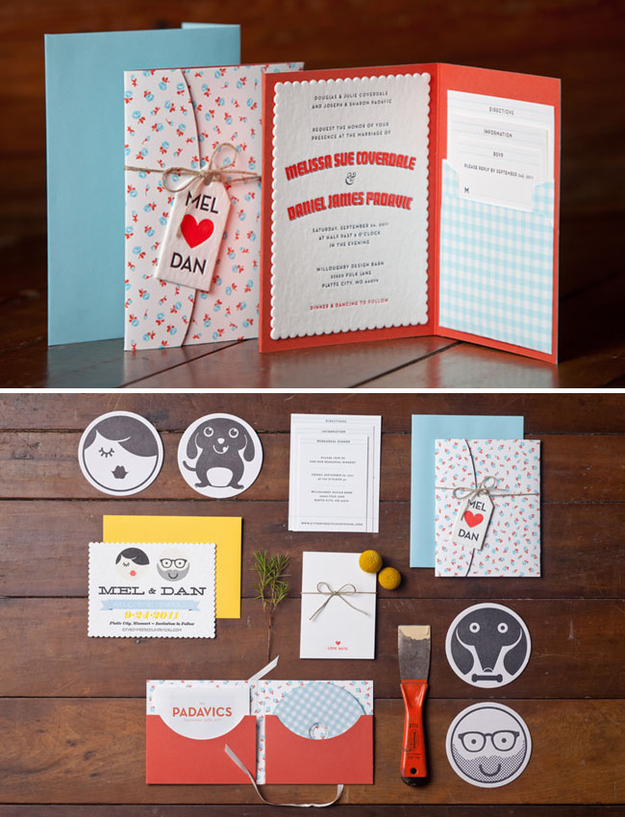 3.  A program featuring sketches and bios of the bridal party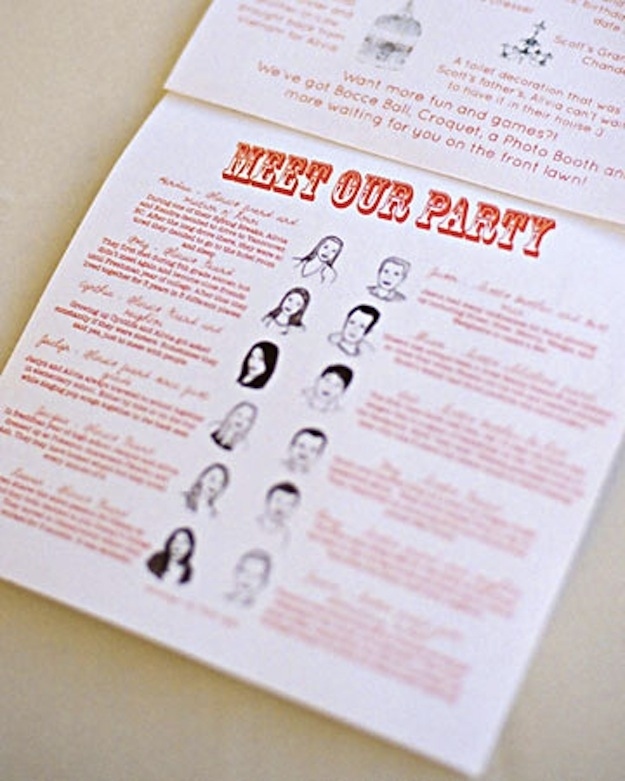 4.  Wedding advice mad-lib.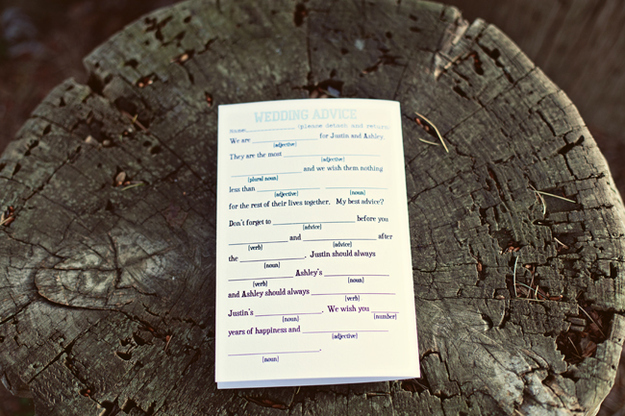 5.  Program/Mix CD combo, with instructions from Oh Lovely Day.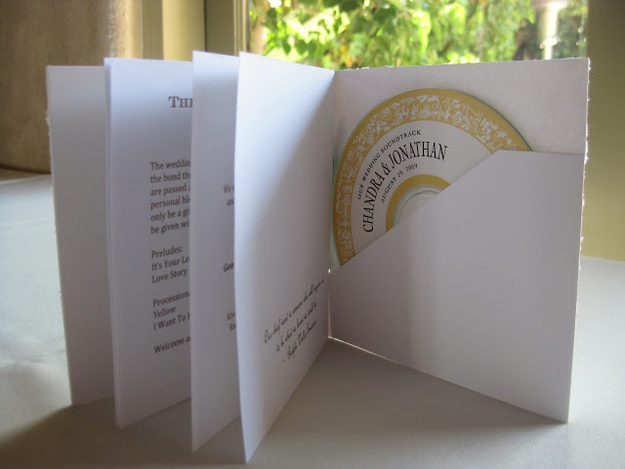 6.  Programs that double as fans, designed by a friend of the bride and groom, using their thumbprints for the heart.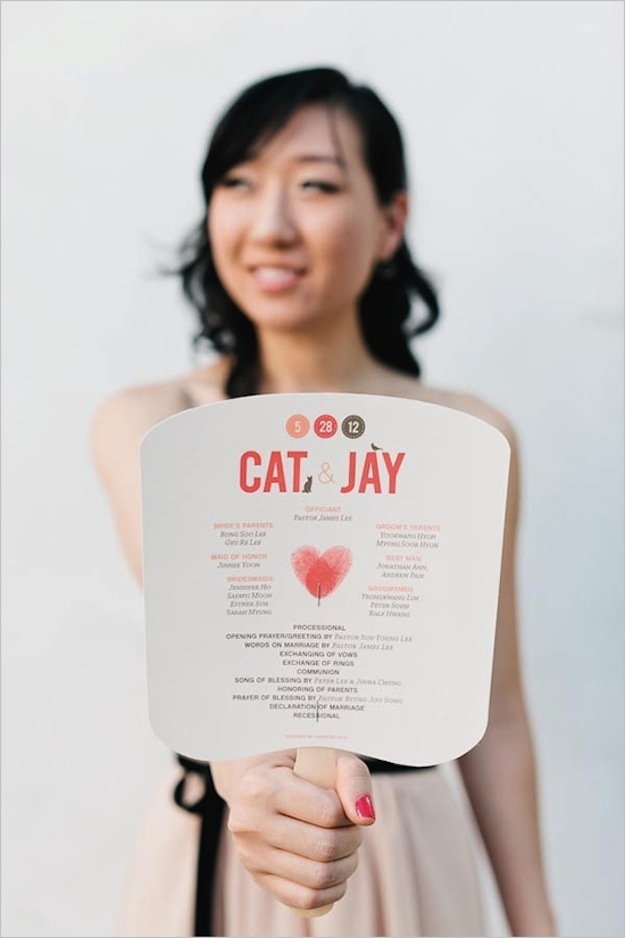 Clothes and Accessories
7.  Stitch a special message into the groom's jacket.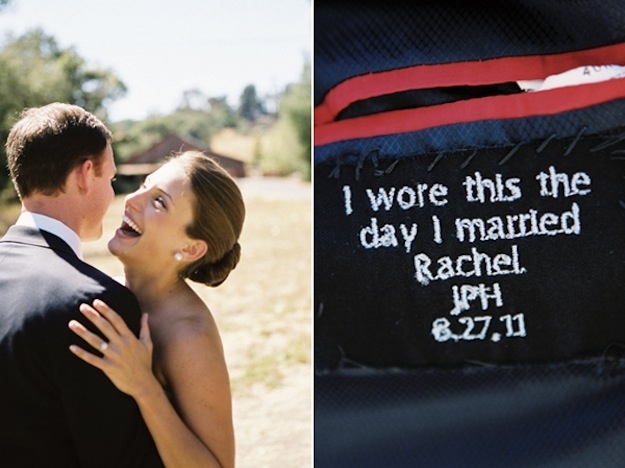 8. Tie your shoes with pretty color-coordinated ribbon.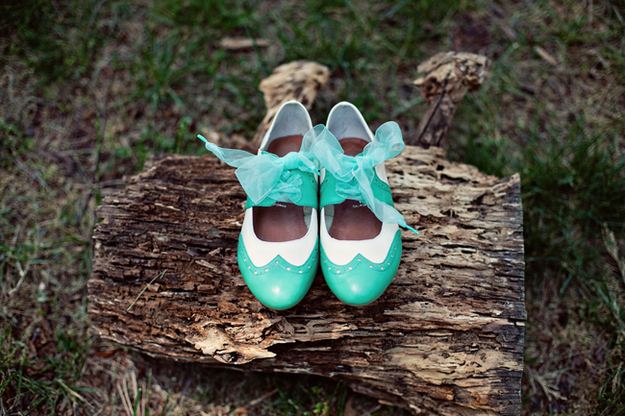 9. These bridesmaids are wearing dresses made from vintage Star Wars fabric, commissioned by the bride from the Rusty Cuts Etsy shop.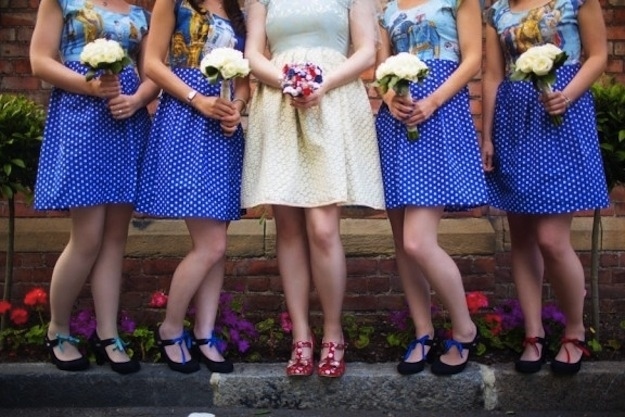 …and there were matching flower girls!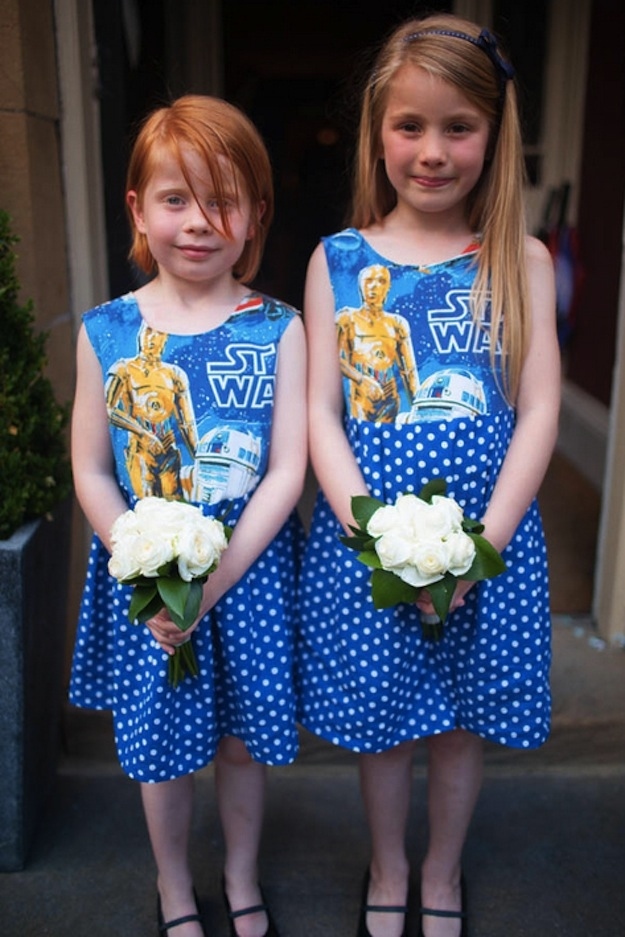 10. Handmade dress using vintage tablecloths. The bride says "I chose to design my own dress because I had originally wanted a vintage dress, but found that the nicest ones were out of my price range."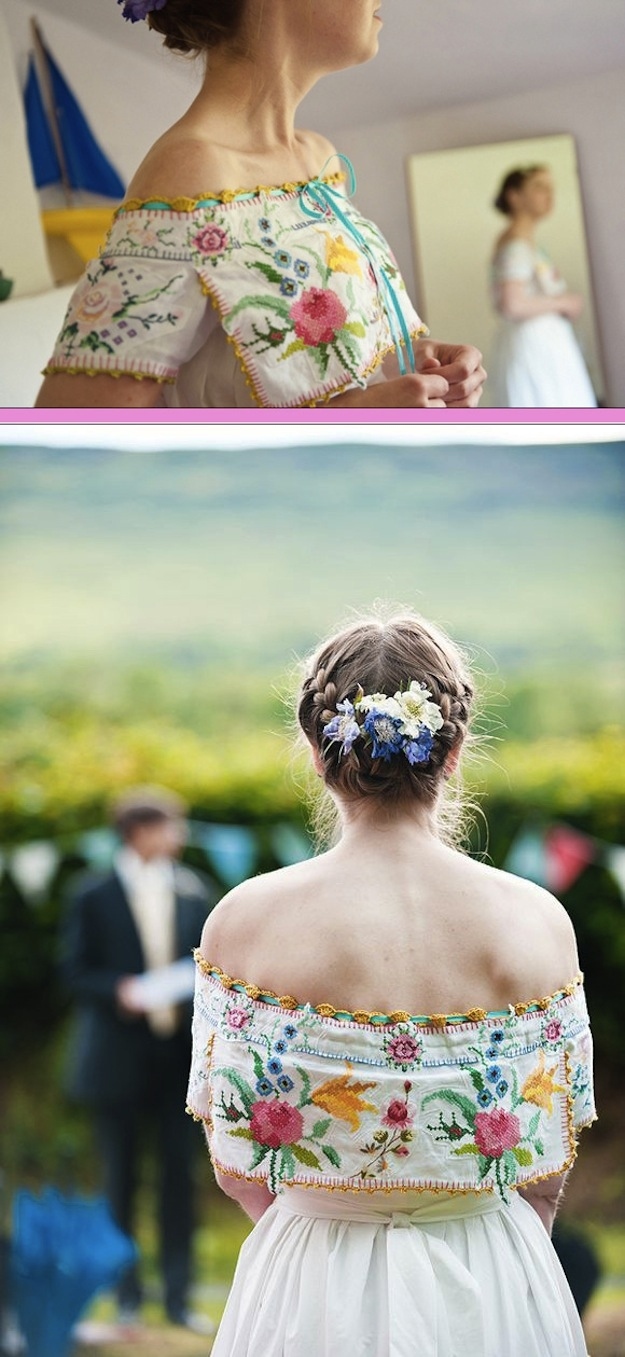 11. Bouquet made of felt and buttons, handmade by the bride. Here's a DIY guide for something similar.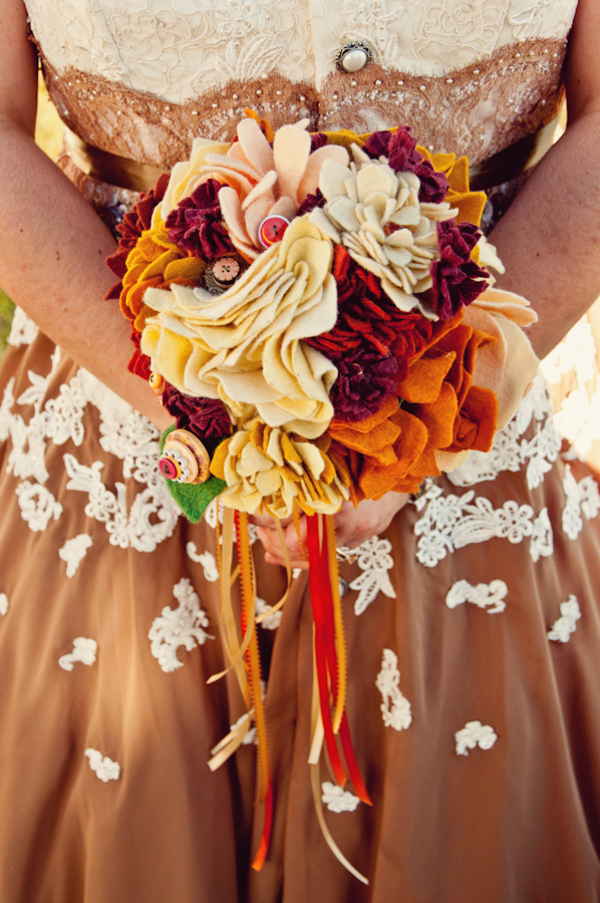 Ceremony and Signage
12. "Ringbearer" carrying printed burlap sign.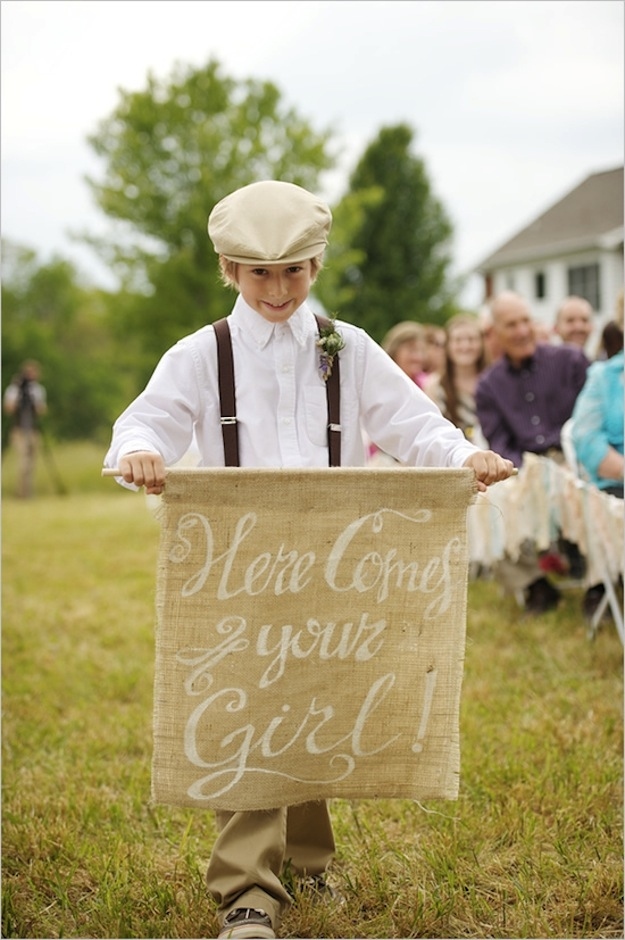 13. Paper hearts on wooden dowels, made by the couple, lining the aisle for the ceremony.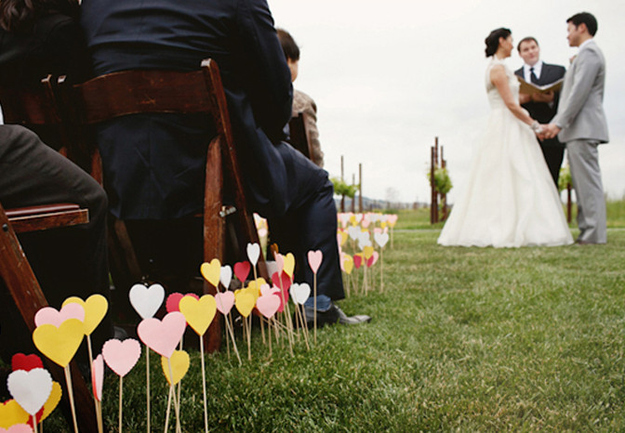 14. Backdrop made by the bride and groom using moss and pages from old books.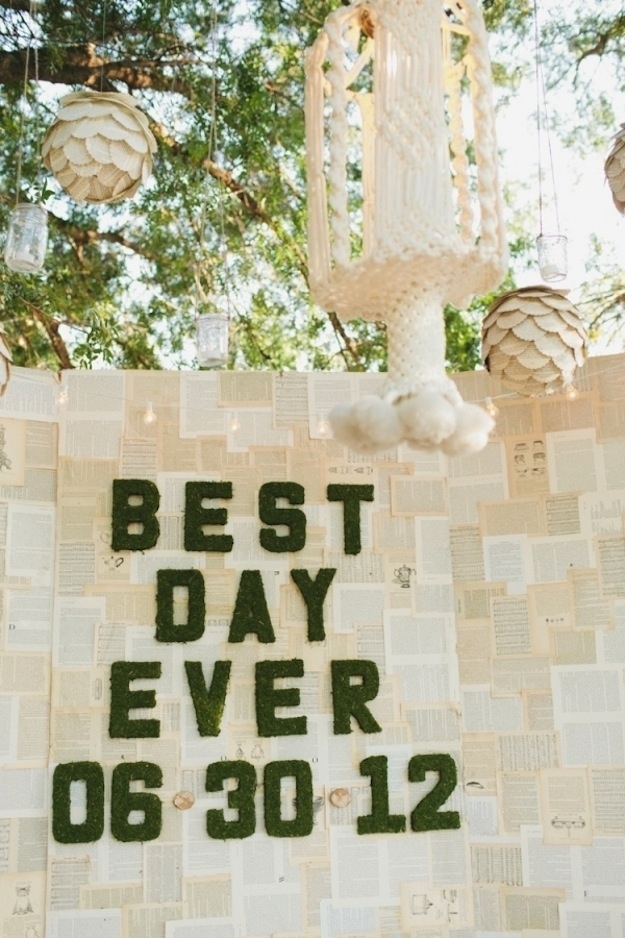 15. The couple asked all of their guests to bring a "heart" of some kind and they hung them up in the "tree of love" near their ceremony.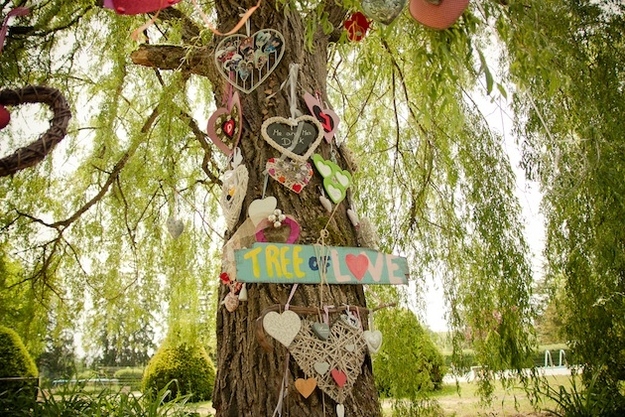 Guest Books
16. A "guest book" consisting of Jenga blocks signed by the wedding guests.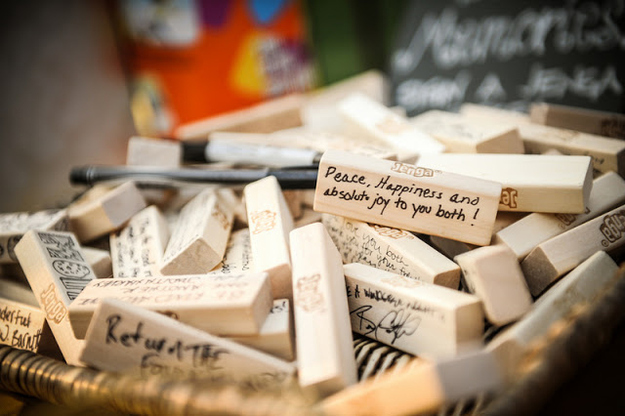 17. A vintage typewriter re-purposed as a guest book.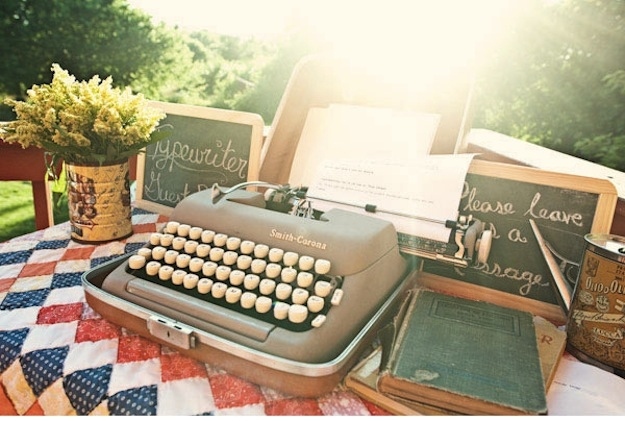 18. This couple used a tablecloth as their "guest book," instructing guests to sign directly on the cloth laid out under their world map seating chart. The bride said "I'm going to embroider over each entry and use it at our next dinner party."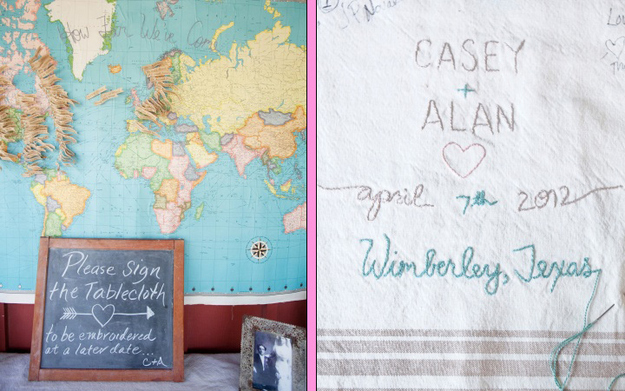 Food and Menus
19. Menu screen-printed on napkins (with button holes!) by a friend of the couple.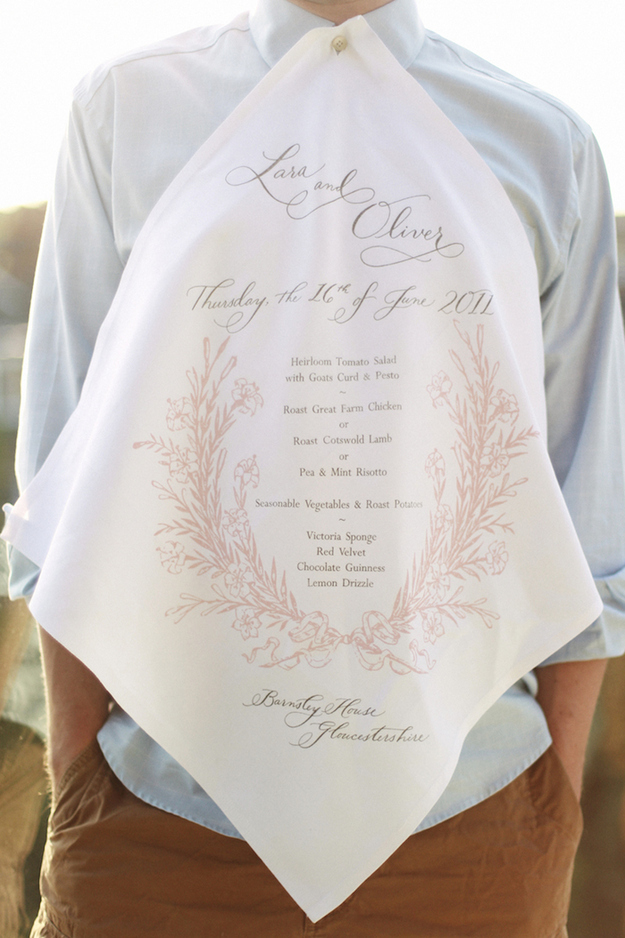 20. Silverware tied with twine and wildflowers.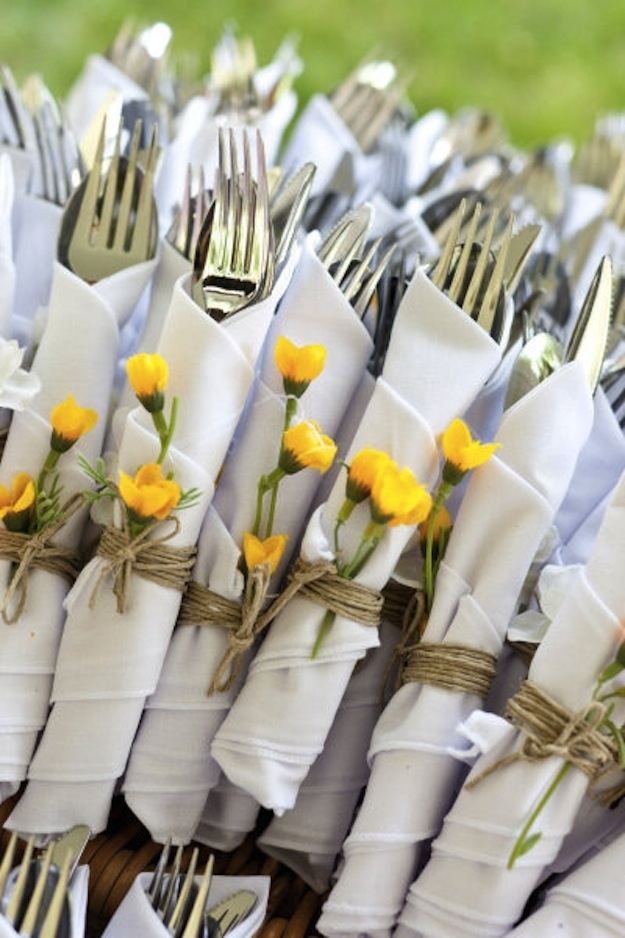 21. His and hers signature cocktail menu.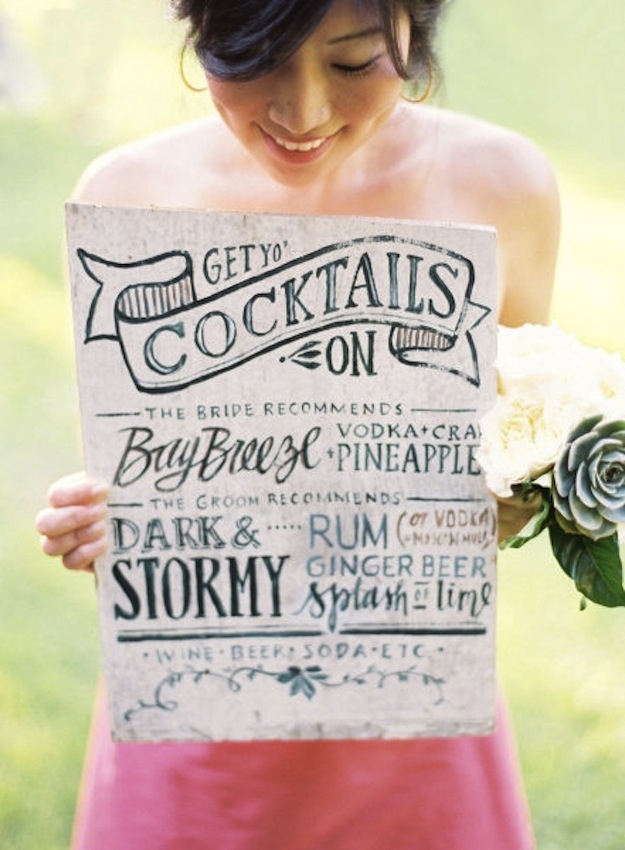 22. Tea packets with homemade felt hearts.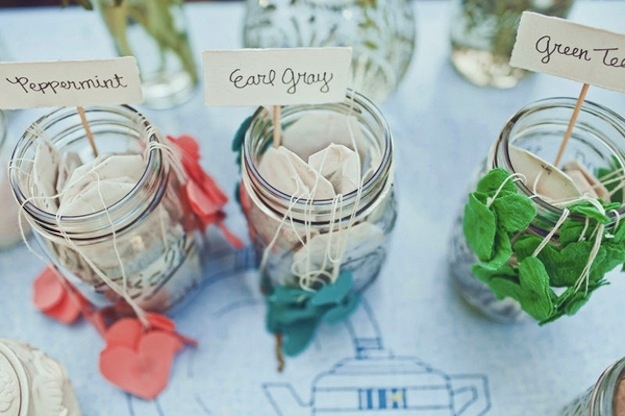 23. Labels for food at the reception. These can be made by buying those plastic animal figurines you can get at any toy store and adding a "clip" using gardening wire, then spray painting the whole thing in the color palette of your celebration.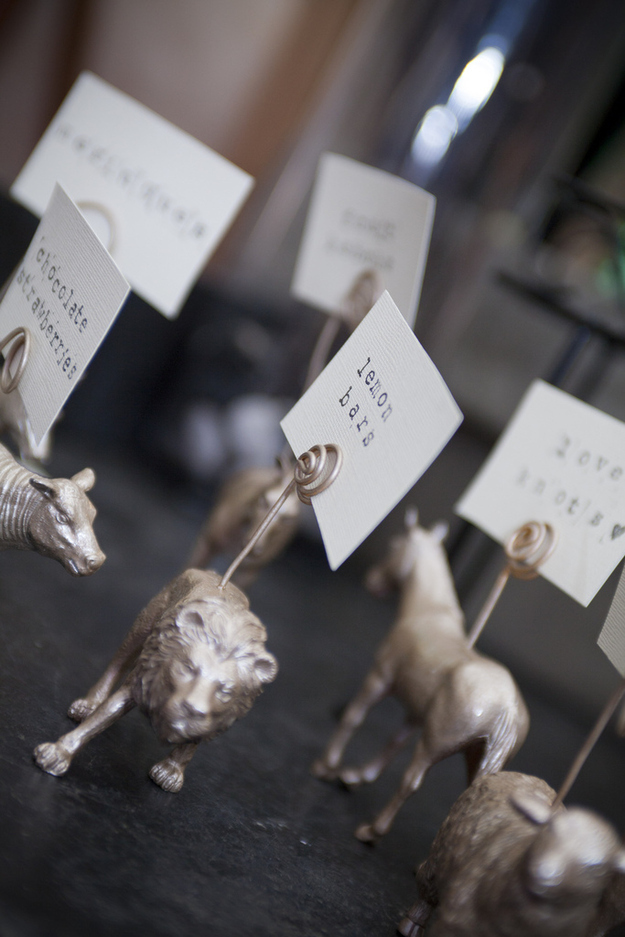 24. This couple invited guests to enter a cake competition and the cakes were judged by the top table. First, second, and third place earned rosettes from the bride and groom, and everyone went home with to-go boxes stuffed with cake.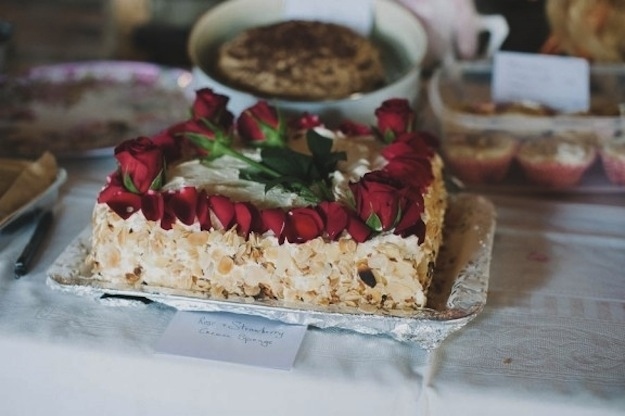 25. Rainbow cake handmade by a friend of the couple. Recipe/instructions can be found at Whisk Kid.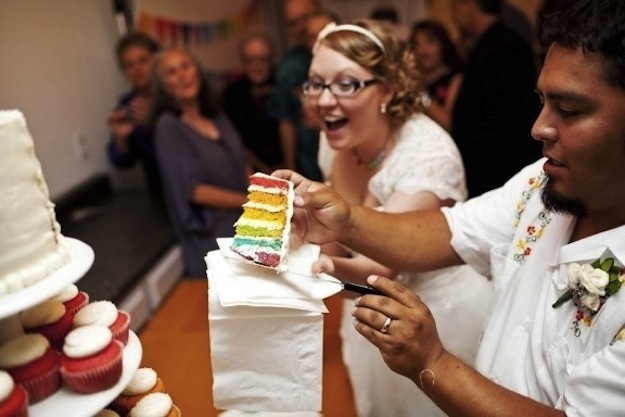 26. Donut station, where you got to grab a shot of glaze and then put on your own toppings.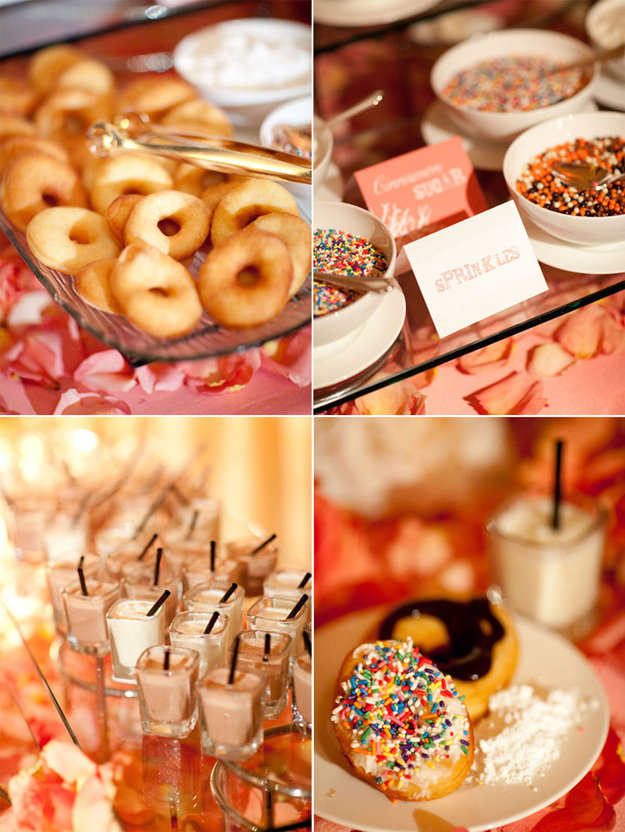 Reception Decor, Tables, and Seating Arrangements
27. Mason jar string lights.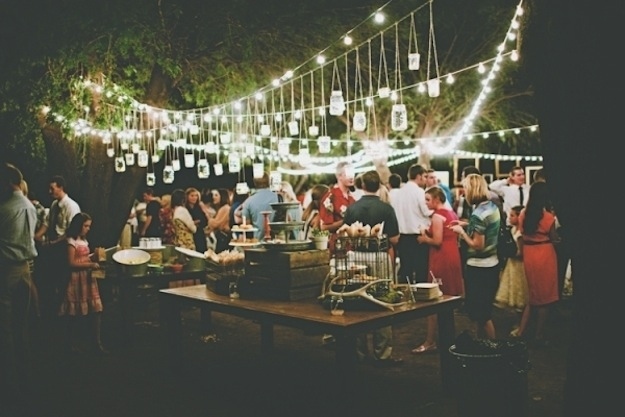 28. Escort cards written on rocks handpicked by the groom by the Sacramento river, a favorite spot for the couple.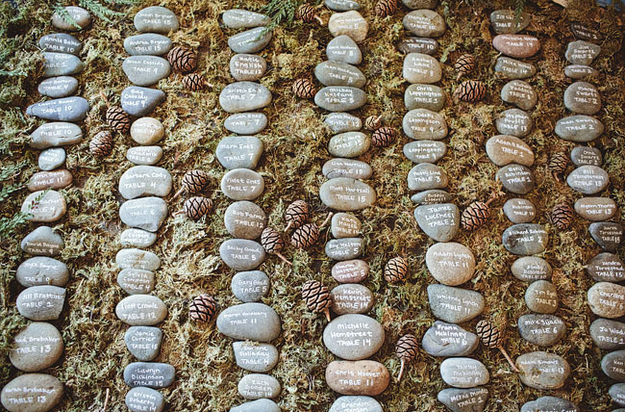 29. These tables were labeled with pages from an old dictionary, printed with illustrations and titles and framed.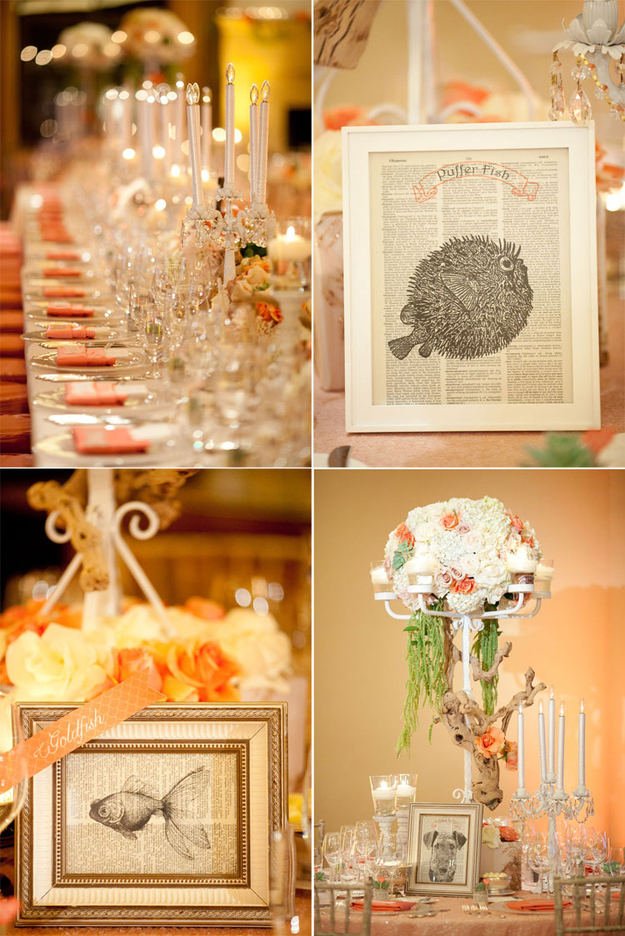 30. Cassette tapes = escort cards and favors.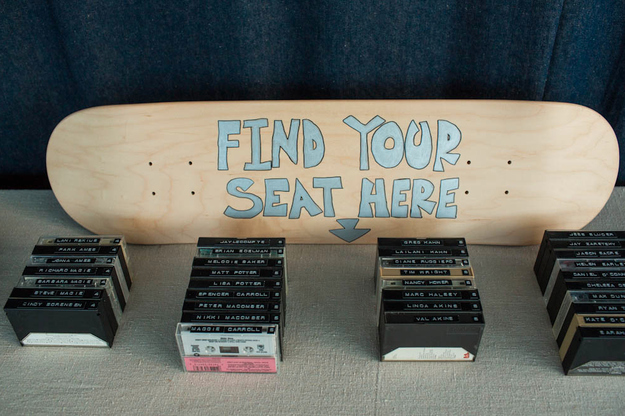 31. Kid's table with silly straws & flower lollipops planted into a grass centerpiece
32. This couple created their table centerpieces with arrangements of beloved personal objects from their own home, their parents, and friends.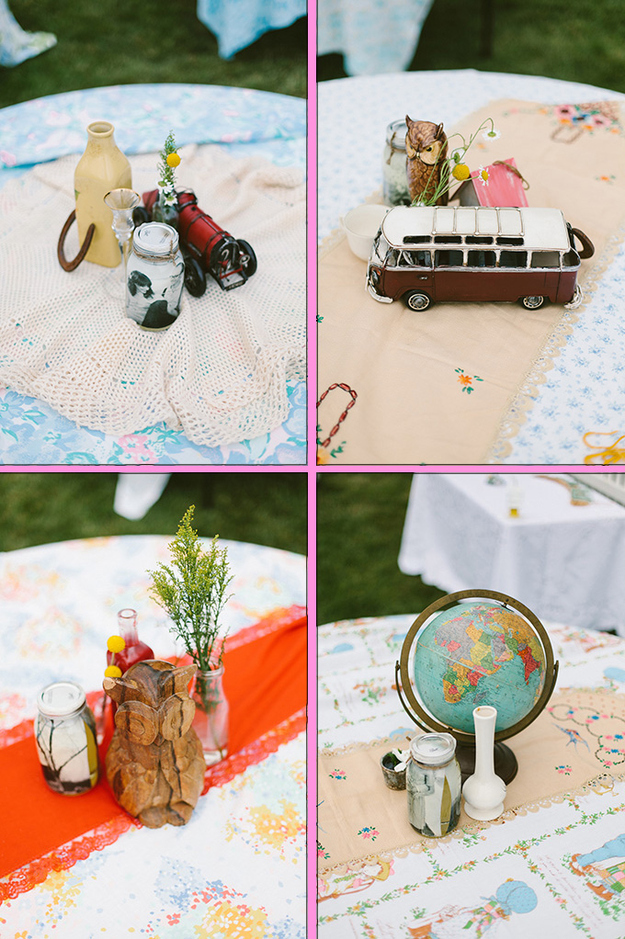 33. Paper flower centerpieces made by the bride.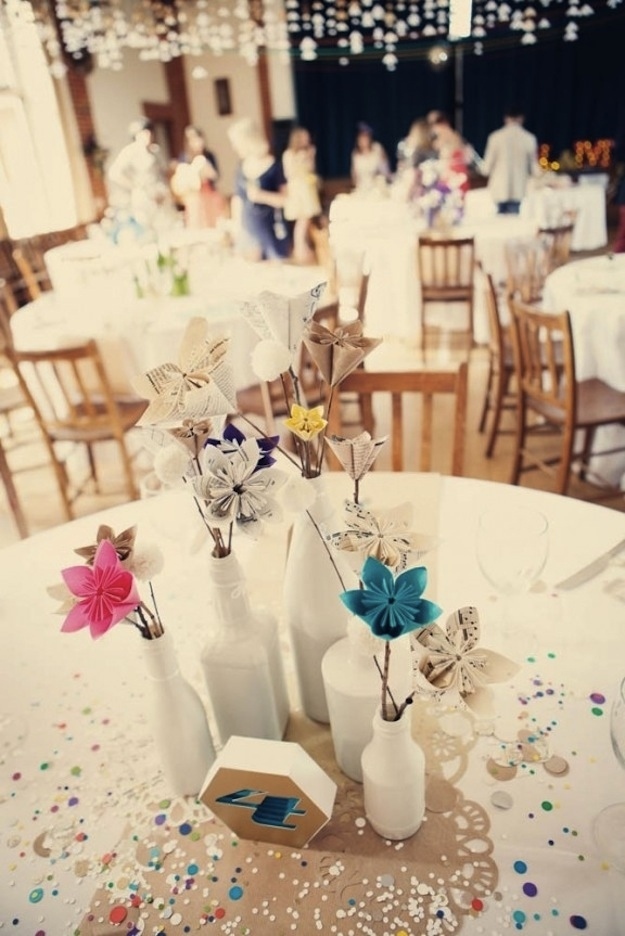 34. "Rather than use tableclothes or placemats, we bought large, white doilies and came up with personal messages for our guests that Lauren hand-wrote in her amazing and unique calligraphy. Some messages were specific (to our parents) and other were general messages that we wanted to share with our guests."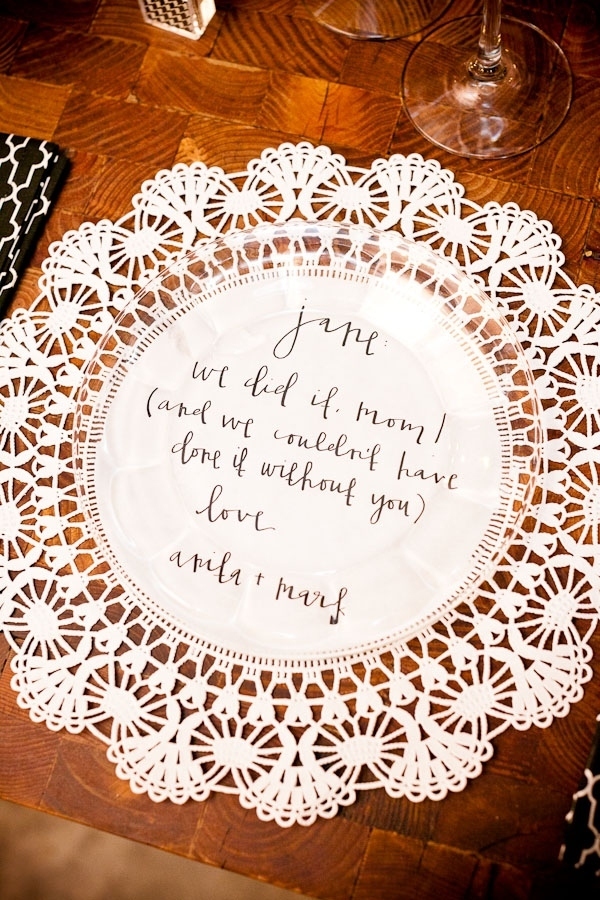 35. Reception tent designed by couple and their families. The couple's moms collaborated on the floral design, the bride's mom made the bunting, and the bride and groom collected the objects used in table arrangements.
36.  Carnival-themed decorations and escort cards, handmade by one of the brides. Instructions for the drink flags and the pom poms over at So You're Engayged

Guest Favors
37. Hand-labeled jars full o' nuts.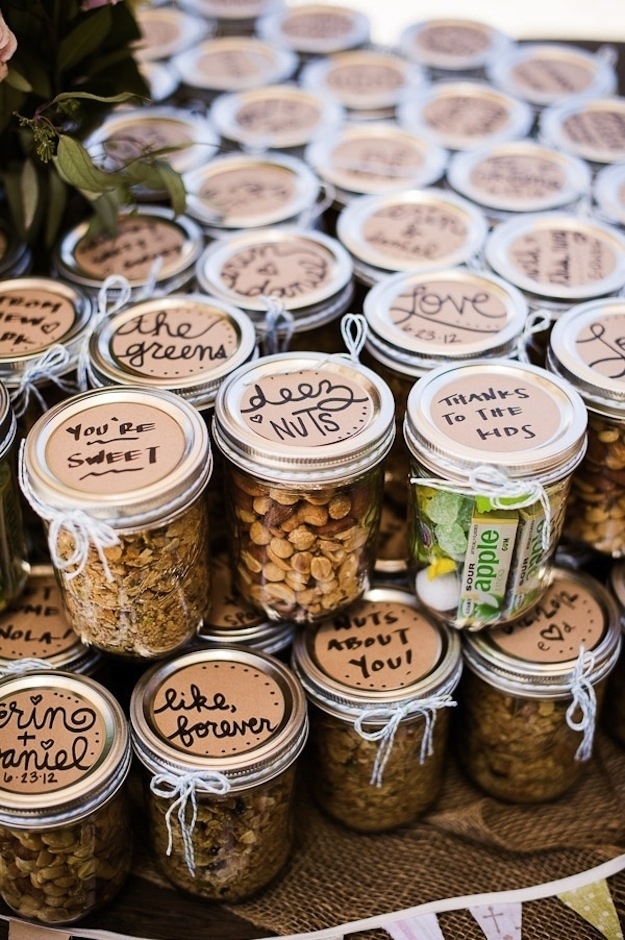 38. Succulents planted in books. Centerpieces that doubled as favors – here's the DIY instructions.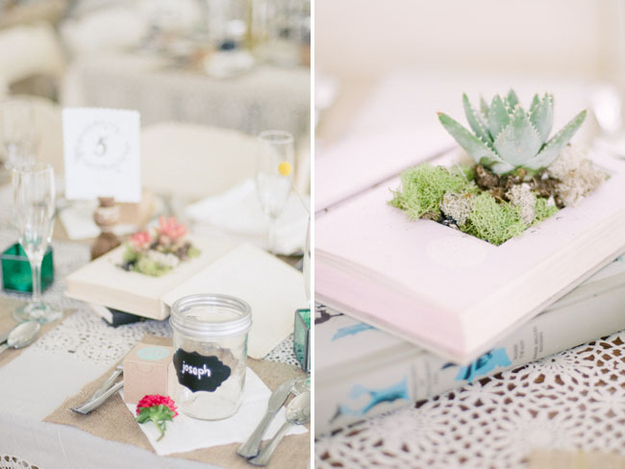 39. A hand-drawn/written recipe card featuring the groom's father's pancake recipe along with its "secret" ingredient – vanilla extract.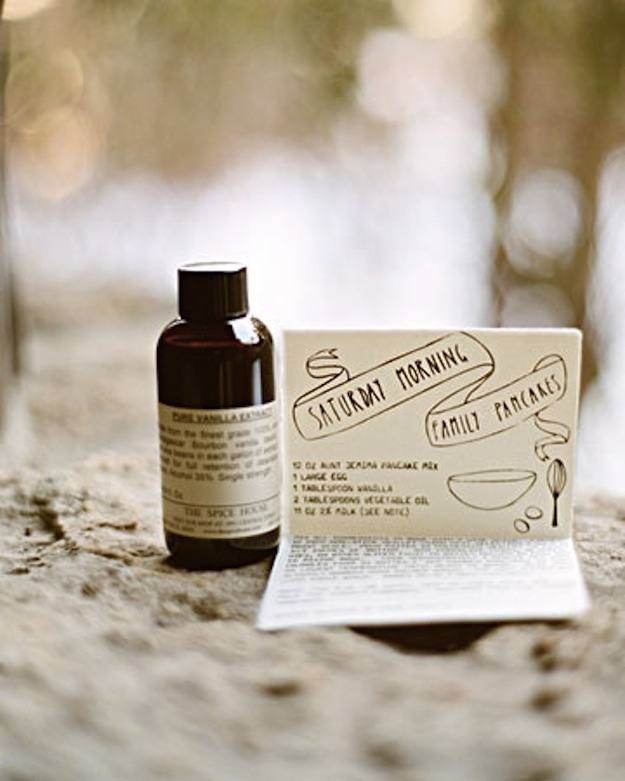 40. Unique decorative birdhouses and cookies.