Top 10 Fun and Easy Bridal Shower Themes for Summer Parties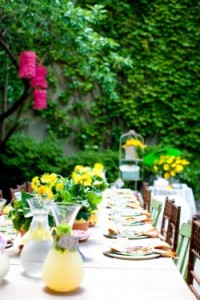 Summer is the season for weddings and bridal showers. If you are in charge of the shower, there are several bridal shower themes for summer you can choose from. The summer showers are fun to plan and host. The bride to be and guests will have a good time. Summer is a wonderful time for showers because you have the option of having the shower outside. Any of the summer themed showers would prove to be a wonderful way of celebrating with the bride to be.
10. Strawberry Theme Bridal Shower
Strawberries are ripe, delicious, and a great way to celebrate a bridal shower. You can have strawberries and cream. Strawberries dipped in chocolate are delicious. Strawberry shortcake and whipped cream with fresh strawberry punch or strawberry champagne punch can be served. Favors can be strawberry candles. Strawberry recipes can be exchanged. Games can include making words from the word strawberry.
9. Summer is BBQ Time
Men are not the only ones who know how to make BBQ. You can do a BBQ summer shower and try a variety of sauces. Kabobs are a wonderful choice along with salads to serve. Lemonade and punch go great with a barbeque. Since you are outside games can include outdoor games like ring toss. Favors can be barbeque brushes or anything related to grilling. This type of bridal shower can also be a couple's shower.
8. Summer Lingerie Fun at Your Bridal Shower
Lingerie theme showers are always a hit. For summer, you can do a summer lingerie bridal shower. Guests can bring lingerie and you can play a game of guess who brought which lingerie. The bride of course keeps all the lingerie. Decadent chocolate, chocolate cake with rich icing can be served. Favors can include sachets or scented candles. The idea is to have fun and celebrate the bride's happiness.
7. Hawaiian Luau for the Bride to Be
Grass skirts, limbo, and pulled pork all work well for a Hawaiian Luau theme shower. There is no better time than summer to celebrate with a luau. Flower leis are nice favors. Flip flops, Hawaiian music in the background and a hula contest make a wonderful party. Fruity drinks like daiquiris are a delicious addition to a luau shower.
6. Country Picnic
Turn your bridal shower into a country party using picnic tables in the backyard. Rustic is the look you want. Apples, potato salad, chicken, and soft drinks round out the food. Playing bingo and checkers along with a couple traditional shower games is a fun way to spend the afternoon. Miniature picnic baskets or small jars of jelly make wonderful favors for a country picnic themed shower.
5. Beach Theme Bridal Shower
A beach theme for a bridal shower is a fun idea. Hula hoop contests, flip flop decorations, and fresh fruit work beautifully for a beach bridal shower. Seashell candles make nice favors. Decorate using seashells and beach towels. Use lawn chairs or beach chairs for seating and dress in sundresses for a fun and relaxing shower.
4. Stock the Bar
Helping the bride stock the bar for her new home is a great way to have a themed bridal shower. Guests can bring their favorite alcohol to help her get a good start. Drink mixes, glasses, and recipes are other great gift ideas. Favors include shot glasses. Games can include guess the drink from a list of ingredients. Food can be casual with different types of chips, dips, and salsa. This makes an ideal couples shower.
3. Pretty Butterfly Theme
For this summer theme shower you can decorate with butterflies. Use all white for a more formal look. For a more casual look, use a variety of colors for your butterflies. Butterfly cookie cutters and bookmarks make fun favors. Artisan breads and cold salads go well with cake and sherbet.
2. Garden Party Setting
Hosting your bridal shower outside gives you the opportunity to have a garden party theme. Use mini potted plants and fresh flowers for decorations. Seed packets with small pots are wonderful favors. Gifts can include things to use in the garden, seeds, and flowerpots. Games can include guess the plants or unscramble the plant names. Fresh vegetables and fruits can be served easily outside. A cake in the shape of a flower would go with the garden party theme of your shower.
1. Tea Party for the Bride
As a little girl, you had tea parties with stuffed animals and friends. As an adult, you can have a tea party theme shower for the bride to be. Get out the good china teacups and fancy teas. Little tea cakes, miniature sandwiches, and cookies served with flavored teas will be a hit. Specialty teas can be used as favors. Use teapots and flowers to decorate. Since this is the tea party every little girl dreamed of, this makes it as the number one bridal shower theme for summer.