Top 10 Things Most Brides Worry About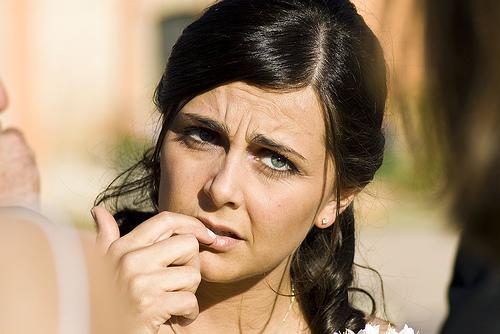 Photo Credits:
Francesco
via Flickr 
The combination of excitement and panic can create scenarios in any bride's mind about things that could go wrong on the wedding day. Know these things and plan for them in advance. Don't let it stress the glowing bride out of you.
1. A spill on your wedding dress
The thought of someone soiling the wedding dress is enough to make any bride gasp. Keep yourself hydrated with clear drinks during your wedding. When you are near a guest who is holding a glass of red, be aware of where the drink is to avoid any accidental spilling. Same goes for any food items that might soil your dress.
2. Your wedding cake toppling over
This may be a scene out of the movies or funny home videos, but this is an incident brides worry about. Make sure there is a separate area for your wedding cake. Choose a spot that is not easily reached by children and is a safe distance from the dance floor.
3. Being late for your own wedding
It is important to make an entrance, but your wedding is not a time to be fashionably late. Depending on the complexity of your wedding dress and the look that you are going for, allot enough hours for getting dressed, with hair and makeup.
4. Rain on your wedding day
If you are set for an outdoor wedding, a sudden change of weather can be one of your worst nightmares. Talk to the person in charge of the venue on setting an alternate location in case the weather doesn't cooperate.
5. A no-show from one of your bridesmaids or groomsmen
A perfect attendance from your entourage is expected. However, if you are not confident that your entourage will show up on time or simply show up, assign someone to make wake up calls. Delegate this task to cross it off your list of worries.
6. Getting more guests than you can handle
Guests unexpectedly showing up can be a stressor to most brides. To avoid this, make a follow up call or email to those maybe's to get their firm response. Assign your wedding planner or bridesmaid to coordinate with your caterer in case the headcount goes over what you have expected.
7. Interruptions during the ceremony
A guest who forgot to turn their phone off or a baby who cries nonstop is just some of the instances that can interrupt your wedding ceremony. You can let your guests know in advance not to bring their young kids or you can also set up an activity area for the children. If not, have someone ready to gently usher out children or adults that can be unnecessary interruptions.
8. Your band not showing up
Your wedding band is an important component to your ceremony and reception. Always hire professionals. Make sure that they are able to arrange their own transportation or you can arrange it for them. Make a follow up call a few days before the wedding to make sure that everything is ready to go.
9. Someone steals the show
The wedding day should be about the groom and bride. One of the top worries that every bride has is someone stealing the focus of the wedding. A drunken uncle can get out of hand; a heartbroken bridesmaid can get excessively emotional after a few drinks. Make sure you have your maid of honor or best man to handle these situations. You should not do any babysitting at your own wedding. Have someone else handle it and get on with the celebration.
10. An inappropriate toast
Although anecdotes make toasts more enjoyable, run through some simple rules with the best man. First is to keep it short and sweet. Second is to not say anything they wouldn't want their own parents to hear.
There are many things that could go wrong on your wedding day. Instead of worrying, prepare for it. Remember your wedding is about you and your loved one and no one else. If it can't be helped, learn to smile and get on with the celebration.
What are you most worried about?
About the Author:
Melissa Page loves weddings and music. She is a regular contributor for Music for Scotland, a live music agency that features the best wedding bands in Scotland such as the Seattle wedding band. Follow her on Twitter @Melissapage90.